Breweries In Houston
Since 2013, the number of Houston breweries has exploded and it means that thirsty beer enthusiasts don't have to stray far to spot a brew-pub near their corner of town. Here, you'll find some of the oldest craft breweries in Texas as well as some fresh-faced brewers aiming to cement their place among the growing list of top-notch Houston breweries.
In addition to the most beloved and best breweries in Houston, we've also rounded up all notable destination breweries in the communities and cities surrounding Houston, including Conroe, Katy, Pearland, Webster, and Galveston.
For a deep dive into each brewery—including recommended and signature beers, visiting tips, photos, operating hours, address and directions, and more—simply click the links for our in-depth, detailed descriptions of each of these notable Houston breweries.
Beneath each neighborhood and community header below, breweries are listed in alphabetical order.
Scroll down to explore the 25+ best breweries around Greater Houston by neighborhood and community.
Save on Beers & Merchandise with Houston Brew Passes
Downtown, EaDo & East End
The oldest craft brewery in Texas and a pioneer of Houston breweries, Saint Arnold was founded by Brock Wagner in 1994. Never one to rest on its laurels, Houston's signature brewery recently debuted a massive expansion and renovation that invites fans of their national award-winning brews to lounge in a vast beer garden, festooned with strings of lights spanning out from the partially covered outdoor hall and extending out towards lawn games of all types.
The garden offers sweeping views of Downtown, and the indoor, cathedral-like beer hall pays homage to the patron saint of beer with original, custom frescoes painted by Houston muralist Gonzo247. You'll also find beloved Houston art cars on display in the covered garage.
For the uninitiated, Saint Arnold is a Houston legend and a brewery that shouldn't be missed. Its new expansion brings a completely new and unique offering to Houston.
If Discovery Green is Houston's front lawn, then 8th Wonder Brewery serves as its de facto backyard, filled with repurposed shipping containers, zig-zagging strings of lights, and an eclectic mix of H-Town representation. It's also home to artist David Adickes' 36-foot tall Beatles sculptures and is neighbored by his iconic We Love Houston sign.
The Houston proud brewery takes its name from the moniker often ascribed to the Astrodome, and features a popular bevy of Houston-centric beers, including Dome Faux'm, Weisstheimer, and more. Because of its prime location, just east of Downtown, 8th Wonder has also become an established pre-game stop before any number of Rockets, Astros, Dynamo, and Dash games.
One of the proudest Houston breweries, 8th Wonder is a must-visit for those in search of delicious beers and welcoming faces that represent the city.
Nestled in a burgeoning entertainment district among thriving restaurants and bars, True Anomaly Brewing Company aims to bring uncommon styles to the masses, helping them explore their palate along the way.
Offering audacious brews like Grisettes, sours, wilds and any other experimental batch that might make the menu, True Anomaly also offers brewery mainstays like Northeast IPAs and semi-common Belgian styles, with detailed infographics to ensure that each brewery-goer can find the right beer for their tastebuds.
More bar than brewery (you'll find no token exchanges here), Equal Parts Brewing (a name change introduced in fall of 2020) offers inspired beers that aren't always easy to find in the burgeoning scene of Houston breweries—and for incredibly friendly prices.
The inventive styles and aggressive use of hops on display makes for a clear signal that Equal Parts' passion for craft brewing runs deep.
The Heights & Spring Branch
In Northside, you'll find Astral Brewing, a relative newcomer on the taproom scene that has been offering hopped styles and spacious digs to become one of the neighborhood's great places to wind down.
Brash Brewing isn't trying to impress you, but it's hard not to walk away rewarded by the aggressively hopped IPAs and some of the best stouts this city has to offer.
Their warehouse location emanates heavy metal music and their huge assortment of arcade games makes it a friendly spot for kids and adults alike.
Transformed from a vast food distribution warehouse, Eureka Heights Brew Co. offers spacious, industrial digs that invite guests to come sample their session-friendly beers and hang out amongst friends.
Nestled in a Great Heights neighborhood, this Houston brewery and bar is a down-home casual atmosphere, filled with tables and plenty of games to keep the laughs (and beer) going. Outside, Great Heights Brewing Company's small patio and instantly 'grammable mural makes for a popular photo opportunity.
In a few short years, Karbach has become one of the biggest names among Houston breweries and is well equipped to provide a polished experience to beer enthusiasts.
Whether you drop by for the live music, the restaurant menu, or the hoppy goodness on tap, you're in for a robust brewery experience at Karbach Brewing that is seldom found elsewhere around town.
Founded by natives of Colorado, Walking Stick Brewing Company is a love letter to the Rocky Mountains and Texas beer, with an additional generous nod to the traditional English ales of London.
Since opening, the small brewery has become a neighborhood favorite in Garden Oaks / Oak Forest, welcoming beer fans and others to its warm, cozy beer garden and fresh flower-adorned taproom.
Arts District Houston & Washington Avenue Corridor
Possibly the most eccentric of Houston breweries, Buff Brew features small-batch beer that might feature pineapples or watermelon one month, and hemp in another.
Though you'll still be able to find a craft mainstay like IPAs or a witbier, you're just as likely to find beers that are at times aggressive, unexpected, risky, and daring.
Buffalo Bayou Brewing is currently preparing to up its game. With the opening its three-story, 28,000 square foot modern Brewtopia at Sawyer Yards in 2019, Buff Brew has thrown its hat into the ring as one of H-Town's most prominent destination breweries.
At Holler Brewing Company, you can pair food truck fare with your choice of about ten beers on tap including seasonal brews, special batches, and year-round mainstays.
Seating sprawls out from the cozy taproom onto an outdoor patio offering one of the best downtown Houston views from any brewery.
Platypus offers beers crafted with rare Australian hops in styles that shine in Houston's sweltering urban heat—just as they do in the Outback.
Platypus also provides one of the most interesting menus among Houston breweries, including Australian specialties like sausage rolls and meat pies.
Serving as the "Research & Development" outpost for a New Orleans-based brewer, Urban South HTX Brewery offers limited, weekly, and one-off styles that range from traditional lagers to twisted takes bursting with fruitful flavors—all of which can be enjoyed on their large, open patio and beer garden.
West University
On Fridays and weekends in West U., you'll find the garage doors rolling up at Baileson Brewing Company, inviting the neighborhood in for a pint of beer.
Step up to the bar and you'll have around six beers to choose from, some of which may rotate out quickly thanks to the agility provided by their small-batch brewing process.
Midtown
The small but mighty brewery offers more than a great hangout environment, with crisp, refreshing, and traditional brews that make Under the Radar Brewing an underground favorite amid Houston breweries.
North Houston
In Willowbrook, not far from the north end of the Beltway, 11 Below Brewing is nestled among distribution warehouses, welcoming all with a pint and a seat at its beer garden tables.
You'll find your tap options ranging from four year-round beers to several special and seasonal brews available temporarily.
A place unlike other Houston breweries, City Acre Brewing's tranquil, expansive yard is dotted by over 60 planters that grows the ingredients for their food menu—and occasionally the beers, as well.
From tables to taps and benches, most of what you see at this self-sufficient brewery is hand-crafted by the same minds behind the brews.
At Spindletap Brewery, you'll find folks lining the bar to catch weekend football action, locals looking to have an "ahhhh" moment with a beer and burger, and maybe even a kid's birthday party in the corner.
It's a welcoming place for all and you'll find plenty on tap from the silky smooth Boomtown Blonde to the easy finish of the Honey Hole ESB.
Founded by the ex-Mayor of Jersey Village and his City Councilmember wife, Senate Avenue toasts to public service with limited and small batch offerings alongside featured taps from breweries across the Greater Houston area.
Stop by and enjoy a spacious indoor taproom along with a dog- and family-friendly outdoor patio.
Save on Beers & Merchandise with Houston Brew Passes
Greater Houston Breweries
Delicious craft brews and welcoming breweries where you can while away a weekend day aren't limited to Houston city's limits. You'll find plenty of notable stops well outside the Loop in some of Greater Houston's most bustling communities.
Conroe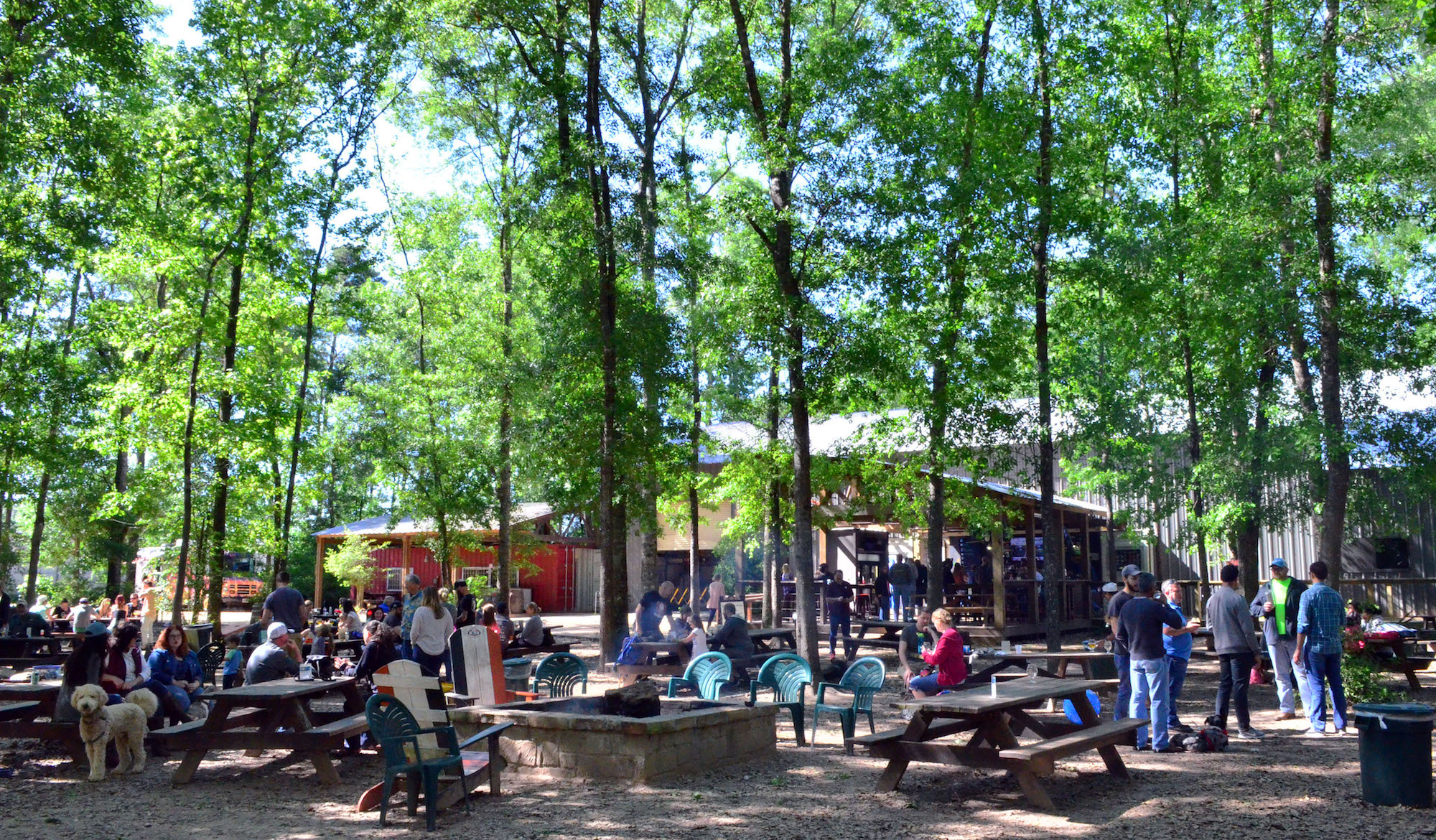 Nestled among seven acres of trees that stretch 100 feet into the air, B-52 Brewing in Conroe has created a unique setting that is a highlight on the growing list of local, regional breweries.
Just as distinct as their environment, B-52's extensive menu of one-of-a-kind beers alongside respectable true-to-style brews offer visitors a remarkably wide range of delicious beers to enjoy.
The second oldest craft brewery in greater Houston, Southern Star Brewing Company has been brewing since 2008 and, since their new taproom opened in 2016, they've become a destination brewery in the region.
Tucked away not far from I-45 in Conroe, Southern Star offers traditional brew styles that are well-balanced and thirst-quenching especially during the hotter months of the year.
Kingwood
Inspired by one of the best-selling video games of all time, Fallout, the 15-barrel brew house known as Megaton Brewery serves up suds that are both forward-looking and throwbacks to vintage recipes.
With three decades of homebrew experience and a meticulous attention to detail, brewmaster Jered Montgomery brings his concoctions to the spacious indoor and outdoor taproom, which opened full service in Kingwood in 2017.
Katy
At any given time, No Label Brewing will post upwards of twelve beers on tap, including special releases and seasonal varieties that range from brewery staples to pale ales with a touch of smoked hatch chilies.
With various outdoor seating areas, a children's playground, and interesting, unused structures, this is a brewery with a unique atmosphere that's perfect for kids (and their parents).
Pearland
Bakfish provides a full spectrum of ales and lagers starting with their five flagship beers and a full menu of seasonal rotations. With several rows of picnic-style seating in and outside, you're sure to find a spot at this burgeoning microbrewery south of Houston.
Webster
Saloon Door Brewing pours pleasing pints that you've come to expect from across the brewery spectrum, but they excel when exhibiting their creativity in pints like their Peanut Butter & Chocolate Milk Stout, Catty Corner Cream Ale, and Strawberry Milk Stout.
Galveston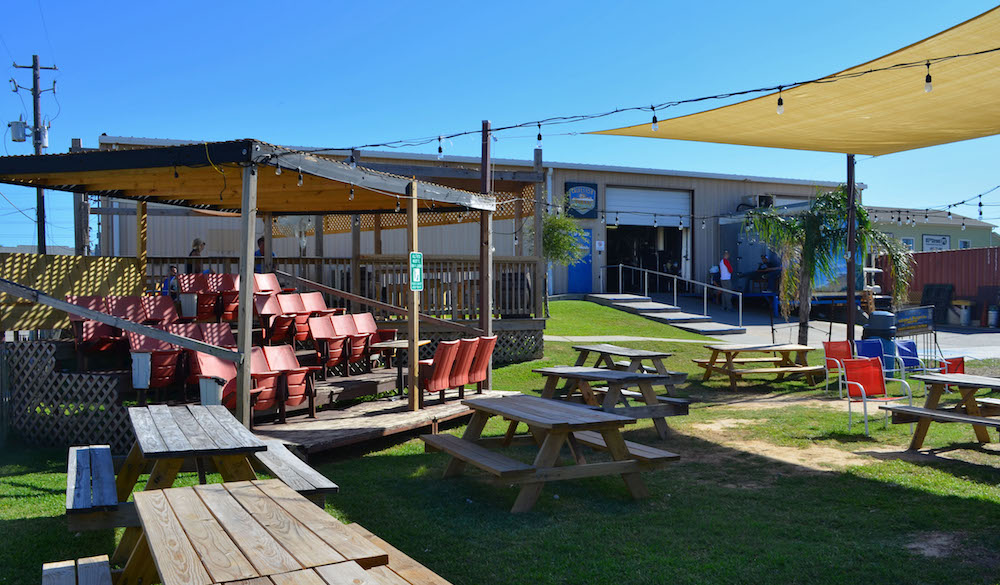 If you find yourself along the sandbar and in need of a pint, Galveston Island Brewing is a must-see when on the coast. The down island brewery offers award-winning ales and spacious digs that invite connoisseurs, families, and pets alike.
Houston Craft Breweries Across Greater Houston
Although it wouldn't make sense to visit all of the breweries around the Houston metro area on a single day, a multi-day or multi-week brewery crawl is a great way to explore Houston and many of its communities that are well outside of the Loop.
Save on Beers & Merchandise with Houston Brew Passes
Find More Things to Do in Houston All Year Long
In addition to discovering the best breweries in Houston, you can find more fun in ourinteractive event calendar and weekly 365 Weekend Guide, including special events, celebrations, and parties at many of the Houston breweries listed here.
Be sure to subscribe to our free Weekend Guide email to receive a round-up of great things to do this weekend in Houston in your inbox every Thursday. If you don't want to miss a thing, you can also opt in to our Daily Update emails (emailed five days a week).