Our Houston Breweries Spotlight Series take a deep look at all of the most iconic and upstart craft breweries across Greater Houston. Check out our Definitive Guide to Houston Breweries.
Go big on flavor at the spacious, supersized multi-level digs of Buffalo Bayou Brewing Company in the Arts District.
Once operating out of a cramped industrial space in Washington Heights, Buffalo Bayou Brewing Company took the leap in 2019 and scaled up—way up—when they unveiled their three-story brewery and increased their annual capacity to 50,000 barrels.
The 28,000-square foot spot launched with a restaurant guided with laser-like focus, balconies that overlook the vast brewery floor, and a rooftop patio that offers a unique view of the Downtown skyline and a sunset gallery that instantly placed Buff Brew in the top realm of the city's brewery centerpieces.
And all of that is possible thanks to a relentless decade-long search for creative flavors that can't be found elsewhere in town.
The Flavorful Offerings of Buff Brew
Since its founding in 2012 by Rassul Zarinfar and Ryan Robertson, Buffalo Bayou Brewing Company has unleashed more than 75 recipes on an unsuspecting public that have grown to crave their offerings.
From year-round mainstays like their flagship 1836 Copper Ale and the crisp witbier notes of the Great White Buffalo, to the adventurous small-batch brews that evoke flavors like almond citrus, ginger melon, hibiscus and mango, and Mexican hot chocolate, Buff Brew has thrived thanks to their flavor theory philosophy.
On the second floor of Buff Brew, Chef Arash Kharat, renowned for his role as executive chef and pitmaster at former brunch haven Beaver's, has guided the brewery into a delicious and subtly upscale pub dining experience. The brewery's menu can be enjoyed from the rooftop to the ground floor and features items like the fajita, pico and elote-topped Cancun Cruz salad alongside the Galvez Pizza; a pesto and mozzarella pie crowned with roasted asparagus, heirloom tomatoes, garlic spinach, and red onions.
Other items on their menu utilize some of the brewery's ale offerings, like their seasonal oysters splashed with butter kissed by Buff Brew's Crush City IPA.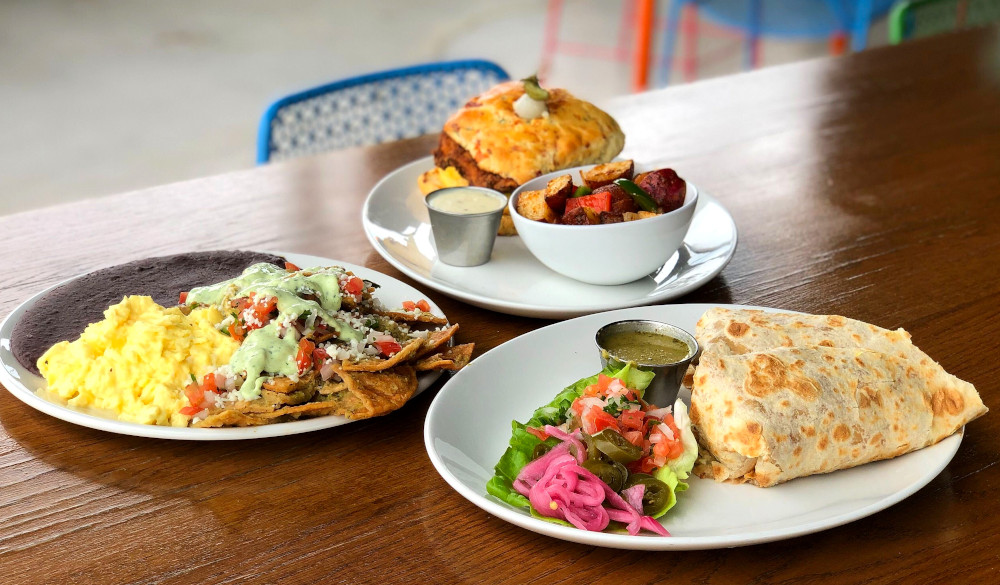 Happenings at Buff Brew
With just six months in the new brewery before the pandemic brought a halt to big bashes, Buff Brew is eager to gradually return to a slate of signature events that helped make their former Nolda Street location a magnetic draw for craft beer fans. Popular shindigs include their long-running Christmas in July celebration or utilizing their rooftop patio as a prime viewing platform for seasonal fireworks.
Whether it's the enticing restaurant specials, limited release tastings or stunning sunset panoramas available atop Buff Brew every day, it's clear that the big move by Buffalo Bayou Brewing Company has solidified its place in the Houston brewery landscape as a unique destination brewery for locals and tourists alike.
Buffalo Bayou Brewing Company in Arts District Houston
Looking for more great craft brewery options in Greater Houston? Check out our Definitive Guide to Houston Breweries inside the Loop and in neighboring communities like Conroe, Katy, Pearland, Galveston, and beyond.
Find More Things to Do in Houston All Year Long
You can find more fun in our interactive event calendar and 365 Weekend Guides.
Be sure to subscribe to our free Weekend Guide email to receive a round-up of great things to do this weekend in Houston in your inbox every Thursday.
If you don't want to miss a thing, you can also opt in to our Daily Update emails (emailed 5 days a week).
Click here to sign up for free.