Our Houston Breweries Spotlight Series take a deep look at all of the most iconic and upstart craft breweries across Greater Houston. Check out our Definitive Guide to Houston Breweries.
Snag a pint and relax in the shaded beer garden of Saint Arnold Brewing Company near Downtown Houston.
The oldest craft brewery in Texas, Saint Arnold Brewing Company has been tapping kegs since 1994 and making a name for itself as a microbrewery pioneer in the Bayou City.
Though it may be the oldest in town, Saint Arnold Brewery has proven that there is always another trick up their sleeve as they continue to innovate, reinvent, and meet the demands of their thirsty beer enthusiasts across the region.
As other breweries begin to cause a stir in the scene, Saint Arnold Brewery finds a way to up the ante, as they did with the opening of their massive beer garden in the summer of 2018.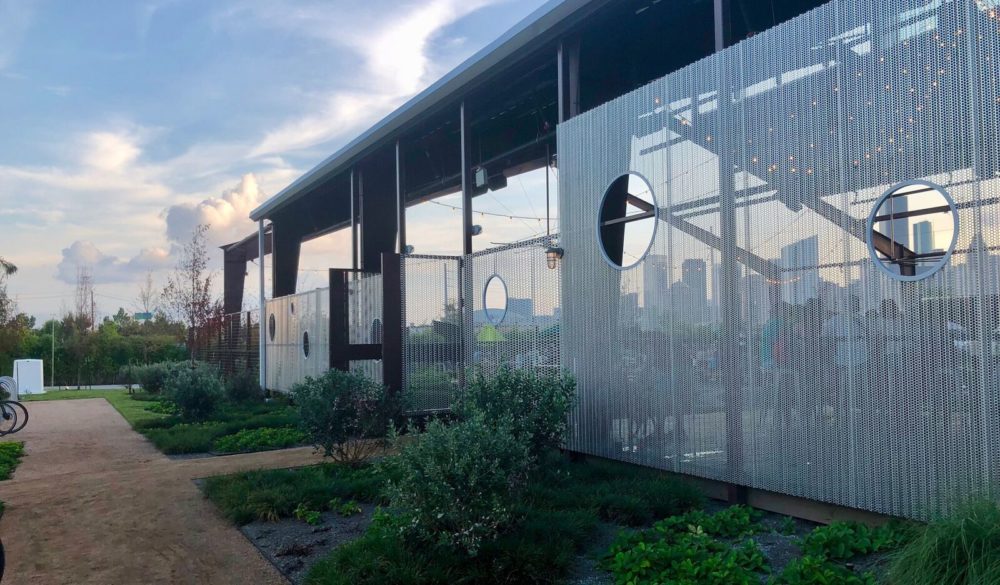 A Beer Garden of Earthly Delights
Wrapped in steel mesh, the industrial aesthetic of the Saint Arnold beer garden blends into the surrounding Fifth Ward neighborhood on Lyons Avenue where it rests as a chapel, calling all craft brewery enthusiasts to service.
Inside the attached restaurant, interlocking wooden beams thrust into the ceiling to create beautiful archways and a distinctive cathedral-esque atmosphere.
On the spacious patio, row after row of tables are fanned out in a flowering hop design. Here, visitors can enjoy a tasty brew under the shade of a high ceiling that peels away to reveal one of the best views of the Downtown skyline to be found anywhere in Houston.
Brews & Views
The signature feature of the beer garden might be the unobstructed downtown views (from Minute Maid Park to the Bank of America Center), but it's also a supremely relaxing spot to sip a pint and catch a breeze that flows through its steel mesh architecture.
Rows of tables stretch from the restaurant's lofty doors and provides a nice flow through the beer garden. Seating is set apart in many places so that a small group or couple might be afforded more privacy than the previous Saint Arnold Brewery beer hall could have hoped to offer.
A popular spot in the beer garden, the gleaming steel fountain in the center laps water over its edges, bringing to mind an overflowing cup. The waterfall tends to attract nearby pups and kiddos alike, especially during the hottest months when guests need a little more relief than the massive overhead fans that circle above.
When thirst hits, a tapwall posted to the side of the fountain is easily accessible and the occasional servers roving around the garden make sure visitors are never far from a fresh ale.
Wedged between the beer garden and active brewery, a series of Bocce ball courts and cornhole boxes offer another area away from the bustling beer garden patio.
One final outdoor stop brings guests to a shaded garage of sorts on the north end of the building. Here, Saint Arnold offers a glimpse at four of the vehicles that take part in a signature Houston festival, the annual Art Car Parade.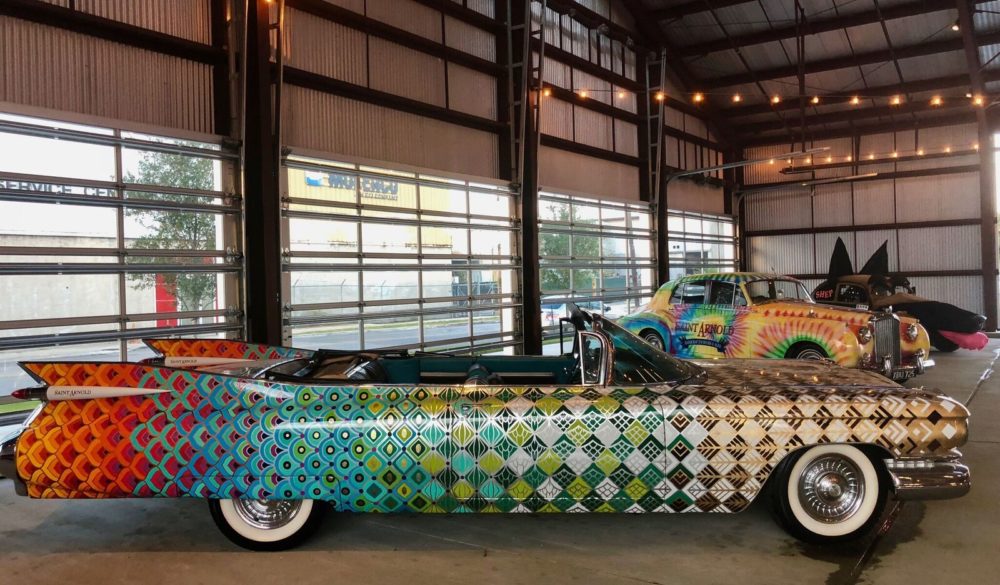 A Sanctuary for Craft Beer Inside
If you're feeling a little hungry, push past the tables on the Saint Arnold patio and through the tall, ornate doors to find the vaulted cathedral ceilings of the brewery's restaurant.
Inside, wooden beams criss-cross while lantern chandeliers hang high from the ceiling. Small alcoves to both sides of the hall are splashed with bright, energetic murals painted by local artists and a tapwall sits straight ahead, offering up the numerous brews of Saint Arnold.
Here, the full-service restaurant offers up fare from grilled ribeyes and fresh gulf shrimp risotto to wings, pizza, and more. Click here for their full menu, offered daily.
Off to the right of the restaurant, a narrow hallway leads visitors to the Saint Arnold Gift Shop, where you can pick up branded t-shirts, dog leashes, and other accessories before you head home.
The Ever-Flowing Offerings of Saint Arnold
Creating this extensive brewery experience is only possible thanks to decades of award-winning beer and daring, boundary-pushing brewing.
With 13 year-round beers to choose from (not to mention the specialties), it's easy to feel a little tap anxiety, but we recommend getting started with these tried-and-true staples:
Amber Ale – Well-balanced and full of flavor, this is the flagship beer of the Saint Arnold enterprise, unchanged since first releasing it in 1994.
Art Car IPA – A more recent addition to the lineup, this hop-blend packs a fruitful punch with a touch of sweetness.
Santo – This Beer World Cup silver medal winner is an example of Saint Arnold's creativity by blending black malt with the Kölsch beer style to create a dark, light-tasting beer.
Keep your eyes peeled for other special beers on tap, including the rotating styles of the Icon Series, highly-coveted annual Divine Reserve releases, and the barrel-aged flavors of the Bishop's Barrel series.
About Saint Arnold
Saint Arnold Brewing Company's roots trace back to a garage in 1994 when Brock Wagner and then-partner Kevin Bartol began brewing kegs of what would become their flagship Amber Ale.
Encouraged by the response to their efforts, the duo opened the original brewery on the far northwest side of town, before moving into the brick-walled digs on Lyons Avenue in 2008 (formerly the HISD food service facility).
A decade of packing their beer hall every weekend would eventually lead to the grand opening of their expansive beer garden next door, in the summer of 2018.
Aside from growing their own business, Saint Arnold has also been committed to expanding the legal operations of microbreweries around the city of Houston and the state of Texas. Most notably, their lobbying efforts in 2013 helped to pass legislation in the Texas Capitol that allowed for the explosive growth of the brewery industry that we see in Houston today.
Tips for Visiting
Most beers are $5 to 6 per pint, with select beers available in larger mugs for $7 to $8. Flights can be purchased for $9, and you can receive a take-home pint glass with a beer for $10.
Plenty of on-site parking is available in two gated lots and other parking surrounding the brewery. Click here for a more detailed parking map.
The original Beer Hall is only accessible on Saturday afternoons from 11am to 4pm. It features an abbreviated food menu.
Brewery tours are available daily at 1pm, 3pm, 5pm, and 7pm.
Before you throw away your Saint Arnold six-packs at home, bring them to the brewery in decent shape and earn points that can be exchanged for glasses, apparel, and other souvenirs.
Saint Arnold Brewing Company
Looking for more great craft brewery options in Greater Houston? Check out our Definitive Guide to Houston Breweries inside the Loop and in neighboring communities like Conroe, Kay, Pearland, Galveston, and beyond.