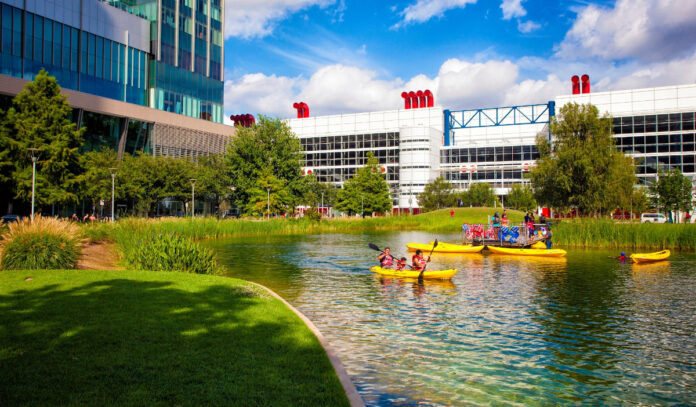 In our Must Do Things Around Greater Houston series, we take a look at Houston's vast array of communities, neighborhoods and destinations to bring you five fun, tasty, surprising and enticing reasons you should give each one a visit.
With a mix of gorgeous Victorian buildings and modern mid- to high-rises, the original founding point of the city—Downtown Houston—is going through a cultural and artistic Renaissance.
Houston's epicenter pretty much speaks for itself (though that won't stop us from saying a little more about it), lined with soaring business centers, luxurious hotels, a plethora of bars and restaurants, a world-class theater district, urban parks, art galleries and installations, sports stadiums and even an entire underground tunnel system.
Here's where to eat, drink and play in Downtown Houston:
5 Must Do Things in Downtown Houston
Eat from morning 'til night
It should come as no surprise that Downtown is packed with eateries, and fantastic ones at that.
Start with lattes and pastries at coffee shops like Boomtown, Common Grounds, Day 6 Coffee Co., and The Tipping Point, or go for weekday avocado toasts, breakfast tacos, and pistachio croissants at Common Bond Brasserie & Bakery. 
At brunch, Hearsay is a chandelier-lit stunner with bread pudding French toast, short rib hash, mimosas and live music; and urban comfort kitchen Kulture has you covered with Johnny cakes and shrimp & grits.
For lunch, sloppy enchiladas or tacos pescado at La Fisheria will more than do the trick, as will building a smorgasbord at one of the hood's many food halls—there's Bravery Chef Hall, Finn Hall, Lyric Market, Understory, and the super cool Post Houston, which also rocks a rooftop garden with views of the city for a stroll after your meal.
Happy hour bites at El Big Bad, MKT Bar, The Nash, and Osso & Kristalla will keep you seriously satisfied while you imbibe; and over by Discovery Green, The Grove offers modern eats and drinks with beautiful views of the park.
Heavy-hitters for dinner include global eateries Brasserie du Parc, GJ Tavern, Guard and Grace, Pappas Bros. Steakhouse, Potente, Rosalie Italian Soul, Toro Toro, Vic & Anthony's, and Xochi, all perfect for a special night on the town. If you're still hungry for late night eats, Frank's Pizza and La Calle Tacos will both send you into peaceful slumbers.
Spend some time in Downtown parks
Downtown Houston boasts a number of urban parks, including Sam Houston Park near City Hall, Tranquility Park in Theater District, and Sesquicentennial Park along the bayou. The hottest two, however, are Discovery Green and Market Square Park.
Discovery Green boasts 12 acres in the heart of the city, with a small lake for kayaking and stand-up paddleboarding, two dog parks, a children's area, and ample room for recreation. Hit it for special events, including magnificent light and art installations, concerts and stage performances, festivals, movie screenings, pop-up markets, group yoga, and even an ice-skating rink in the winter.
The historic Market Square Park may be tiny, but with a Niko Niko's stand, shady walkways, dog runs, and a packed calendar of events, it's full of fun. Head here for Blanket Bingo, free Movie Nights, outdoor markets, and festivals. Then, check out many of the bars and restaurants that flank the outer edges of the park.
Experience the arts in the Theater District
From the Houston is Inspired graffiti wall to grandiose theaters housing Houston's ballet and symphony, Downtown's Theater District is a mecca of art and culture.
The Hobby Center presents hit Broadway-quality performances like Les Misérables, Rent, and Wicked. At Jones Hall, listening to the Houston Symphony is a gift to the soul, while at the Wortham Theater Center, the Houston Ballet company puts on divine productions that will leave you wanting more. The Houston Grand Opera, also at the Wortham Center, is another delight.
And the oldest professional theater company in Texas, Alley Theatre puts on performances of award-winning comedies, treasured classics, and international thrillers.
But that's just the beginning; there are also arenas for concerts (including Post Houston's 713 Music Hall, Bayou Music Center, and House of Blues), art and music festivals, and special events. Get out and explore it all.
Embark on a bar crawl of epic proportions
In a surprise to absolutely no one, Downtown Houston has no shortage of awesome watering holes. Consider making your way through them on an epic bar crawl.
Start just outside of Market Square Park at Houston Watch Company, a throwback bar serving old-fashioned drinks the modern way; or McIntyre's, a fun-loving, multi-level sports bar.
Then head to Market Square to take on La Carafe, Char Bar, and Warren's Inn, some of the oldest bars in Houston; or score excellent cocktails and lowkey vibes at the spunky One Armed Scissor.
Next, it's drinking for a cause at charity bar Angel Share before making your way to the strip of bars along Main. There are expertly-crafted classics and re-invented cocktails at Captain Foxheart's Bad News Bar and Spirit Lodge, classic Old Fashioneds at Dean's, and the ultimate dive bar experience notsuoH, for starters. If beer is more your speed, the Flying Saucer at Main and Capitol is just a few blocks down. So is Sunny's, where you can end the night with Jell-O shots if you dare.
Root for the hometown teams
Houston's epicenter is also home to three sporting arenas.
At Toyota Center, the Houston Rockets take on superstars of the NBA to crowds of roaring fans (along with a packed calendar featuring some of music's biggest icons).
Over in Minute Maid Park, locals cheer on the World Series Champion Houston Astros while grubbing chopped bbq-loaded baked potatoes the size of Texas.
And immediately east of Downtown, Shell Energy Stadium is host to both Houston Dynamo FC of MLS and the Houston Dash of NWSL—not to mention a spot where you can sample of the city's finest eats like Bun B's Trill Burgers, Chef Hugo Ortega concepts, Roostar Vietnamese Grill, Taqueria Arandas and much more.
Let's Go Houston!