Our Houston Breweries Spotlight Series take a deep look at all of the most iconic and upstart craft breweries across Greater Houston. Check out our Definitive Guide to Houston Breweries.
Blend in with the locals, toasting a pint to Baileson Brewing Company on Bissonnet Street in West University.
On Fridays and weekends in West U., you'll find the garage doors rolling up at Baileson Brewing Company, inviting the neighborhood in for a pint of beer.
And on any of those given days, the tables are filled with post-brunch crowds, neighbors from a few blocks away, and shoppers off the beaten path, with a few dogs peppered in.
At Baileson, you can grab a seat to watch the cars go by on Bissonnet Street or at any of the tables that stretch up the driveway and into the brewery's cozy interior. Though you won't find Jenga blocks to topple or trivia to win, you'll be just as happy because this is a brewery that puts beer and its community in the foreground. 
Small-Batch Savoriness
Step up to the bar and you'll have around six beers to choose from, some of which may rotate out quickly thanks to the agility provided by their small-batch brewing process.
The most popular pours include a single-malt, single-hop IPA called the Amarillo Hopkins and a West Coast-style IPA, the Masinghorn. One sip of these and you'll see why the community clamors for them.
The Masinghorn is a bright, citrusy hit of hops on the tongue packed with refreshing, crisp flavors and pairs well with cold weather.
The Amarillo Hopkins IPA is a bit tamer on the bitterness of hops and makes for a great style that might help convert those that typically pass on India Pale Ales.
Also among the row of taps is the Structural Stout, concocted with the help of House of Coffee Beans, a one-stop shop for coffee lovers just down the street. This stout comes with a pillowy head of foam and a coffee aroma that hits your nose well before your tastebuds. With a short aftertaste, it makes for a nice, non-heavy stout that'll bring you back to the bar for another.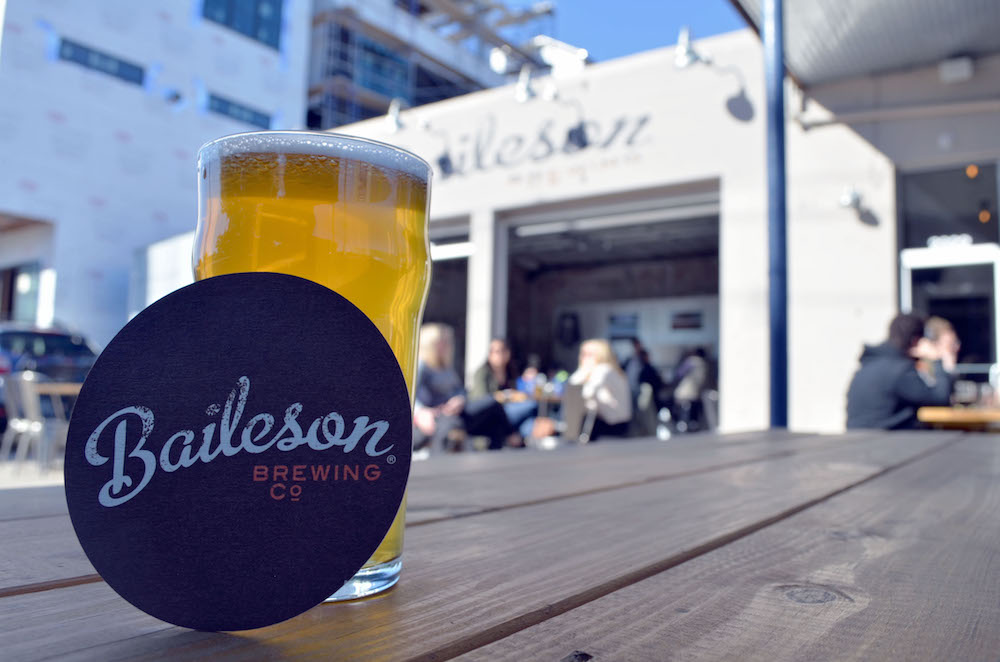 Brews & Bowwows
Opening in the fall of 2017, Baileson Brewing remains an achievement by the married team of Sarah Pope and Adam Cryer, both of whom still maintain full-time jobs in the engineering industry.
Sparked by a homebrewing gift at Christmas-time three years earlier, the couple have grown their love of brewing into a communal space (named for their pups, Bailey and Jameson) that's able to pump out ales to thirsty locals.  
Their small-batch brewing is via their three 7-barrel fermenters, which also means that the brewing space doesn't lend the ability to produce lagers. Instead, they can tweak recipes, experiment with ale styles, and keep a steady stream of local favorites – and it seems to work.
A Place for Friends & Neighbors
Baileson provides an intimate brewery experience that's bolstered by good beer and friendly faces. It makes an ideal place to bring friends and have a conversation without having to shout over throngs of people.
Stop by on the weekend, grab an ale, and join in on what the locals already know.
Tips for Visiting
Parking can be difficult during peak crowds, so try and plan around those hours or opt for a bike ride to the brewery.
With no kitchen, food trucks generally are available on the weekends and outside food is welcome.
For those less interested in beer, you're welcome to bring over a bottle of wine from next-door Vinology instead. 
Half-pints start at $3.50 and Pints run $6. Growler fills are available for $10 (32oz.) and $20 (64oz.).
Baileson Brewing Co. in Rice Village
Looking for more great craft brewery options in Greater Houston? Check out our Definitive Guide to Houston Breweries inside the Loop and in neighboring communities like Conroe, Kay, Pearland, Galveston, and beyond.