Our Houston Breweries Spotlight Series take a deep look at all of the most iconic and upstart craft breweries across Greater Houston. Check out our Definitive Guide to Houston Breweries.
Dare to drink bold, uncommon brews at True Anomaly Brewing Company in East Downtown.
For several decades, Space City has helped mankind explore the outer reaches of the unknown through bold, precise, and daring action on what others might consider risky endeavors.
When four NASA employees decided to embark on their own bold brewing journey in early 2019, these space-faring traits were instilled in their meticulous brewing process at True Anomaly Brewing Company.
Nestled in a burgeoning entertainment district among thriving restaurants and bars, True Anomaly aims to bring uncommon styles to the masses, helping them explore their palate along the way.
Space for Everyone
Seven days a week, True Anomaly Brewing opens their garage-style doors to the public, offering a spacious, easygoing taproom that allows East Downtown venturers to find a respite from the sticky humidity with a cool, crisp beer.
Inside, barstools line the perimeter of the taproom, with plenty of table seating to carouse with friends or compete against one another with a selection from their extensive board game collection.
Limited outdoor seating (with more on the way) offers a partially-shaded patio flocked by outstretched trees, and a line-of-sight on the multiple screens that keep you updated on the latest sports events.
The only trick is in arriving, as parking in this area can be a challenge. Drivers can try their luck with the narrow parking spaces outside the brewery, the surrounding paid surface lots, or, as is recommended, opt for a rideshare drop-off just outside the front of the taproom.
Fermented Exploration
Unless you're a brewery die-hard, stepping up to the True Anomaly bar might give one pause with so many uncommon styles on offer. Grisettes, sours, wilds, and any other experimental batch might make the menu alongside brewery mainstays like Northeast IPAs and semi-common Belgian styles.
True Anomaly Brewing anticipates that uncertainty by providing detailed infographics for each of their beers, helping guests identify tasting notes, traits, and other features, ensuring that each brewery-goer can find the right beer for their tastebuds.
If you're still looking for a jumping off point for any of their brews being pumped directly into the taproom, then it's difficult to go wrong with any of these:
Dark Matter Belgian Dubbel – Heavy malt flavors blend with sweet, flavorful notes for a smooth beer that offers a mellow buzz at 7.4% ABV.
Small Giant Grisette – One of the most uncommon brews available, this is an easy drinker with an interesting historical past. Light in alcohol and with subtle notes of spice, this makes for a great intro beer at the brewery.
Go Flight Northeast IPA – A familiar style for brewery-goers, this beer doesn't overdo it on the haze but still packs a healthy citrus punch and pleasant flavor.
Further down the pipeline, True Anomaly expects to introduce brews crafted in fruiting barrels, cellar-aged concoctions, and a frequently rotating batch of experimental beers to help fill the sixteen spouts in the taproom.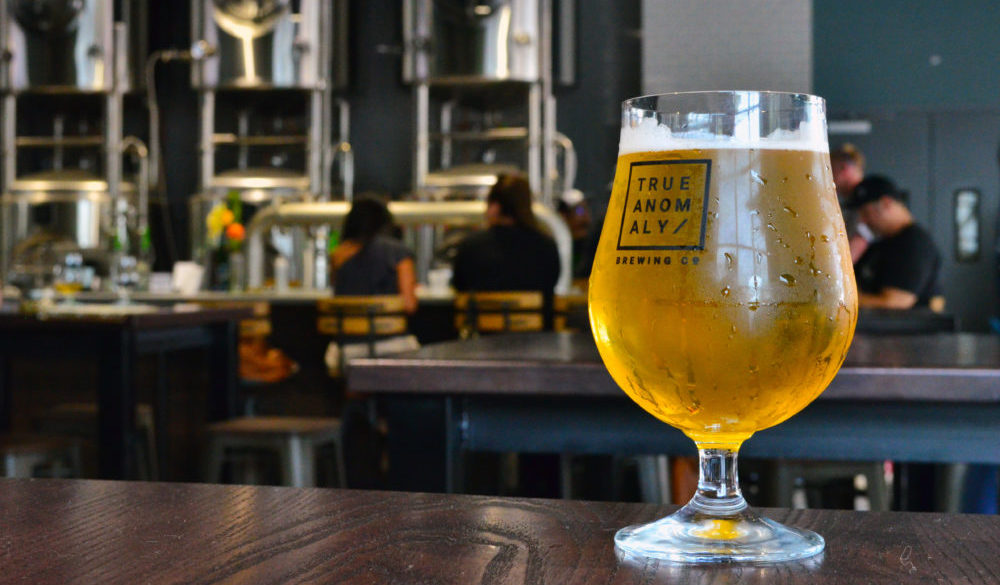 Lift Off
The brainchild of four friends and employees at NASA, True Anomaly Brewing is owned by Michael Duckworth, head brewer Tom Ahlstrom, David Lantz, and Ben Stahl.
This quartet had been homebrewing together for eleven years, providing brews for weddings before an eventual collaboration with Buffalo Bayou Brewing made them consider what kind of taproom they could build.
After two years of business planning, a stint at brewery school, and hunting for the right location, True Anomaly Brewing Company now seeks to provide a space that benefits not only the thirsty brewery-goer, but also the larger community of Houston.
Along with expanding into a bottling and canning operation in the future, True Anomaly is also seeking ways to incorporate non-profits and other cogs of the community to help foster growth through their brewing audience, in lieu of traditional brewery trivia nights and other events.
Tips for Visiting
While True Anomaly is equipped for families and well-behaved pups, the brewery is also highly accessible, including touch-tours for blind and visually-impaired people, as well as fidgets, ear muffs, and more for children with autism and other disabilities. Reach out to the brewery if you have any specific concerns.
True Anomaly doesn't have a kitchen, but feel free to grab grub from any of the nearby establishments and wash it down with a True Anomaly brew.
Just blocks from Toyota Center, Minute Maid Park, BBVA Compass Stadium, Warehouse Live, and George R. Brown Convention Center, True Anomaly makes for a great pit-stop before or after your next event.
True Anomaly Brewing Co.
Looking for more great craft brewery options in Greater Houston? Check out our Definitive Guide to Houston Breweries inside the Loop and in neighboring communities like Conroe, Kay, Pearland, Galveston, and beyond.