Our Houston Breweries Spotlight Series take a deep look at all of the most iconic and upstart craft breweries across Greater Houston. Check out our Definitive Guide to Houston Breweries.
Raise a glass to the big Down Under, while enjoying delicious and locally made craft beers at Platypus Brewing on Washington Avenue.
Amidst the pantheon of the great foreign beer cultures, mostly hailing from Europe, it's easy to overlook the efforts of a region like Australia. But after decades of struggling to establish a foothold, the Aussies have begun embracing craft beer.
Over the last several years, Australians have seen an exponential surge in microbreweries leading to their own contributions to craft beer culture. Sharing several different varieties of hops from their own region, Australia is making a small but not insignificant mark on craft beer around the world.
Aussie Times in H-Town
Along Washington Avenue, just a hop away from Downtown, Platypus Brewing is bringing that Australian beer culture to Houston's increasingly diverse brewery scene.
Built inside a former nightclub, Platypus offers beers crafted with rare Australian hops in styles that shine in Houston's sweltering urban heat – just as they do in the Outback.
Characterized by a relatively low alcohol level and light on the hops, Platypus' crisp and light-bodied beers make for a perfect drink when the temperatures start to rise around town.
Pub Food & Aussie Bites
Complementing the beers is a full menu of pub-style fare ranging from burgers and nachos to Australian specialties like sausage rolls and meat pies. It's hearty food guaranteed to give you a nice pre-coat before diving into Platypus' flights of beer.
Favorite Brews at Platypus Brewing
With seven year-round beers on tap and a few limited or seasonal options, there are plenty of different styles to try at Platypus.
The best value in the taproom is the $12 tasting paddle which gives you six 5-oz pours and displays Platypus' talent for crafting interesting styles.
After getting a taste from several of the taps, we loved these:
The Ranga – A red ale, this beer has a velvety smooth body to it with a flavorful aroma. 
Stars at Night – Platypus' coffee porter trends in a different direction, offering a light and quite malty flavor rather than the heavy stout-like porters that pop up frequently.
Bobby Dazzler – Their signature Australian Ale is light on the hops, fruity, and brewed with a touch of honey to make an incredibly refreshing ale.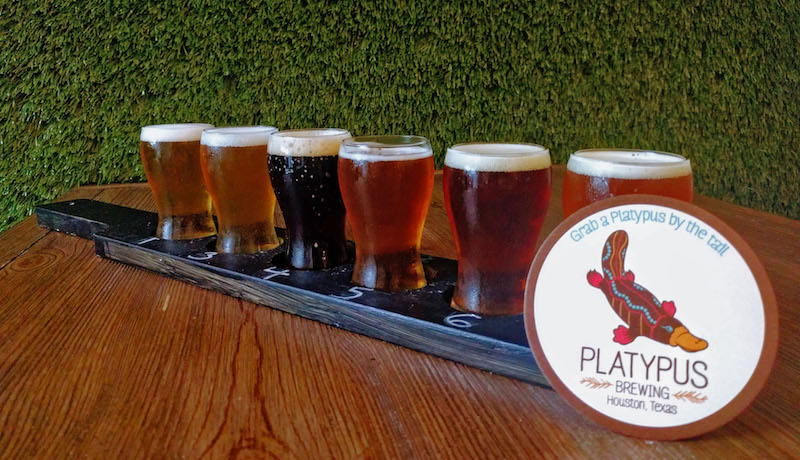 About Platypus Brewing
Founding partner Sean Hanrahan traces the beginnings of his brewery back to a gift from his wife and co-partner, Rachna; a homebrewing kit.
That gift sparked a dream of one day opening a brewery and, while it didn't pan out while they were living in Australia, the couple's return to Houston ushered in an opportunity to open up stateside.
After bringing in partner and fellow Aussie Morgan Hughes, the trio reached out to brewmaster Kerry Embertson, who brought her award-winning experience to cultivate the distinctly Australian beers for a Houston audience thirsty for craft beer.
The Taproom at Platypus Brewing
Since opening their doors in September 2016, the crew at Platypus Brewing has worked hard to ensure that the brewery is a popular weekend destination for crowds seeking their signature Aussie touch or a chill time in a light-hearted lively environ.
In the transformed one-time Drake nightclub, Platypus is able to entertain big crowds in striking indoor taproom and out front on their big covered patio that offers glimpses of nearby Downtown skyscrapers.
Fellow Platypi Membership Has Its Privileges
The brewery offers yearly memberships to their Fellow Platypi program for $99 per year.
Members get shirts, a 64-oz growler to take home beers, two pint glasses, and invites to private gatherings at the brewery.
It makes for a great program that helps guests and fellow craft beer enthusiasts get in touch with the fine aspects of brewing these signature beers.
Tips for Visiting
Saturdays are peak crowds at the brewery so if you'd like to opt for a quieter time, try a late afternoon or post-work beer during the week. Come by Monday through Wednesday to take advantage of food specials.
There isn't a tour schedule but if you want to check out the brewing process, stop by on Friday from 2pm to 4pm and ask at the bar. So long as staff is available, they'll be able accommodate requests and show you around.
Platypus runs on a bar model so no need for token exchanges here. Drafts start at $3.50 and run up to $6 for their limited series beers.
Platypus Brewing on Washington Avenue
Phone: 832-742-5503
Hours:

Monday through Thursday: 3pm to 10pm
Friday and Saturday: Noon to midnight
Sunday: 11am to 9pm
Looking for more great craft brewery options in Greater Houston? Check out our Definitive Guide to Houston Breweries inside the Loop and in neighboring communities like Conroe, Kay, Pearland, Galveston, and beyond.