Last updated on Monday, July 26, 2021
Whether exploring the world-class museums and installations that fill the Museum District, or venturing through thought-provoking displays found throughout the Greater Houston area, there is no shortage of exhibits that locals and visitors alike will find fascinating and engaging.
365 Houston has compiled a list of featured exhibits currently on display at museums and renowned destinations throughout the city of Houston, including free offerings that are always open to the public.
Museums and exhibit venues have been organized by prominence in both ticketed and free admission categories. They're also listed by area of focus (art, history and science, and kid-specific) in the sidebar at the top of this page.
These current exhibits require a dedicated ticket—either included with general admission or as a separate ticket—at several of Houston's flagship museums, including The Museum of Fine Arts Houston (MFAH), Houston Museum of Natural Science (HMNS), The Health Museum, Holocaust Museum Houston, and more.
Most museums offer free admission on certain days or during certain hours, though tickets to some exhibits are still required.
Scroll down to check out current museum exhibitions and art installations in Houston.
Save on Museum Visits with Houston Museum Passes
Current Ticketed Museum Exhibits in Houston
One of the Museum District's crown jewels, the Museum of Fine Arts, Houston (MFAH) routinely hosts some of the most prominent temporary exhibits in Houston each year. Joining the exhibits from the museum's permanent collection, these curated crowd-pleasers consistently draw Houstonians and visitors alike.
Another must-see Museum District landmark, Houston Museum of Natural Science (HMNS) is best known for its amazing halls of Paleontology and Ancient Egypt exhibit, along with the Cockrell Butterfly Center, gem and minerals hall, planetarium, and more. You can often find discounted admission to HMNS.
Pompeii: The Exhibition | Ends Monday, September 6, 2021– Take a rare look inside the lives of residents of Pompeii before and after the catastrophic eruption of Mount Vesuvius on August 24, 79 A.D. Featuring 150 artifacts on loan from the collection of the Naples National Archaeological Museum, the exhibit includes frescoes, mosaics, and statues from Pompeii that were hidden from view and forgotten for centuries until rediscovery more than 250 years ago. In a media-rich, object-based, immersive experience, learn how the people of Pompeii lived, loved, worked, worshiped and found entertainment. $30; $21 for ages 3 to 11; $15 for members.
Body Worlds & The Cycle of Life | Ends Sunday, September 12, 2021 – The latest edition of the popular traveling exhibit, featuring real human bodies that have be preserved through plastination. Designed by Body Worlds' creative and conceptual designer, Dr. Angelina Whalley, it demonstrations the human body through the span of time and shows visitors the latest findings in anatomy, longevity, and health. $30; $21 for ages 3 to 11; $15 for members.
Victoria: The T. Rex | Ends Sunday, September 12, 2021 – Discovered in 2019, Victoria is the most complete Tyrannosaurus rex skeleton touring the world today. This exhibition dives into all facets of Victoria's life and death, including her role as a mother. Included with general admission.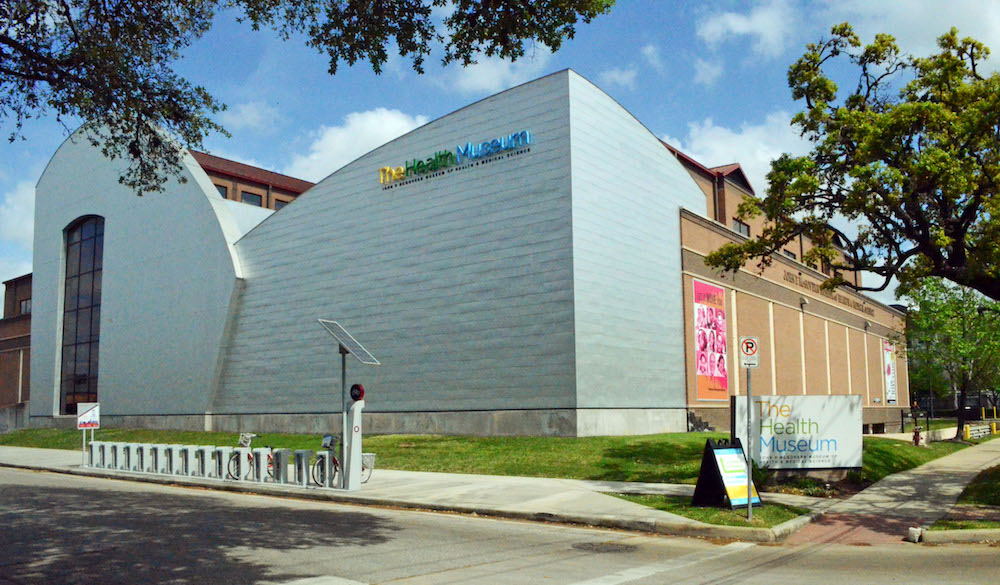 In the Museum District, the Health Museum is a Smithsonian-affiliate kid-friendly staple that invites museum-goers to consider the human body in all of its capabilities and the ways we can keep it healthy, thanks in part to marvelous advances in medical science.
Outbreak: Epidemics in a Connected World | Temporarily on View in 2021 – Created by Smithsonian's National Museum of Natural History in Washington, D.C., this exhibit examines the origins of pathogens, how they spread, and the ways to address them in a world where humans, animals, and the environment have deep, intricate connections. Included with museum admission. A virtual tour is available online. Tickets are $10; $8 for ages 3 to 12 and 65+; free for ages 2 and under.
Brain: The World Inside Your Head | Ends Monday, September 6, 2021 – This all-ages exhibition employs innovative special effects, 3-D reproductions, hands-on learning activities, and interactive technology to explore the inner workings of the brain, including its processes, potentials and mysteries. Tickets are $10; $8 for ages 3 to 12 and 65+; free for ages 2 and under.
Through a reflective journey of the events in Europe in the 1930s and 40s, Holocaust Museum Houston (HMH) provides an educational experience that promotes responsible individual behavior, cultivates civility, and pursues social justice by exploring human rights and the horrors of hatred, prejudice, and apathy.
Withstand: Latinx Art in Time of Conflict | Ends Sunday, October 17, 2021 – The Museum's first juried exhibition brings together 100 multi-media artworks of Houston Latinx artists that explore themes of social justice and human rights. Specific focuses include border relations, gender roles, domestic violence, the immigrant experience and social and political turmoil.
One of twelve Asia Society locations in the country, the Asia Society Texas Center in the Museum District hosts public programs and exhibitions to increase knowledge of Asia, enhance dialogue, and generate new ideas across the fields of art and culture, business, and education.
Located in the historic Galveston Orphans Home, The Bryan Collection is one of the world's largest collections of historical artwork, artifacts, documents, and exhibits relating to the American West and Texas.
Styling by the Sea: 140 Years of Swimwear | Ends Saturday, August 21, 2021 – Launching in conjunction with the return of the Galveston Island Beach Revue, the summer exhibit consists of a unique selection of swimwear, sunglasses, beach bags, hats, totes, sandals and other accessories from across several decade of fashion and function.
The Lost Bird Project | Extended through December 2021 | FREE – On the grounds of the museum, these large bronze sculptures of the Passenger Pigeon, Heath Hen, Carolina Parakeet, Great Auk, Labrador Duck and, most recently, the Eskimo Curlew chronicle these North American birds that have been driven to extinction in modern times. Free to explore outside the museum.
Next to Ellington International Airport, Lone Star Flight Museum (LSFM) is home to more than 40 displays of significant flying vehicles, hundreds of artifacts related to the history of flight, and flying simulators. In additional, the Texas Aviation Hall of Fame pays tribute to the contributions of native Texans, including Howard Hughes and former President George H.W. Bush.
Welcome Aboard: Colorful Nostalgia of Commercial Flight | Ends Sunday, August 29, 2021 – Take flight for Lone Star Flight Museum's latest exhibit, Welcome Aboard, which highlights the colorful history of commercial flight with vintage aircraft, early industry inflight amenities, and more. Included with general admission.
Fight to the Finish – 1945: The Final Year | Through Summer 2021 – Explore the final year of World War II, in which the Allied forces took to the air to bring a close to hostilities. Witness wartime images, personal accounts and wartime artifacts that bring the conflict to reality, while the accompanying Art of Persuasion exhibition features twenty original posters that sought to rally wartime support, encourage participation in the efforts, and highlight consequences of non-support.
1945: World War II's Last Year in Pictures | Through Summer 2021 – In commemoration of the 75th anniversary of World War II, LSFM presents a photography exhibit featuring forty iconic images from the last year of World War II, capturing the reality, sacrifice, and raw emotion of the men and women who fought to preserve freedom on a global basis. Tickets are $14.95; $12.95 for ages 12 to 17 and 65+; $9.95 for ages 4 to 11; free for ages 3 and under.
In North Houston, the National Museum of Funeral History (NMFH) houses the country's largest collection of funeral service artifacts and features renowned exhibits on one of man's oldest cultural customs. Visitors to NMFH can discover the mourning rituals of ancient civilizations, see up-close the authentic items used in the funerals of U.S. presidents and popes, and explore the rich heritage of the industry that cares for the dead.
The Printing Museum showcases and explores the importance, process, and influence of printed documents and images from the invention of paper and moveable type to today. It traces the struggle for a free press in a young United States through important advances in publishing in the 20th century and its continued relevance in the 21st. Visitors can expect to see antique printing presses, rare books, prints, historic newspapers, striking posters, and more.
Following General Sam Houston: Etchings by Bernhardt Wall | Ends Sunday, August 29, 2021 – Artist and historian, Bernhardt Wall was a producer of fine press books who treated a vast array of subjects, including Texas and the Southwest. Today, Wall's books are highly collectible and may be found in private collections, libraries and universities around the world. The etchings for this pictorial biography of Sam Houston were made in 1935 while wintering in La Porte, near the San Jacinto Battleground. Wall worked with Houston's only surviving son, Andrew Jackson Houston, on the etchings. 
Hope Is Action! Contemporary Letterpress Print Exchange | Ends Friday, December 31, 2021 – Featuring works from the Ladies of Letterpress 2020 conference, this exhibition brims with messages that inspire action, new ways of thinking, and new ways of being.
Save on Museum Visits with Multi-Day Houston Museum Passes
Free Exhibits & Art Installations in Houston
Houston is home to many renowned institutions like the Menil Collection, Contemporary Arts Museum of Houston (CAMH), Moody Center for the Arts, and more where you can explore current exhibits for free, with opportunities to donate to the institutions.
The Menil Collection is a uniquely beloved art museum and campus housing the permanent collection started by John and Dominique de Menil. The main building anchors a campus that also features the Rothko Chapel, Byzantine Fresco Chapel, and Menil Drawing Institute. Two further buildings are dedicated to single artists (Cy Twombly and Dan Flavin) and another to year-long installation projects.
Admission to the Menil Collection and its buildings on campus is free and open to the public.
Dream Monuments: Drawing in the 1960s and 1970s at Menil Drawing Institute | Ends Sunday, September 19, 2021 | FREE – Taking cues from an unrealized exhibition planned by Dominique and John de Menil, Dream Monuments presents an era of drawing works that grapple with the concept of monumentality and how to represent it through new approaches and radical transformations.
Enchanted: Visual Histories of the Central Andes | Friday, July 30 through Sunday, November 14, 2021 | FREE – This collection explores pre-Hispanic archeological finds, including textiles, ceramic vessels, ceremonial works and religious painting, in combination with photographs by Pierre Verger taken during trips through the Central Andes.
Modern and Contemporary at the Menil | Ends Friday, November 19, 2021 | FREE – A new exhibition of the museum's Modern and Contemporary collection, loans and recent acquisitions brings together work from Alexander Calder and Piet Mondrian, as well as Suzan Frecon, Theaster Gates, Mona Hatoum and Roni Horn.
Located across the street from the MFAH campus, the Contemporary Arts Museum, Houston (CAMH) hosts ever-rotating exhibitions that its curators deem the most exciting international, national, and regional art of our time. Housed in a striking stainless steel building, the museum has two galleries. Admission is always free. Donations at the door are welcomed, but not required.
Turn On, Tune In, Tap Out | Ends Sunday, August 8, 2021 | FREE – This group exhibition presents work in paint, sculpture, video, and photography from more than 30 Houston-area teen artists in response to the shifting way of life during the pandemic. The works reflect on questions such as "How do you define 'The Screen'?" and "How does 'The Screen' protect you or hold you back?"
Cauleen Smith: We Already Have What We Need | Ends Sunday, October 3, 2021 | FREE – Across film, sculpture, textiles, drawing, and a site-specific installation, the LA-based artist emphasizes caring—for each other and the planet that sustains us—as ways of coping with the inequities and injustices we face in the past and present.
Located in historic Third Ward, Project Row Houses is comprised of a city block containing 39 structures that highlight its community-based mission of supporting people, ideas, and causes while encouraging artists to extend their practice into a social context. Project Row Houses host artists during bi-annual events called Artist Rounds, in which they're invited to utilize the structures to engage and preserve the community. Admission is free and open to the public.
Round 51: Local Impact II | Virtual Tour Available Now | FREE – Six Houston artists have created installations for the latest Artist Round, elevating the myriad of social justice conversations taking place around the city. While the museum is temporarily closed, visitors can experience a Virtual Exhibition of the Artist Round on the Project Row Houses website.
Round 52: Gulf Coast Anthropocene | Saturday, July 31 to Sunday, December 5, 2021 | FREE – The Third Ward arts and community institution reopens to the public for the first time since closing in March 2020. Round 52 tackles the Anthropocene, a geological era associated with humans' impact on the earth, as it relates to disastrous weather and pollution events experienced on the Gulf Coast. Through the work of 8 artists, Project Row Houses looks to what we can learn about this era, how we connect to built and natural environments, and the need for a more just and sustainable world.
In the heart of the Museum District, the Houston Museum of African American Culture (HMAAC) engages visitors of every race and background with rotating art exhibitions, film screenings, tours, educational programming and more, that help explore and preserve the materials and intellectual culture of African and African Americans in Houston, the state of Texas, the southwest region, and the African Diaspora. Admission to HMAAC is always free, though donations are welcomed but not required.
Fresh and Contemporary: Moving Forward | Temporarily on view in 2021 | FREE – HMAAC embraces 2021 as a fresh start, drawing energy from America's current attention to race and gender reckoning. The exhibition showcases freshness in terms of the diversity of artists, race, and gender and acknowledges once again a wider world. It draws on the intersection of painting, history, and pop culture, with works ranging from figurative to the abstract.
While it's far from a museum, Discovery Green and the adjacent Avenida Houston are both known for their interactive, striking, and compelling public art installations. The park's art installations are always free to the public.
Houston Artist Murals | Ends Sunday, October 31, 2021 | FREE – In celebration of Earth Day 2021, 13 Houston artists were selected to create murals around the park that envision the hope of a future Houston and inspire us to create that shared future together. Featured artists include DUAL, Melissa Aytenfisu, Kill Joy, Max Guarnaccia, Meenr, and others.
One of the recent crowning jewels of Houston's parks, Buffalo Bayou Park was completed in 2015 following a years-long refurbishment and redevelopment of the namesake bayou's banks. It's home to several permanent art installations—like the Dandelion Fountain and Tolerance Statues—including some examples of landscape and physical design as art. The park stretches west from the Sabine bridge by Downtown to Shepherd Drive.
Time No Longer by Anri Sala at Buffalo Bayou Park Cistern | Ends Sunday, December 12, 2021 – This immersive installation, the Cistern's third art project, employs film and sound to create an other-worldly environment within the vast former water reservoir. Visitors work their way around the perimeter of the Cistern, taking in a 360-degree projection and reverberating soundtrack. Viewings are available in thirty minute segments. $12 for ages 9 and up only; $8 for college students, military and ages 62 and up; free on Thursdays. Open daily.
On the campus of Rice University, Moody Center for the Arts is a state-of-the-art architectural beauty, hosting multiple immersive exhibitions throughout the year, as well as workshops, classes, and special events. Admission is always free and open to the public.
Sheila Hicks: The Questioning Column | Ends Saturday, August 28, 2021 | FREE – Known for work in fiber, Sheila Hicks transforms the vertical column of the Pitman oculus, an architectural feature of the Moody Center building, by using vibrant colors of textiles that reveal a complex structure when viewed from different sides.
Brie Ruais: Movement at the Edge of the Land | Ends Saturday, August 28, 2021 | FREE – This first solo exhibition of the Brooklyn-based ceramicist features works that engage with topics concerning the American landscape and its deterioration. Her sculptures point to the effect industrialized civilizations have had on landscapes, and the disregard for environmental, human or spiritual concerns.
Off the Wall: Sondra Perry | Ends Wednesday, September 8, 2021 | FREE – The large-scale site-specific work, Ocean Modifier, spans the south wall of Brochstein Pavilion, offering visitors an encompassing experience of digital imagery that recreates a murky seascape, interspersed with an altered lenticular image of J.M.W Turner's renowned painting Slave Ship (Slavers Throwing Overboard the Dead and Dying, Typhoon Coming On).
From its home in Midtown, Lawndale Art Center focuses on emerging, up-and-coming local and regional artists, giving them exposure in its four galleries, garden, and the massive 3,200-square-foot wall on the building's northeast-facing wall. Admission is free.
The Big Show 2021 | Ends Saturday, August 14, 2021 | FREE – The annual open-call juried show returns to Lawndale, offering visitors a chance to view works from local and regional artists that practice within a 100-mile radius of Houston. This year's edition curated by Cecilia Fajardo-Hill features 212 artworks by 182 artists, culled from more than 500 submissions.
Robert Hodge: Will They Reminisce Over You? | Ends Saturday, August 14 | FREE – Featured on the Main Street–facing windows of Lawndale, this work by Third Ward–raised artist Robert Hodge explores themes of memory and commemoration as part of the Sankofa Project, which aims to examine historical events that lead up to our current moment of social unrest and racial reckoning.
Symbiosis by Cindee Travis Klement | Ends Monday, November 1, 2021 | FREE – Explore the living land art of local artist and garden in the Mary E. Bawden Sculpture Garden. Her work introduces local color, texture, and variation through a variety of native plants. The piece will reimagine the urban landscape and answer the question: how do we holistically restore an ecological balance that can coexist in Houston with nature in an art venue?
On the University of Houston campus in Third Ward, Blaffer Art Museum offers free exhibits, publications, and public programming for a participatory experience in understanding the force of contemporary art.
Jamal Cyrus: The End of My Beginning | Ends Sunday, September 19, 2021 | FREE – This exhibition, in partnership with Texas Southern University, approaches the work of Houston-based artist Jamal Cyrus from throughout his career that spans fifteen years. Visitors can view approximately 50 objects, images, and installations produced from 2005 through 2020 that demonstrate the breadth of Cyrus' practice.
Jagdeep Raina: Bonds | Ends Sunday, October 24, 2021 | FREE – In writings, paintings, weavings, and video, Jagdeep Raina illustrates and reimagines stories and scenes from across the Kashmiri and Punjabi Sikh diasporas. This exhibition features some of Raina's works from the past six years in what marks their first solo museum presentation in the United States.
Martine Gutierrez: Radiant Cut | Ends Sunday, October 24, 2021 | FREE – This survey of work by Guatemalan-American artist, Martine Gutierrez, interrogates the ways sexuality and style are socially constructed and propagated through popular media.
Opened in 2015, the Midtown Arts and Theater Center Houston (MATCH) features five stages that host 100 to 329 attendees across various spaces for performing arts productions, gallery exhibitions, rehearsal studios, and more. MATCH serves many of the smaller performing arts companies, local artists, and cultural arts organizations in the city, as well as playing host to traveling performers, musicians, artists, and theater groups.
No temporary exhibitions are currently on view.
A Houston tradition for over thirty years, the Art Car Parade sends jaw-dropping cars, bikes, skaters, and motorized creatures rolling down the streets of Downtown and Allen Parkway. Founded by Ann and James Harithas, the Art Car Museum continues the spirit of the popular parade by providing exhibit space for artworks on view temporarily, as well as some of the remolded vehicles that dazzle in the yearly spectacle.
What I Did on My COVID Vacation | Ends Sunday, August 29, 2021 | FREE – In the 15th annual open call show, local artists offer one piece, created in the last year, that helped to explore and relieve the pressures of COVID lockdown.
Learn more about visiting Art Car Museum | Official Site
Located next to CAMH, the Jung Center offers more than 200 classes each year on topics including relationships, ethics, religious studies, expressive arts, writing, mediation and more. In addition, Jung Center also features a free art gallery with rotating exhibits from emerging and established local, regional, and national artists.
Light from the Darkness: The Art of Peter Birkäuser | Ends Tuesday, August 31 – Following a bout of depression, the Swiss artist sought answers through analysis with Marie-Louise von Franz and Carl Jung, which led him to illustrate images from his dreams that emerged from his deep unconscious. These works on display, while not well-received by the art community at the time, provide a vivid insight into the disruptive and transformative reality of the individuation process.
Houston Center for Contemporary Craft (HCCC) is one of the only museums in the country dedicated to the art of making things by hand. In addition to checking out its exhibits, visitors to HCCC can witness artists-in-residence from around the country as they create original art from materials like clay, fiber, glass, metal, wood or found/recycled materials. Admission is free.
9JA Vision: The Fiber and Mixed-Media Work of Joy O. Ude | Ends Saturday, September 11, 2021 | FREE – This solo exhibition of the Texas-based artist, Joy O. Ude, showcases the "interweaving of Western and Nigerian cultures, as experienced from the perspective of an American-born child of Nigerian immigrants."
Suited Up: Contemporary Armor Making in Texas | Ends Saturday, September 11, 2021 | FREE – This exhibition features suits of armor inspired by historical re-enactments and iconic pop-culture warriors, exploring the craftsmanship behind armor making in Texas.
In Residence: 14th Edition | Saturday, August 14 to Saturday, October 9, 2021 | FREE – The annual exhibition of resident artists at HCCC presents works in paper, metal, clay, fiber, and stone by 7 artists; Chloe Darke, Abbie Preston Edmonson, Hong Hong, Hillerbrand + Magsamen, Stephanie Robison, Michael Velliquette, and Kirstin Willders.
Since 1981, Houston Center for Photography (HCP) in Montrose has hosted ongoing exhibits of renowned artists, up-and-coming photographers, and students that take part in classes or workshops offered at the small visual artists' organization. Admission is free and open to the public.
Collaborations XVIII: Isolation | Ends Sunday, September 5, 2021 | FREE – This exhibition features work from Houston-area high school students as they create an exhibition from beginning to end.
Togethering Virtual Exhibition | Online through Sunday, June 26, 2022 | FREE – In response to a call launched by HCP in April 2020, thousands of photographs were submitted from around the world, illustrating the solidarity needed globally to confront the pandemic and providing moments of humor, deeply-felt isolation and self-reflection in this online exhibition.
Learning Curve 13 Virtual Exhibition | Online through Sunday, January 7, 2023 | FREE – Learning Curve is an annual exhibition of selected work made by Houston Center for Photography students from the past year. It features a range of photo-based work—including digital, analog, and alternative processes—and highlights the various educational programs HCP offers through its Learning Center.
Located in Midtown, Station Museum of Contemporary Art has spent two decades hosting local, national, and international exhibitions that seek to broaden public awareness of the cultural, political, economic, and personal dimensions of art. Admission is free and open to the public.
The Road So Far | Temporarily on View through Summer 2021 | FREE – From Houston artist Jesse Lott and Louisiana artist Travis Whitefield, this exhibition features selections of various media and techniques to provide social, historical and political commentary through their individual lenses.
One of the city's oldest non-profit art organizations and a staple for contemporary visual art exhibitions and community classes, Art League Houston embraces contemporary approaches offering modern curatorial programming, community-building through art education, and outreach to the under-served communities. Admission is free and open to the public.
No temporary exhibitions are currently on view.
Since 1976, Archway Gallery has been Texas' oldest artist-owned gallery, presenting monthly exhibitions featuring works of sculpture, pottery, and paintings across a wide range of media and styles. Admission is free and open to the public.
13th Annual Juried Exhibition | Ends Wednesday, August 4, 2021 | FREE – Explore prize-winning works and original creations from area artists at one of Houston's best-known artist-owned spaces at Archway Gallery.
Respite: New Paintings by Margaret Miller | Saturday, August 7 to Thursday, September 2, 2021 | FREE – With this exhibition looming in 2021, oil artist Margaret Miller spent the pandemic painting through it as a form of self expression and working through the tension of the times. The resulting works on display represent the artist's journey through the pandemic and reflect the turbulent times of the past year and a half.
Find More Things to Do in Houston All Year Long
You can find more fun in our interactive event calendar and 365 Weekend Guides.
Be sure to subscribe to our free Weekend Guide email to receive a round-up of great things to do this weekend in Houston in your inbox every Thursday. If you don't want to miss a thing, you can also opt in to our Daily Update emails (emailed six days a week).