Last updated on Tuesday, May 3, 2022
Whether exploring the world-class museums and installations that fill the Museum District, or venturing through thought-provoking displays found throughout the Greater Houston area, there is no shortage of exhibits that locals and visitors alike will find fascinating and engaging.
365 Houston has compiled a list of featured exhibits currently on display at museums and renowned destinations throughout the city of Houston, including free offerings that are always open to the public.
Museums and exhibit venues have been organized by prominence in both ticketed and free admission categories. They're also listed by area of focus (art, history and science, and kid-specific) in the sidebar at the top of this page.
These current exhibits require a dedicated ticket—either included with general admission or as a separate ticket—at several of Houston's flagship museums, including The Museum of Fine Arts Houston (MFAH), Houston Museum of Natural Science (HMNS), The Health Museum, Holocaust Museum Houston, and more.
Most museums offer free admission on certain days or during certain hours, though tickets to some exhibits are still required.
Scroll down to check out current museum exhibitions and art installations in Houston.
Save on Museum Visits with Houston Museum Passes
Current Ticketed Museum Exhibits in Houston
One of the Museum District's crown jewels, the Museum of Fine Arts, Houston (MFAH) routinely hosts some of the most prominent temporary exhibits in Houston each year. Joining the exhibits from the museum's permanent collection, these curated crowd-pleasers consistently draw Houstonians and visitors alike.
Another must-see Museum District landmark, Houston Museum of Natural Science (HMNS) is best known for its amazing halls of Paleontology and Ancient Egypt exhibit, along with the Cockrell Butterfly Center, gem and minerals hall, planetarium, and more. You can often find discounted admission to HMNS.
Body Worlds & The Cycle of Life | Temporarily on View in 2022 – The latest edition of the popular traveling exhibit features real human bodies that have be preserved through the process of plastination. Designed by Body Worlds' creative and conceptual designer, Dr. Angelina Whalley, it demonstrations the human body through the span of time and shows visitors the latest findings in anatomy, longevity, and health. $30; $21 for ages 3 to 11; $15 for members.
Ramses the Great and the Gold of the Pharaohs | Ends Monday, May 23, 2022 – Dive into the life of one of ancient Egypt's most celebrated builders, Ramses II (also known as Ramses the Great), in this world premiere exhibition that also includes more than 180 treasures and one-of-a-kind relics that help visitors to explore life some 3,200 years ago. Tickets are $35; $27 for children and ages 60 and up.
Transcending Audubon | Ends Monday, October 10, 2022 – Wildlife artist Rex Brasher's work is on display in the Hamill Gallery, featuring 29 paintings of North American birds in their natural habitat. These specific works come from the museum's collection, ranging from 1929 to 1932. Included with general admission; $25, $16 for ages 3 to 11.
In the Museum District, the Health Museum is a Smithsonian-affiliate kid-friendly staple that invites museum-goers to consider the human body in all of its capabilities and the ways we can keep it healthy, thanks in part to marvelous advances in medical science.
Outbreak: Epidemics in a Connected World | Temporarily on View in 2022 – Created by Smithsonian's National Museum of Natural History in Washington, D.C., this exhibit examines the origins of pathogens, how they spread, and the ways to address them in a world where humans, animals, and the environment have deep, intricate connections. Included with museum admission. A virtual tour is available online. Included with general admission.
Beautiful Minds: Dyslexia and the Creative Advantage | Ends Sunday, May 22, 2022 – This exhibition explores the different ways that people can read and process information when they have dyslexia, which affects as much as 20% of the world's population. Though dyslexia is labeled as a learning disability, this exhibition also shows that those thinkers that grapple with it can often achieve great accomplishments and adapt to other ways of thinking and exploring their creative skills. Included with general admission.
Living Icons | Ends Monday, May 30, 2022 – Artist Joni Zavitsanos has created a project that memorializes those who have died during the COVID-19 pandemic. Framing portraits with gold leaf halos, the exhibition helps us to understand what we've lost as a community and offers a chance to honor the victims and their families.
Through a reflective journey of the events in Europe in the 1930s and 40s, Holocaust Museum Houston (HMH) provides an educational experience that promotes responsible individual behavior, cultivates civility, and pursues social justice by exploring human rights and the horrors of hatred, prejudice, and apathy.
Notorious RBG: The Life & Times of Ruth Bader Ginsburg | Ends Sunday, July 31, 2022 – Based on the best-selling book of the same name, this vibrant exhibition explores the life and legacy of the judicial giant and cultural icon through archival photographs and documents, contemporary art, audio presentations of her oral arguments, interviews, correspondence, and much more. $19; $15 for ages 65 and up; free for ages 18 and under.
Speaking Up! Confronting Hate Speech | Ends Sunday, August 28, 2022 – This exhibition looks at the ways that words can lead to genocide, war crimes and other crimes against humanity through historical and current examples. Visitors will also explore how different strategies can be deployed to counter what we call "hate speech."
One of twelve Asia Society locations in the country, the Asia Society Texas Center in the Museum District hosts public programs and exhibitions to increase knowledge of Asia, enhance dialogue, and generate new ideas across the fields of art and culture, business, and education.
Making Home: Artists & Immigration | Ends Sunday, July 3, 2022 – Four artists are featured in this Asia Society exhibition, which explores the deeply personal, lived experiences of immigration through various media, including painting, drawing, sculptures and installation. Featured artists include Phung Huynh, Beili Liu, Tuan Andrew Nguyen, and Amanda Phingbodhipakkiya. $8; $5 for students; free for ages 12 and under.
Located in the historic Galveston Orphans Home, The Bryan Museum is one of the world's largest collections of historical artwork, artifacts, documents, and exhibits relating to the American West and Texas.
The Billy Gibbons Texas History Experience | Ends Sunday, July 3, 2022 – Explore the career of rock 'n' roll legends and Texas natives, ZZ Top, through a wide-ranging collection of frontman Billy Gibbons' personal equipment, photographs, apparel, and musical legacy. Included with general admission.
Next to Ellington International Airport, Lone Star Flight Museum (LSFM) is home to more than 40 displays of significant flying vehicles, hundreds of artifacts related to the history of flight, and flying simulators. In additional, the Texas Aviation Hall of Fame pays tribute to the contributions of native Texans, including Howard Hughes and former President George H.W. Bush.
Fly Girls of World War II | Ends Sunday, July 10, 2022 – Dive into the history of women aviators in World War II, hear the heroic pilots' personal insights of triumph and perseverance, see original WWII uniforms and memorabilia, and learn how these courageous women changed the face of the U.S. military. $18; $15 for ages 12 to 17 and 65+; $12 for ages 4 to 11; free for ages 3 and under.
In North Houston, the National Museum of Funeral History (NMFH) houses the country's largest collection of funeral service artifacts and features renowned exhibits on one of man's oldest cultural customs. Visitors to NMFH can discover the mourning rituals of ancient civilizations, see up-close the authentic items used in the funerals of U.S. presidents and popes, and explore the rich heritage of the industry that cares for the dead.
The Printing Museum showcases and explores the importance, process, and influence of printed documents and images from the invention of paper and moveable type to today. It traces the struggle for a free press in a young United States through important advances in publishing in the 20th century and its continued relevance in the 21st. Visitors can expect to see antique printing presses, rare books, prints, historic newspapers, striking posters, and more.
An American Visual Language: Specimens of Historic Wood Type | Ends Saturday, May 28, 2022 – Through westward expansion and an intersection of history, technology and resources, the 19th century brought an entire alphabet of new fonts created in a distinctly American aesthetic, captured here in the work of printer and historic equipment collector John Horn.
Keliy Anderson-Staley: Raw Materials in Peace and War | Ends Saturday, May 28, 2022 – The Houston-based photographer takes from her grandfather's economic book written in 1937 to produce an autobiography of sorts, pairing photos and negatives that form layers that challenge and erase each other, creating new associations.
Glow (Redux): Vintage Blacklight Posters from the '60s and '70s | Ends Saturday, May 28, 2022 – Step into the visual culture of the psychedelic era in this exhibition that features intense pops of color and countercultural aesthetics through the contributions of local members in the Houston Black Light Poster Company and in-house artist, George Goode.
Save on Museum Visits with Multi-Day Houston Museum Passes
Free Exhibits & Art Installations in Houston
Houston is home to many renowned institutions like the Menil Collection, Contemporary Arts Museum of Houston (CAMH), Moody Center for the Arts, and more where you can explore current exhibits for free, with opportunities to donate to the institutions.
The Menil Collection is a uniquely beloved art museum and campus housing the permanent collection started by John and Dominique de Menil. The main building anchors a campus that also features the Rothko Chapel, Byzantine Fresco Chapel, and Menil Drawing Institute. Two further buildings are dedicated to single artists (Cy Twombly and Dan Flavin) and another to year-long installation projects.
Admission to the Menil Collection and its buildings on campus is free and open to the public.
Located across the street from the MFAH campus, the Contemporary Arts Museum, Houston (CAMH) hosts ever-rotating exhibitions that its curators deem the most exciting international, national, and regional art of our time. Housed in a striking stainless steel building, the museum has two galleries. Admission is always free. Donations at the door are welcomed, but not required.
Houston, Sie Haben Ein Problem! | Ends Sunday, August 28, 2022 | FREE – This first major solo exhibition in the United States of Austrian artists Paul Renner and Richard Hoeck offers playful and unconventional ideas about food, humor, performance art and the social potential of coming together for a meal.
Amoako Boafo: Soul of Black Folks | Friday, May 27 to Sunday, October 2, 2022 | FREE – The first solo museum exhibition of Ghanaian artist Amoako Boafo sees his works on display that capture the essence of the Black figure. Through the subjects of his work, Boafo centers the viewer's gaze on a wide representation of Black life, connection and the cultural overlap of existence within the Black diaspora.
Located in historic Third Ward, Project Row Houses is comprised of a city block containing 39 structures that highlight its community-based mission of supporting people, ideas, and causes while encouraging artists to extend their practice into a social context. Project Row Houses host artists during bi-annual events called Artist Rounds, in which they're invited to utilize the structures to engage and preserve the community. Admission is free and open to the public.
Round 53 – The Curious Case of Critical Race…Theory? | Ends Sunday, June 5, 2022 | FREE – Project Row Houses presents work from five participating artists and ROUX, an artist collective, that explores the critical frameworks of Critical Race Theory—an academic concept coined by legal scholars in the 1970s—and how the term has been currently leveraged as a political tool through Texas legislation and the classroom.
In the heart of the Museum District, the Houston Museum of African American Culture (HMAAC) engages visitors of every race and background with rotating art exhibitions, film screenings, tours, educational programming and more, that help explore and preserve the materials and intellectual culture of African and African Americans in Houston, the state of Texas, the southwest region, and the African Diaspora. Admission to HMAAC is always free, though donations are welcomed but not required.
Ekow Nimako: Kumbi Saleh 3020 CE | Ends Sunday, May 15, 2022 | FREE – The Ghanian Canadian artist's Afrofuturistic LEGO city arrives at HMAAC for the first opportunity to view it outside Canada. In this monumental work, the artist reimagines the medieval Kingdom of Ghana and connects it to a utopian vision of an African metropolis 1,000 years in the future.
Bastards of the Diaspora | Ends Wednesday, June 15, 2022 | FREE – Consisting of a series of life-size self-portraits, this exhibition from Nigerian American photographer Hakeem Adewumi probes the artist's understanding and history of his Nigerian heritage, allowing him to overcome cultural limitations to "claim parts of myself that might have remained invisible."
While it's far from a museum, Discovery Green and the adjacent Avenida Houston are both known for their interactive, striking, and compelling public art installations. The park's art installations are always free to the public.
Reginald C. Adams' Labyrinth | Ends Thursday, June 30, 2022 | FREE – Houston-based artist Reginald C. Adams constructs a labyrinth in Discovery Green, crafted from flowering plants, and helping participating individuals to connect with the earth that we walk on, meditate and reflect.
Kingdom of Dreams by Zozo Garcia | Ends Monday, August 22, 2022 | FREE – Inspired by Houston and Discovery Green, this vibrant mural of layered colors and contrasting organic and geometric shapes invites visitors to pick out some of their favorite landmarks from the complex images.
One of the recent crowning jewels of Houston's parks, Buffalo Bayou Park was completed in 2015 following a years-long refurbishment and redevelopment of the namesake bayou's banks. It's home to several permanent art installations—like the Dandelion Fountain and Tolerance Statues—including some examples of landscape and physical design as art. The park stretches west from the Sabine bridge by Downtown to Shepherd Drive.
No temporary exhibitions are currently on display at Buffalo Bayou Park.
On the campus of Rice University, Moody Center for the Arts is a state-of-the-art architectural beauty, hosting multiple immersive exhibitions throughout the year, as well as workshops, classes, and special events. Admission is always free and open to the public.
From its home in Midtown, Lawndale Art Center focuses on emerging, up-and-coming local and regional artists, giving them exposure in its four galleries, garden, and the massive 3,200-square-foot wall on the building's northeast-facing wall. Admission is free.
On the University of Houston campus in Third Ward, Blaffer Art Museum offers free exhibits, publications, and public programming for a participatory experience in understanding the force of contemporary art.
2022 UH School of Art Annual Student Exhibition | Saturday, May 7 to Sunday, May 22, 2022 | FREE – The annual spring showcase at UH's Blaffer Art Museum brings the work of undergraduate seniors and first- and second-year graduate students front and center in a multi-disciplinary show.
Opened in 2015, the Midtown Arts and Theater Center Houston (MATCH) features five stages that host 100 to 329 attendees across various spaces for performing arts productions, gallery exhibitions, rehearsal studios, and more. MATCH serves many of the smaller performing arts companies, local artists, and cultural arts organizations in the city, as well as playing host to traveling performers, musicians, artists, and theater groups.
No temporary exhibitions are currently on view.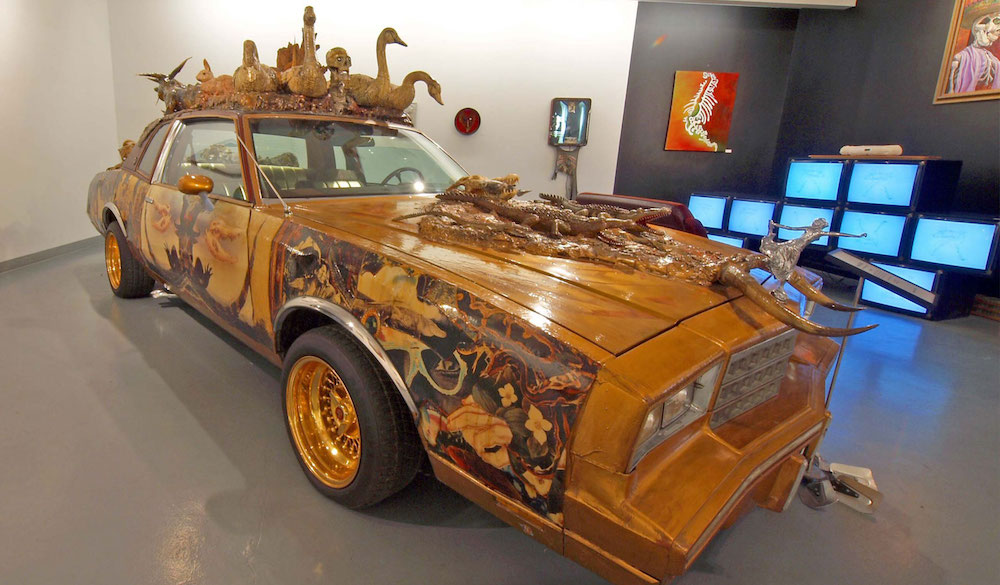 A Houston tradition for over thirty years, the Art Car Parade sends jaw-dropping cars, bikes, skaters, and motorized creatures rolling down the streets of Downtown and Allen Parkway. Founded by Ann and James Harithas, the Art Car Museum continues the spirit of the popular parade by providing exhibit space for artworks on view temporarily, as well as some of the remolded vehicles that dazzle in the yearly spectacle.
Temporarily closed for installation. Check with the Art Car Museum for future updates.
Learn more about visiting Art Car Museum | Official Site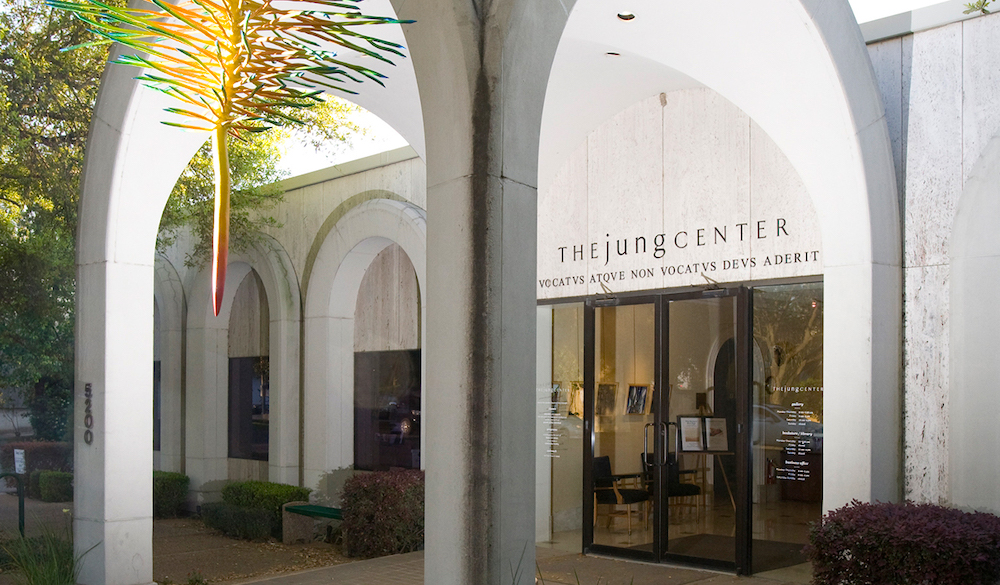 Located next to CAMH, the Jung Center offers more than 200 classes each year on topics including relationships, ethics, religious studies, expressive arts, writing, mediation and more. In addition, Jung Center also features a free art gallery with rotating exhibits from emerging and established local, regional, and national artists.
John Faul: Eating my own Shadow | Ends Saturday, May 14, 2022 | FREE – Inspired by a personal dream, artist John Faul utilizes mixed media on canvas to create a language of color and form about the content of that dream in this deeply subjective and personal work.
Visions: A Celebration of the Creativity of the Jung Center Community | Friday, May 20 to Wednesday, June 29, 2022 | FREE – The annual showcase returns to the Jung Center, displaying artworks from students, members, instructors, volunteers and staff that span a wide array of media and represent explorations of each individual's inner journey and meaning within their everyday life.
Houston Center for Contemporary Craft (HCCC) is one of the only museums in the country dedicated to the art of making things by hand. In addition to checking out its exhibits, visitors to HCCC can witness artists-in-residence from around the country as they create original art from materials like clay, fiber, glass, metal, wood or found/recycled materials. Admission is free.
Since 1981, Houston Center for Photography (HCP) in Montrose has hosted ongoing exhibits of renowned artists, up-and-coming photographers, and students that take part in classes or workshops offered at the small visual artists' organization. Admission is free and open to the public.
Edi Hirose: Extractive Republic | Ends Sunday, June 19, 2022 | FREE – Photographing the impact of extractive mining on Peruvian landscapes, photographer Edi Hirose questions the ways that industry literally moves mountains and alters the land and lives of people who dwell on it.
Jake Eshelman: Cherish the Clear Skies! Vitality in a Ukrainian Village | Ends Sunday, June 19, 2022 | FREE – Centered on a single family living in Central Ukraine, this exhibition of photographs celebrates the exuberance and values of Ukrainian rural culture, where people share a deep, symbiotic connection to the land.
Togethering Virtual Exhibition | Online through Sunday, June 26, 2022 | FREE – In response to a call launched by HCP in April 2020, thousands of photographs were submitted from around the world, illustrating the solidarity needed globally to confront the pandemic and providing moments of humor, deeply-felt isolation and self-reflection in this online exhibition.
Located in Midtown, Station Museum of Contemporary Art has spent two decades hosting local, national, and international exhibitions that seek to broaden public awareness of the cultural, political, economic, and personal dimensions of art. Admission is free and open to the public.
Clark V. Fox: Subversion and Spectacle | Thursday, May 26 to Sunday, September 25, 2022 | FREE – Spanning the career of artist Clark V. Fox, this exhibition explores the complexity of his identities across various periods and aesthetic sensibilities that mix styles and movements to create provocative political statements and subtle connections within our society.
One of the city's oldest non-profit art organizations and a staple for contemporary visual art exhibitions and community classes, Art League Houston embraces contemporary approaches offering modern curatorial programming, community-building through art education, and outreach to the under-served communities. Admission is free and open to the public.
Since 1976, Archway Gallery has been Texas' oldest artist-owned gallery, presenting monthly exhibitions featuring works of sculpture, pottery, and paintings across a wide range of media and styles. Admission is free and open to the public.
Imperfectly Perfect: New Paintings by Mohammad Ali Bhatti | Saturday, May 7 to Thursday, June 2, 2022 | FREE – Ranging from provocative abstract expressionist works to representations of life in the American Southwest, this exhibition features a wide array of works from Archway artist Mohammad Ali Bhatti, offering complex compositions and strongly emotive paintings.
Find More Things to Do in Houston All Year Long
You can find more fun in our interactive event calendar and 365 Weekend Guides.
Be sure to subscribe to our free Weekend Guide email to receive a round-up of great things to do this weekend in Houston in your inbox every Thursday. If you don't want to miss a thing, you can also opt in to our Daily Update emails (emailed six days a week).