Last updated on Tuesday, November 24, 2020
Houston Art Exhibit Venues
Museum of Fine Arts, Houston

The Menil Collection

Contemporary Art Museum, Houston

Discovery Green & Avenida Houston

Moody Center for the Arts

Lawndale Arts Center

Project Row Houses

Houston Museum of African American Culture

Blaffer Art Museum

Houston Center for Photography

Art League Houston

Station Museum of Contemporary Art

Midtown Arts and Theater Center Houston

Art Car Museum

Jung Center

Houston Center for Contemporary Craft

Archway Gallery

Houston History & Science Exhibit Venues
Houston Museum of Natural Science

The Health Museum

Holocaust Museum Houston

Asia Society Texas Center

National Museum of Funeral History

The Bryan Museum

Lone Star Flight Museum

Houston Kids Exhibit Venues
Houston Museum of Natural Science

The Health Museum

Discovery Green & Avenida Houston

Lone Star Flight Museum
Whether exploring the world-class museums and installations that fill the Museum District, or venturing through thought-provoking displays found throughout the Greater Houston area, there is no shortage of exhibits that locals and visitors alike will find fascinating and engaging.
365 Houston has compiled a list of featured exhibits currently on display at museums and renowned destinations throughout the city of Houston, including free offerings that are always open to the public.
Museums and exhibit venues have been organized by prominence in both ticketed and free admission categories. They're also listed by area of focus (art, history and science, and kid-specific) in the sidebar at the top of this page.
These current exhibits require a dedicated ticket—either included with general admission or as a separate ticket—at several of Houston's flagship museums, including The Museum of Fine Arts Houston (MFAH), Houston Museum of Natural Science (HMNS), The Health Museum, Holocaust Museum Houston, and more.
Most museums offer free admission on certain days or during certain hours, though tickets to some exhibits are still required.
Current Ticketed Museum Exhibits in Houston
One of the Museum District's crown jewels, the Museum of Fine Arts, Houston (MFAH) routinely hosts some of the most prominent temporary exhibits in Houston each year. Joining the exhibits from the museum's permanent collection, these curated crowd-pleasers consistently draw Houstonians and visitors alike.
Another must-see Museum District landmark, Houston Museum of Natural Science (HMNS) is best known for its amazing halls of Paleontology and Ancient Egypt exhibit, along with the Cockrell Butterfly Center, gem and minerals hall, planetarium, and more. You can often find discounted admission to HMNS by clicking here.
Death by Natural Causes | Extended Through Sunday, January 3, 2021 – The things you fear are the least of your worries, as the Death by Natural Causes exhibit showcases the range of animal, vegetable, and mineral dangers that lurk in people's everyday lives. This popular exhibit has been extended several times. $30; $20 for ages 3 to 11; $12 for members; but discounted tickets are available for all ages for $19.
State of Water: Our Most Valuable Resource by Brad Temkin | Through Monday, January 18, 2021 – Award-winning photographer and Chicago native, Brad Temkin showcases the designs and architecture behind water systems we use every day, tracing the journey of our most valuable resource from tunnel to tap. Included with general admission.
Body Worlds & The Cycle of Life | Through Monday, May 31, 2021 – The latest edition of the popular traveling exhibit, featuring real human bodies that have be preserved through plastination. Designed by Body Worlds' creative and conceptual designer, Dr. Angelina Whalley, it demonstrations the human body through the span of time and shows visitors the latest findings in anatomy, longevity, and health. $30; $21 for ages 3 to 11; $15 for members.
In the Museum District, the Health Museum is a Smithsonian-affiliate kid-friendly staple that invites museum-goers to consider the human body in all of its capabilities and the ways we can keep it healthy, thanks in part to marvelous advances in medical science.
The Hands That Feed Houston | Temporarily on view in 2020 – Shot by Houston photographer, Amy Scott, this photo documentary celebrates the farmers and ranchers that provide much of fresh produce to the Houston area, connecting Houstonians with those that feed them each day. This exhibition can be viewed online.
Outbreak: Epidemics in a Connected World | Temporarily on view in 2020 – Created by Smithsonian's National Museum of Natural History in Washington, D.C., this exhibit examines the origins of pathogens, how they spread, and the ways to address them in a world where humans, animals, and the environment have deep, intricate connections. Included with museum admission. A virtual tour is available online. Tickets are $10; $8 for ages 3 to 12 and 65+; free for ages 2 and under.
Gear Up: The Science of Bikes | Through Wednesday, May 19, 2021 – This interactive exhibition explores energy, forces and motion, engineering and material science, as well as providing a diverse collection of historic, peculiar and all-around amazing bikes to check out. Tickets are $10; $8 for ages 3 to 12 and 65+; free for ages 2 and under.
Through a reflective journey of the events in Europe in the 1930s and 40s, Holocaust Museum Houston (HMH) provides an educational experience that promotes responsible individual behavior, cultivates civility, and pursues social justice by exploring human rights and the horrors of hatred, prejudice, and apathy.
Mandela: Struggle for Freedom | Through Sunday, January 3, 2021 – This multi-sensory exhibition explores the fight for justice and human dignity in South Africa during apartheid. Visitors can experience the confines of Nelson Mandela's tiny cell where he spent 18 years, make virtual protest posters and explore the movement against racial injustice in the late 20th century. Tickets are $19; $15 for ages 65 and up; free for ages through 18.
Archetype of My Childhood: Houston Photographs by Earlie Hudnall, Jr. | Through Sunday, January 3, 2021 – For years, Hudnall's iconic photographs have captured everyday life in Southern black communities. Temporarily on view in the Museum's Moral Choices Hall, the stunning black and white images offer snapshots of Galveston and Houston's Third and Fourth Wards during the 1970s, '80s and '90s. Included in museum admission.
Compassion, a Virtual Exhibition | Through Monday, January 31, 2021 – Presented in partnership by non-profit Women in the Visual and Literary Arts (WiVLA), this online exhibit explores the meaning and manifestation of compassion in today's world through vivid, colorful paintings, sculptures and other visual works of art paired with complementary written pieces—original poetry, essays, short stories and plays. To view, click here and then click the right or left arrows next to the WiVLA logo to reveal the moving 15-minute video.
One of twelve Asia Society locations in the country, the Asia Society Texas Center in the Museum District hosts public programs and exhibitions to increase knowledge of Asia, enhance dialogue, and generate new ideas across the fields of art and culture, business, and education.
Eternal Offerings: Chinese Ritual Bronzes | Through Sunday, November 29, 2020 – Displaying stunning objects dating from the Shang to the Han Dynasties (1600 BCE to 220 CE), this exhibition explores the ritual significance or ancient Chinese bronzes, and the advanced techniques in form and ornamentation. Admission is temporarily free.
Located in the historic Galveston Orphans Home, The Bryan Collection is one of the world's largest collections of historical artwork, artifacts, documents, and exhibits relating to the American West and Texas.
Saddle Up Cowboy | Temporarily on view in 2020 – Embracing the connection between the real-life cowboy, including the Mexican vaquero, and the cowboy fantasy popularized by Hollywood heroes, Saddle Up Cowboy contrasts real working saddles with paintings depicting the cowboy that fueled the 20th century popular imagination. It reveals how the cowboy of popular culture became the West as we wanted it to be – in art, in books, in movies. Included with admission.
The Lost Bird Project | Through February 2021 | FREE – On the grounds of the museum, these large bronze sculptures of the Passenger Pigeon, Heath Hen, Carolina Parakeet, Great Auk, Labrador Duck and, most recently, the Eskimo Curlew chronicle these North American birds that have been driven to extinction in modern times. Free to explore outside the museum.
Next to Ellington International Airport, Lone Star Flight Museum (LSFM) is home to more than 40 displays of significant flying vehicles, hundreds of artifacts related to the history of flight, and flying simulators. In additional, the Texas Aviation Hall of Fame pays tribute to the contributions of native Texans, including Howard Hughes and former President George H.W. Bush.
Fight to the Finish – 1945: The Final Year | Temporarily on view in 2020 – Explore the final year of World War II, in which the Allied forces took to the air to bring a close to hostilities. Witness wartime images, personal accounts and wartime artifacts that bring the conflict to reality, while the accompanying Art of Persuasion exhibition features twenty original posters that sought to rally wartime support, encourage participation in the efforts, and highlight consequences of non-support.
1945: World War II's Last Year in Pictures | Temporarily on view in 2020 – In commemoration of the 75th anniversary of World War II, LSFM presents a photography exhibit featuring forty iconic images from the last year of World War II, capturing the reality, sacrifice, and raw emotion of the men and women who fought to preserve freedom on a global basis. Tickets are $14.95; $12.95 for ages 12 to 17 and 65+; $9.95 for ages 4 to 11; free for ages 3 and under.
In North Houston, the National Museum of Funeral History (NMFH) houses the country's largest collection of funeral service artifacts and features renowned exhibits on one of man's oldest cultural customs. Visitors to NMFH can discover the mourning rituals of ancient civilizations, see up-close the authentic items used in the funerals of U.S. presidents and popes, and explore the rich heritage of the industry that cares for the dead.
The Printing Museum showcases and explores the importance, process, and influence of printed documents and images from the invention of paper and moveable type to today. It traces the struggle for a free press in a young United States through important advances in publishing in the 20th century and its continued relevance in the 21st. Visitors can expect to see antique printing presses, rare books, prints, historic newspapers, striking posters, and more.
Dottie Erwin-Legendre: Paper Expressions | Through Saturday, December 19, 2020 – Erwin-Legendre's work explores the full, expressive potential of handmade paper. The fluid and organic medium is cast, colored, shaped, and layered to create serenely powerful, sculptural work.
The 1940 Air Terminal Museum in Southeast Houston showcases aircraft, memorabilia, and uniforms from aviation history while also telling the story of Houston's rich aviation legacy. The collections are housed in the original art deco building which served as the first purpose-built terminal for passenger flight in Houston.
Space Age Christmas Trees: World's Biggest Mega-Show | Friday, November 27, 2020 to Sunday, January 3, 2021 – Featuring more than 100 vintage aluminum Christmas trees, this special plus-sized offering of the 1940 Air Terminal Museum's annual Christmas tree display. New this year is an interactive Mid-Century Modern Holiday Pad.
Free Exhibits & Art Installations in Houston
Houston is home to many renowned institutions like the Menil Collection, Contemporary Arts Museum of Houston (CAMH), Moody Center for the Arts, and more where you can explore current exhibits for free, with opportunities to donate to the institutions.
The Menil Collection is a uniquely beloved art museum and campus housing the permanent collection started by John and Dominique de Menil. The main building anchors a campus that also features the Rothko Chapel, Byzantine Fresco Chapel, and Menil Drawing Institute. Two further buildings are dedicated to single artists (Cy Twombly and Dan Flavin) and another to year-long installation projects.
Admission to the Menil Collection and its buildings on campus is free and open to the public.
Located across the street from the MFAH campus, the Contemporary Arts Museum, Houston (CAMH) hosts ever-rotating exhibitions that its curators deem the most exciting international, national, and regional art of our time. Housed in a striking stainless steel building, the museum has two galleries. Admission is always free. Donations at the door are welcomed, but not required. Please note as of Friday, October 30, 2020, the Contemporary Arts Museum remains physically closed to the public, but exhibitions can be viewed remotely online.
Slowed and Throwed: Records of the City Through Mutated Lenses | Through Sunday, January 10, 2021 | FREE – Revolving around the legacy of the late Houston legend, DJ Screw, this interdisciplinary exhibition examines the creative process of DJ Screw, his contribution to rap, and assembles a field of artists that appropriate mash-up, collage, and slow down time to emphasize how remixing of "sampled" materials is a radical aesthetic act utilized by both artists and musicians.
Wild Life: Elizabeth Murray & Jessi Reaves | Through Sunday, March 7, 2021 | FREE – This unique exhibition juxtaposes the paintings of Elizabeth Murray (born in 1940) with the sculptural works of Jessi Reaves (born 1986) that, while generations apart, are each lyrical, playful and engage with the decorative, domestic and bodily.
Located in historic Third Ward, Project Row Houses is comprised of a city block containing 39 structures that highlight its community-based mission of supporting people, ideas, and causes while encouraging artists to extend their practice into a social context. Project Row Houses host artists during bi-annual events called Artist Rounds, in which they're invited to utilize the structures to engage and preserve the community. Admission is free and open to the public. Please note as of Monday, October 5, 2020, Project Row Houses is temporarily closed to the public.
Learn more about visiting Project Row Houses | Official Site
In the heart of the Museum District, the Houston Museum of African American Culture engages visitors of every race and background with rotating art exhibitions, film screenings, tours, educational programming and more, that help explore and preserve the materials and intellectual culture of African and African Americans in Houston, the state of Texas, the southwest region, and the African Diaspora. Admission to HMAAC is always free, though donations are welcomed but not required. As of Friday, October 30, 2020, the museum is accepting visitors by appointment only. Click here to schedule a visit.
While it's far from a museum, Discovery Green and the adjacent Avenida Houston are both known for their interactive, striking, and compelling public art installations. The park's art installations are always free to the public.
No temporary exhibits are currently on view, though guests can explore the park's permanent installations.
One of the recent crowning jewels of Houston's parks, Buffalo Bayou Park was completed in 2015 following a years-long refurbishment and redevelopment of the namesake bayou's banks. It's home to several permanent art installations—like the Dandelion Fountain and Tolerance Statues—including some examples of landscape and physical design as art. The park stretches west from the Sabine bridge by Downtown to Shepherd Drive.
Estructuras Monumentales | Through Friday, April 23, 2021 – Explore four larger-than-life sculptures created by 105-year-old Cuban artist Carmen Herrera on the Fondren Foundation Meadow (located along Allen Parkway at Gillette Street). The big, bulky shapes boast brilliant hues and striking shapes in this temporary installation co-presented with New York's Public Art Fund.
On the campus of Rice University, Moody Center for the Arts is a state-of-the-art architectural beauty, hosting multiple immersive exhibitions throughout the year, as well as workshops, classes, and special events. Admission is always free and open to the public.
States of Mind: Art & American Democracy | Through Saturday, December 19, 2020 | FREE – Coinciding with the 2020 American election, this exhibit reflects on many of the most pressing topics facing American democracy, aiming to encourage dialogue around current social and political issues such as freedom and equality, voting access, gun control and immigration policies.
Creative Interventions: Rice University Outdoor Structures | Through Friday, May 21, 2021 | FREE – A new campus art initiative for the 2020-21 academic year includes art murals and installations on the sides of new campus tent facilities and open-air structures, including a Allison Hunter's video projection work showing the movement of bees, Jasmine Zelaya's Detroit Red celebrating friendship and connectivity in the era of COVID-19, Gonzo247's Rice Community Mural, a barn-raising from the Dutch collective We Make Carpets, and more.
Off the Wall: Sondra Perry | Through Sunday, August 1, 2021 | FREE – The large-scale site-specific work, Ocean Modifier, spans the south wall of Brochstein Pavilion, offering visitors an encompassing experience of digital imagery that recreates a murky seascape, interspersed with an altered lenticular image of J.M.W Turner's renowned painting Slave Ship (Slavers Throwing Overboard the Dead and Dying, Typhoon Coming On).
From its home in Midtown, Lawndale Art Center focuses on emerging, up-and-coming local and regional artists, giving them exposure in its four galleries, garden, and the massive 3,200-square-foot wall on the building's northeast-facing wall. Admission is free.
On the University of Houston campus in Third Ward, Blaffer Art Museum offers free exhibits, publications, and public programming for a participatory experience in understanding the force of contemporary art.
Stephanie Syjuco: The Visible Invisible | Through Friday, January 9, 2021 | FREE – Syjuco's work confronts the media-driven ways in which models of citizenry, immigration, and identity are dramatically evolving in the United States. The Philippines-born, San Francisco-based artist's insights are all the more relevant heading into 2021, in the months following one of the most intense elections in U.S. history.
Opened in 2015, the Midtown Arts and Theater Center Houston (MATCH) features five stages that host 100 to 329 attendees across various spaces for performing arts productions, gallery exhibitions, rehearsal studios, and more. MATCH serves many of the smaller performing arts companies, local artists, and cultural arts organizations in the city, as well as playing host to traveling performers, musicians, artists, and theater groups.
No temporary exhibitions are currently on view.
A Houston tradition for over thirty years, the Art Car Parade sends jaw-dropping cars, bikes, skaters, and motorized creatures rolling down the streets of Downtown and Allen Parkway. Founded by Ann and James Harithas, the Art Car Museum continues the spirit of the popular parade by providing exhibit space for artworks on view temporarily, as well as some of the remolded vehicles that dazzle in the yearly spectacle.
The Works of Brian Zievert & Danilo Stampalija | Temporarily on View in 2020 | FREE – Striking colorful paintings from Brian Zievert, whose work is inspired by the construction and growth of Houston and other cities, and Danilo Stampalija, whose watercolor style that verges on the abstract, pop against the unique art cars and permanent installation at the Art Car Museum.
Learn more about visiting Art Car Museum | Official Site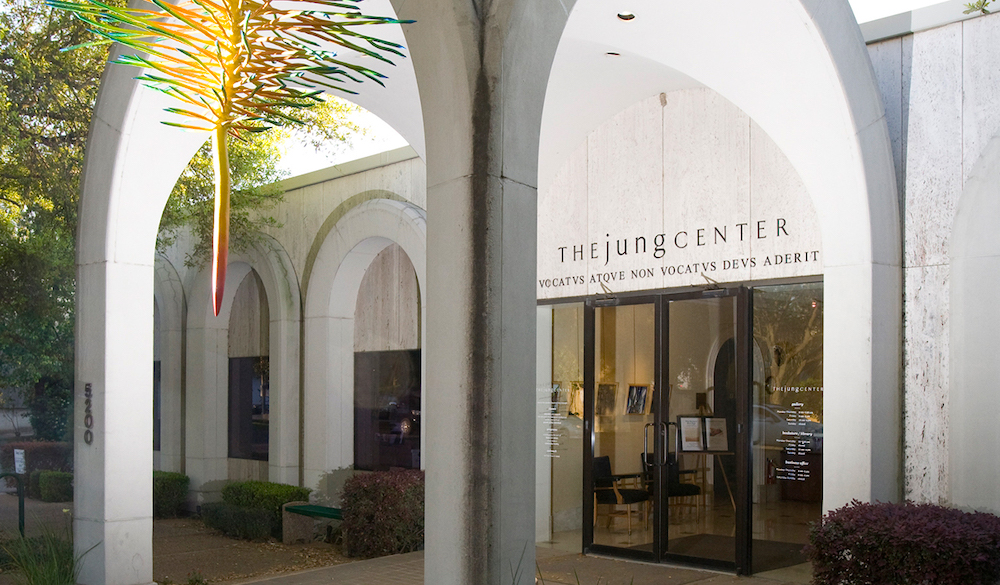 Located next to CAMH, the Jung Center offers more than 200 classes each year on topics including relationships, ethics, religious studies, expressive arts, writing, mediation and more. In addition, Jung Center also features a free art gallery with rotating exhibits from emerging and established local, regional, and national artists. Please note as of Friday, October 30, 2020, the Jung Center is temporarily closed to the public, although the bookstore and library are open for pickup and events are being livestreamed online.
Houston Center for Contemporary Craft (HCCC) is one of the only museums in the country dedicated to the art of making things by hand. In addition to checking out its exhibits, visitors to HCCC can witness artists-in-residence from around the country as they create original art from materials like clay, fiber, glass, metal, wood or found/recycled materials. Admission is free.
In Residence: 13th Edition | Through Sunday, November 29 2020 | FREE – HCCC's annual exhibition celebrates its Artist Residency Program, which has supported artists working in the field of craft for almost two decades. This year's show features work in clay, metal, and fiber by 2019-2020 resident artists Lauren Eckert, Tim Gonchoroff, Nicolle LaMere, Audrey LeGalley, Maxwell Mustardo, Abi Ogle, Masako Onodera, and Brian Vu.
Breaking Tradition: Contemporary Approaches to the Decorative Arts | Through Sunday, January 3, 2021 | FREE – Breaking Tradition features three artists—Sophie Glenn, Steven Young Lee, and Beth Lipman—whose works challenge the dominant cultural narratives of the decorative arts through unconventional furniture, porcelain, photography, and cast-metal pieces.
Meta-Formation: New Connections in Contemporary Blacksmithing | Through Sunday, January 3, 2021 | FREE – Showcasing some of the best metalworkers in the field today, Meta-Formation illustrates the magic of forged metal. The featured work, from sculpture to functional ware, exemplifies a diversity of artistic expression, while embracing approaches that go beyond traditional blacksmithing techniques.
Since 1981, Houston Center for Photography (HCP) in Montrose has hosted ongoing exhibits of renowned artists, up-and-coming photographers, and students that take part in classes or workshops offered at the small visual artists' organization. Admission is free and open to the public.
Keeper of the Hearth: Picturing Roland Barthes' Unseen Photograph | Through Sunday, January 10, 2021 | FREE – Commemorating the 40th anniversary of French philosopher Roland Barthes' inquisitive book, Camera Lucida, this exhibition features works from many photography-based artists, writers, critics and more that contributed an image or text that reflects on Barthes' musings on a photograph of his mother as a child—one of the most famous unseen photographs in the world.
Located in Midtown, Station Museum of Contemporary Art has spent two decades hosting local, national, and international exhibitions that seek to broaden public awareness of the cultural, political, economic, and personal dimensions of art. Admission is free and open to the public.
No Man's Land | Temporarily on View in 2020 | FREE – This group exhibition features work from artists around the world, reflecting on the legacy of colonialism and intervention, particularly how it relates to migration and diaspora. In addition, it examines how many of today's refugee crises, whether driven by conflict, climate or economic opportunity, can be traced back to colonial imposition.
One of the city's oldest non-profit art organizations and a staple for contemporary visual art exhibitions and community classes, Art League Houston embraces contemporary approaches offering modern curatorial programming, community-building through art education, and outreach to the under-served communities. Admission is free and open to the public. Please note as of Tuesday, September 8, 2020, Art League Houston is temporarily closed to the public, though the current exhibitions can be viewed in a digital format on their website.
Rick Lowe: New Paintings & Drawings | Through Saturday, April 24, 2021 | FREE – Art League Houston's 2020 Texas Artist of the Year, Rick Lowe, showcases the artwork he's created over the course of the last few years. The work visualizes Lowe's signature, vivid explorations of color and complex visualizations of compositional space.
Celia Álvarez Muñoz: Obras | Through Saturday, April 24, 2021 | FREE – Art League Houston's 2020 Lifetime Achievement Award in the Visual Arts, Celia Álvarez Muñoz, displays her dynamic range of work. It emphasizes her innovative transitions between photographic media, installations-based work, sculpture, and book art.
Since 1976, Archway Gallery has been Texas' oldest artist-owned gallery, presenting monthly exhibitsuseum of sculpture, pottery, and paintings across a wide range of media and styles. Admission is free and open to the public.
Tracey Meyer's What Shapes Us | Through Thursday, December 3, 2020 | FREE – Explore Meyer's newest sculptures—made using rag paper, wood, and ceramic—which each represent an imagined individual's existence. Each cut and bend in the artwork represents a decision in that person's story, a response to an experience, or a choice that had to be made.
Find More Things to Do in Houston All Year Long
You can find more fun in our interactive event calendar and 365 Weekend Guides.
Be sure to subscribe to our free Weekend Guide email to receive a round-up of great things to do this weekend in Houston in your inbox every Thursday. If you don't want to miss a thing, you can also opt in to our Daily Update emails (emailed six days a week).