Explore the human body and its amazing abilities at the Health Museum in the Museum District.
Situated at the edge of Houston's Texas Medical Center, the Health Museum offers a unique experience that should resonate with every Houstonian and visitor through its doors.
Here, at the corner of La Branch and Hermann Drive, museum-goers have the opportunity to consider the human body in all of its capabilities and the ways we can keep it healthy, thanks in part to the marvelous advances in medical science.
The Health Museum invites visitors to tour the major organs of the human body through humongous eye-popping displays, feel a sense of wonder while watching educational films, and go home feeling like a scientist after performing hands-on biology experiments.
At this level of interactivity, guests retain a lot of their experience at the Health Museum without feeling overwhelmed by crushing crowds or seemingly millions of objects to see before wrapping up a visit.
Set aside an afternoon and find yourself at the Health Museum where your body might thank you for taking the time to learn.
The Grand Hall
Once you've passed through the front doors, take a moment to orient yourself. The whole museum is accessible through the main hall, which also offers some brain teaser stations that stretch to the back window of the hallway.
The Amazing Body Store is positioned to your left, giving visitors to the Health Museum a chance to peruse many unique gifts, books, and educational games.
An enlarged beating heart display on the left side of the hall beckons visitors into the Amazing Body exhibit while the McGovern Theater marquee draws guests into film screenings across the way.
Finally, to your right, you'll find the spotless environs of the DeBakey Cell Lab – the Health Museum's one-of-a-kind permanent exhibit.
DeBakey Cell Lab
For an additional $5 to your ticket, the Health Museum grants access to the DeBakey Cell Lab where guests of all ages can choose three of seven different activities to get real hands-on scientific research experience.
This is a real working cell laboratory, led by volunteer educators with decades of work in the medical sciences. The largest cell lab of its kind in the country, this bilingual exhibit makes for a great way to engage young students in STEM (science, technology, engineering, and mathematics) activities.
Entering the DeBakey Cell Lab, guests don white lab coats and protective eyewear as they extract DNA from wheat germ, test just how effective antimicrobial soap is, and get microscopic with chromosomes, bacteria, blood, and even your own cheek cells.
Each bench activity runs ten to thirty minutes long and makes for a great chance to revisit the Health Museum in order to try them all.
The Amazing Body 
Across the hall from the Cell Lab, it's hard to miss the beating heart that guides visitors into the Amazing Body Exhibit.
Upon entry, as an audible heartbeat thumps, the pulsing display attracts visitors like a magnet particularly when it begins to go into a cardiac arrest every 20 minutes. With rapid, erratic pumping and emergency personnel giving instructions, it's an important reminder as you begin to tour the major organs that it's up to each of us to take care of the only body we have.
From here, begin to wind around the different enlarged displays of the body's elements and take in the intricate anatomy of an eyeball, the delicate inner ear that allows us to listen, and the gasp-inducing slices of real human bodies that demonstrate different levels of health.
This part of the Health Museum is what gets engrained in most guests who remember touring through as part of a field trip or when they visited as adults.
With a broad layout of different exhibits (most of them interactive), young and old come away from this area of the museum with better understandings of how their body performs its many tasks that keep us moving.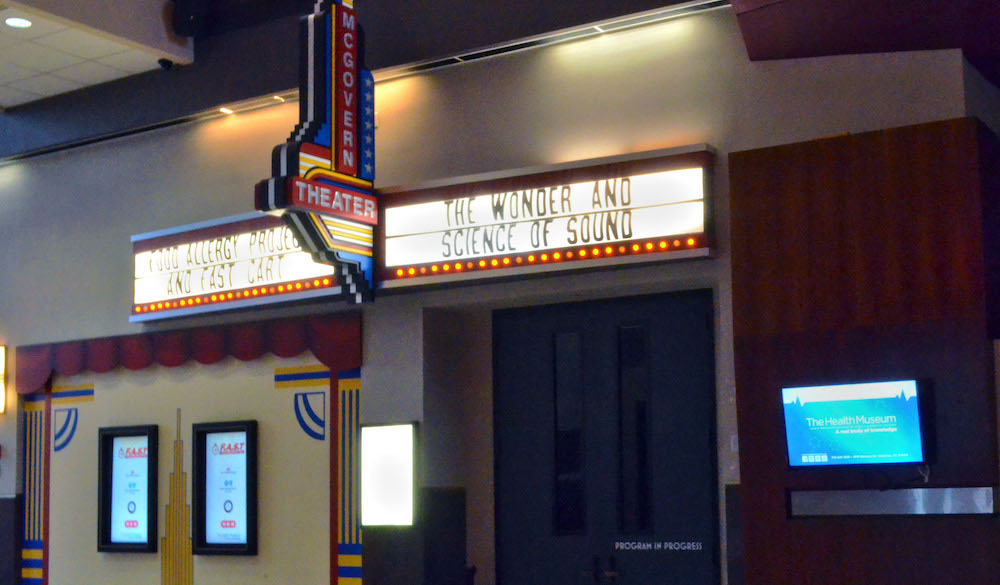 The 4D McGovern Theater
On the other side of the Health Museum, you'll spot the lit up marquee of the 4D McGovern Theater playing films usually associated with special exhibitions taking place elsewhere in the museum.
This is the first theater in the city to incorporate special effects into their film screenings to bring an immersive experience heightened by "rain", lightning, and scents.
Films can sometimes clock in around 45 minutes so this provides a chance to rest during your visit and round out a trip to the Health Museum with a screening that will pique your interest.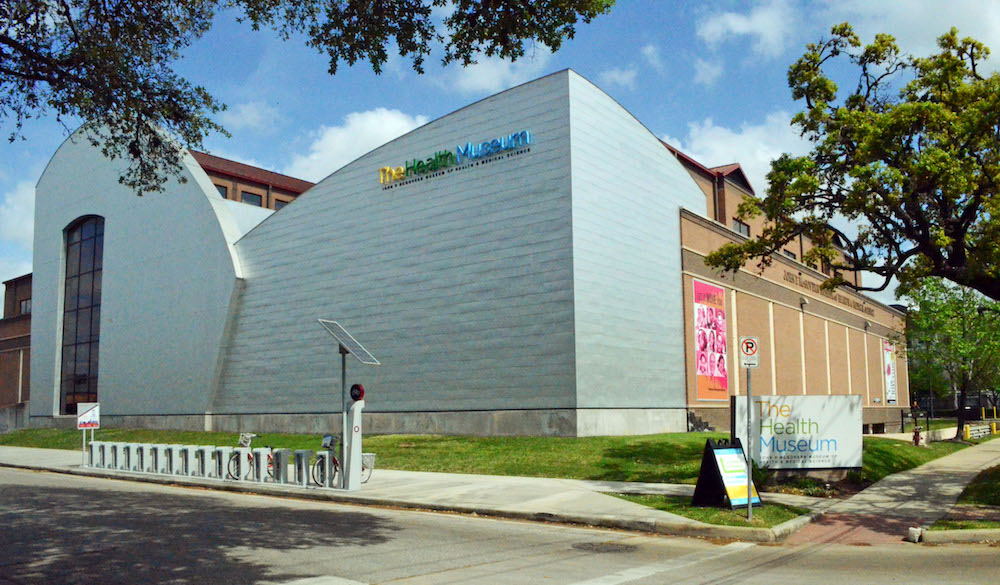 Special Exhibitions
As a Smithsonian-affiliated institution, the Health Museum has been able to bring high-caliber exhibits to their space in recent years.
The special exhibits that go on display at the Health Museum are united in their ability to delve into the interesting and diverse elements of the body and the ways it responds and interacts with the world that surrounds.
Click here for more information on current and upcoming special exhibitions.
Summer Camps & Summits for Children
Special exhibitions also provide an opportunity for the Health Museum to reach out to the community with lectures and programming that widen our knowledge of the body while complimenting traveling exhibits nicely.
In addition, the Health Museum features extensive summer programming intended to spark curiosity and emphasize scientific skill sets.
Discovery Camps are offered during spring break and summer and tailored to three different age groups from 5 to 13 years old. These hands-on camps teach younger children how to use microscopes, create art, and induce chemical reactions while camps for teenagers engage in large dissections, learning the basics of programming, and even developing triage and surgical skills.
The Health Museum also hosts the annual Global Teen Medical Summit, which brings high school-aged children from around the world to Houston for five days of exploration in the medical field. Participants tour hospitals and research institutes, speak with scientists, create medical devices using 3D printing, and learn about how innovation drives advances in healthcare around the world.
Click here for more information on these programs as well as additional group programming.
Advancing the Health Museum Mission
There's more on the horizon at the Health Museum.
In an effort to expand their mission, the Health Museum plans to open "Pop-Up Museums" in community centers around Houston in order to better serve communities that are at-risk for health problems.
Workshops and pared-down exhibits could help educate Houstonians on disease prevention and how to find healthier foods to eat in areas where that might feel particularly difficult.
The introduction of Pop-Up Museums will help to solidify the Health Museum as a unique fixture in the Houston area that provides early STEM educational programs, brings medical breakthroughs from research institutes to the general public, and helps Houstonians of all ages become more familiar with their own bodies.
Tips for Visiting
Membership levels begin at $30 for individuals and $85 for families. Some memberships also include free admission to over 50 Smithsonian-affiliated museums around the country as well as many other perks. Click here for more information.
The Health Museum has a BCycle Station, encouraging multiple bicycle stops around nearby Hermann Park and other Museum District locations.
While you're in the area, the McGovern Centennial Gardens across the street from the Museum makes for an excellent lunch spot before or after your visit.
The Health Museum
Location: 1515 Hermann Drive, Houston, TX 77004
Phone: 713-521-1515
Hours: 

Monday through Saturday: 9am to 5pm
Thursday: 9am to 7pm
Sunday: Noon to 5pm

Parking: $5 parking is available in the Museum's surface lot ($3 for members); metered parking and other paid surface lots are available in the surrounding area.
Admission: Tickets are $10 for adults; $8 for children (3 to 12) and seniors (65+); Free for children 2 and under.