Cool down around the blossoming sprinkler pattern of the Gus S. Wortham Memorial Fountain, best known as the Dandelion Fountain, in Buffalo Bayou Park in Montrose.
A popular attraction for dog walkers, runners, and outdoorsy Houstonians alike, this practical fountain, with its many bronze sprinkler pipes, creates a starburst-like spherical spray. It's perfect to bask in when a gentle breeze blows across the drifting circular mist.
Conveniently poised just east of the Waugh Bridge Bat Colony on the cusp of Buffalo Bayou Park, the striking piece of public art boasts a hard-to-miss design, easy to spot from Allen Parkway both by day and when lit at night.
The Dandelion Fountain has become a favorite destination for solo Instagram missions, family photos, scenic hangouts, people-watching, and easy meet-ups. It sits within a semi-circle grove of short bushes and benches. A few shaded benches can be found on the other side of the hedges, further away from the mist.
Created by Houston architect and long-time Rice University professor William T. Cannady, the Dandelion was commissioned in 1978 by the Gus S. Wortham Memorial Foundation. It was based on a similar work in Australia.
Dandelion Amenities
Though basking in the fountain's glory (both figuratively and literally) is fun, there are plenty of other tranquil amenities besides the refreshing sprays of the Dandelion.
Surrounding the fountain, the Grove makes for an easy respite from the heat with its half-circle of trees shading nearby benches and lush perennial gardens.
Walk a little further to find covered, open-air seating, site lighting for evening visits, water fountains, and the beautiful Kinder Footpath (which takes visitors on a scenic tour of the Buffalo Bayou banks), nearby Johnny Steele Dog Park, and more.
Visiting the Dandelion Fountain
Visitors should note that this area is an active destination no matter the time of day due to its proximity to many of Buffalo Bayou Park's most popular amenities.
Parking spots can be difficult to land on your arrival, but many times one will open up if you circle around a few times.
On busy days, street parking is also available in the neighborhood southwest of the Waugh Bridge and Allen Parkway intersection. Take Waugh away from the park, and turn right onto D'Amico Street. From there you can usually find spots along Rosine or Rochow streets.
If the purpose of your visit is to specifically check out the Dandelion Fountain, then you may also find parking at Spotts Park near Buffalo Bayou Park or within the designated parking areas along Allen Parkway. Note that this parking lot fills up when young professionals and other active adults get off work on weekdays.
Observing the Park Rules 
Though the fountain and park are open to the public daily from 6am to 10pm, the city does have a few rules posted worth noting before you visit.
Skateboards, scooters, glass containers, alcohol, and swimming are all prohibited within the fountain area and surrounding park.
The city also asks that pet owners keep dogs out of the fountain and leashed at all times when not in the designated dog park.
Click here for a complete list of park rules and regulations.
Exploring Buffalo Bayou Park
Stretching from Shepherd to Sabine, Buffalo Bayou Park offers 160 acres of picturesque scenery and skyline views, along with stellar hike and bike trails, performance and outdoor activity spaces like Eleanor Tinsley Park, and more.
Since you're already in the area, if you find the time, it's worth it to check out the gems, both hidden and in plain sight, that are within a reasonable walking distance of the Dandelion Fountain.
Click here to check out a full list of our list of Must Do Things in Buffalo Bayou Park.
Allen Barkway (Johnny Steele Dog Park)
There's plenty to find for any Houstonian, but let's not forget about the pups. Check out the 2-acre Johnny Steele Dog Park near Allen Parkway and Studemont for the perfect Buffalo Bayou "Bark" addition to your day out.
The area is divided into two separate parks, one for large dogs and one for small, and features ponds to jump in, grass to play catch in, dog washing areas, and plenty of doggy bags to help keep the park clean.
There's even drinking fountains complete with spigots for dogs. Click here for directions.
Waugh Bridge Bat Colony
Did you know that nearly every night after dusk, over 250,000 Mexican free-tailed bats spiral out from the crevices of the Waugh Street Bridge at Allen Parkway in Montrose?
The second largest urban bat colony in Texas, The Waugh Bridge Bat Colony is truly a sight to be seen –and a mere 2-minute walk from the beautifully lit Dandelion Fountain.
Typically, the bats emerge after dusk nightly, but the specific time is not completely predictable. It's thought best to arrive about 15 to 30 minutes before the official sunset time as the bats may surprise viewers and emerge before sunset or well after dark. Click here for directions.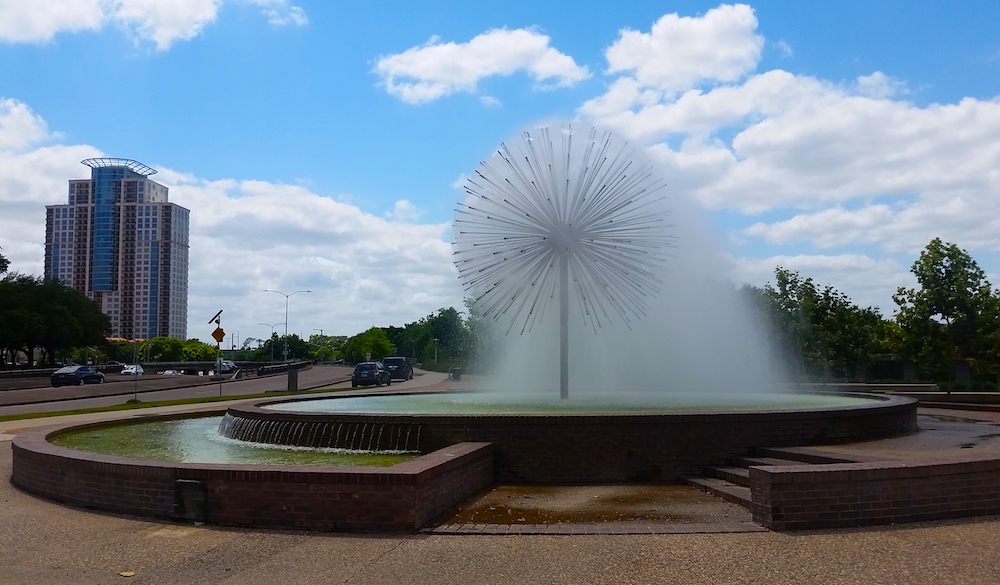 Dandelion Fountain at Buffalo Bayou Park
Location: 2902 Allen Pkwy, Houston, TX 77019
Hours: 6am to 10pm daily
Parking: Streetside parking is typically available, and you will likely find available parking at Spotts Park, on the north side of Buffalo Bayou (unless you are visiting after 4pm on a weekday). There are also designated parking areas along Allen Parkway. Observe posted signage or you will get a parking tickets.