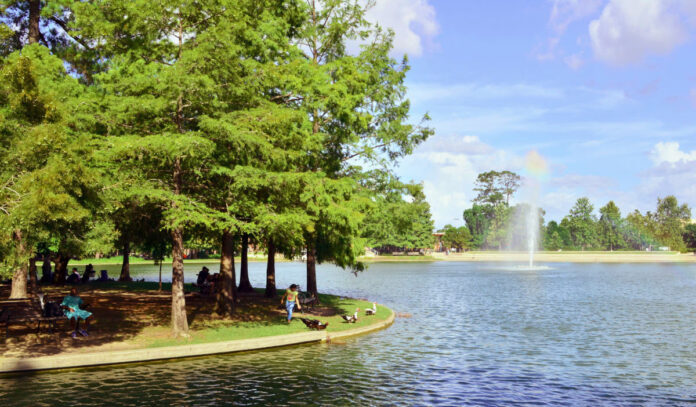 In our Must Do Things Around Greater Houston series, we take a look at Houston's vast array of communities, neighborhoods and destinations to bring you five fun, tasty, surprising and enticing reasons you should give each one a visit.
Sitting in the southern end of the Museum District, Hermann Park is one of Houston's most picturesque and iconic treasures.
In addition to housing landmarks like the dazzling Mecom Fountain and Sam Houston Monument, the 445-acre park offers plenty of fun and relaxing ways to spend the day.
5 Must Do Things in Hermann Park
See giraffes, monkeys & lions at the Houston Zoo
One of the crown jewels of Hermann Park is the 55-acre Houston Zoo, where you'll find more than 6,000 animals in natural habitat-style exhibits, including tigers, cheetahs, elephants, gorillas and orangutans, warthogs, sea lions and more.
Animal lovers can visit exhibits like the African Forest, Galápagos Islands, Bird Habitats, and Reptile and Amphibian House, or feed giraffes at daily feedings held at 11am and 2pm.
The Zoo also hosts a lineup of fun programming throughout the year, from meet-the-keeper talks to fun annual events like the annual Zoo Ball and holiday time Zoo Lights.
Tickets are available by flex pricing, depending on date and time of arrival. Generally, pricing is about $28 for ages 13 and up; $22 for ages 3 to 12.
Open daily 9am to 5pm; last entry at 4pm.
Hit the trails & stroll through the gardens
Hermann Park is easily one of the most beautiful spots in all of Houston, hosting numerous gardens and trails that provide a perfect escape from the city's hustle and bustle.
Hit the tree-lined McGovern Centennial Gardens and you'll find 8 acres of serenity, with a spacious central lawn, gorgeous Rose Garden, interactive Family Garden, and cool things to explore like the sculpture promenade (walk around Hermann Park's entirety and you'll discover even more art in the park).
Those looking to get zen can wander the stone paths of the Japanese Garden, a hideaway complete with cascading waterfalls and bridges, Japanese maples, cherry trees, crepe myrtles and more. Both gardens are free to the public and open daily.
Runners and walkers can check out the Marvin Taylor Trail, a picturesque two-mile path that offers the shade of historic live oaks; and those looking for a longer stroll can explore the scenic Bayou Parkland, an 80-acre oasis for native plants and wildlife nestled along Brays Bayou.
Be sure to take a walk around the easy-on-the-eyes Mary Gibbs and Jesse H. Jones Reflection Pool.
Catch a show at Miller Outdoor Theatre
Spending an evening at this striking outdoor amphitheater is a Houston rite of passage.
The cultural treasure's programming is always free and open to the public during its season, offering a variety of productions ranging from children's performances and a yearly Shakespeare Festival to appearances from the Houston Ballet and popular concert artists.
Bring a blanket or a chair, grab some snacks from the concession stand, and enjoy the show.
Seating on the hill is always free and open to the public; covered seating often requires a free ticket that can be ordered online up to two days in advance, or picked up at the box office before the show, while supplies last.
Pack a picnic
The park boasts many locations perfect for a leisurely picnic.
Between Miller Outdoor Theatre and Lake Plaza, you'll find a dedicated Lake Picnic area, offering picnic tables and grills, a swing set, boardwalk, and new trails.
For large parties and gatherings, the Fannin Pavilion offers a covered space capable of holding about 100 people.
And the Bayou Parkland hosts a multi-use pavilion with a comfortable place for picnics.
Ride the train or take a pedal boat out on the lake
Taking a scenic two-mile, 18-minute journey with three stops around the park, the Hermann Park Railroad is fun for the entire family. Cost is $3.75 per person or $7.50 for an all-day pass.
Visitors can also take a pedal boat ride among the fish, duck, and waterfowl on the eight-acre McGovern Lake, starting at Hermann Park's Pedal Boat Lagoon. Cost is $14.50 per boat for 30 minutes. Train and pedal boat tickets are sold at the Hermann Park Conservancy Gift Shop at Kinder Station in Lake Plaza.
---
Don't Miss Out on Tomorrow's Fun!
Subscribe to our free Weekend Guide newsletter and receive a round-up of great things to do every weekend in Houston, hitting your inbox on Thursday.
Don't want to miss anything? Opt in for our Daily Updates to discover new things happening in Houston and receive special updates and offers, every weekday.
---