Dashboard Confessional, with All Time Low, in Concert at Revention Music Center (CANCELED)
Monday, October 1, 2018 | 7:00 pm
$36
Event Navigation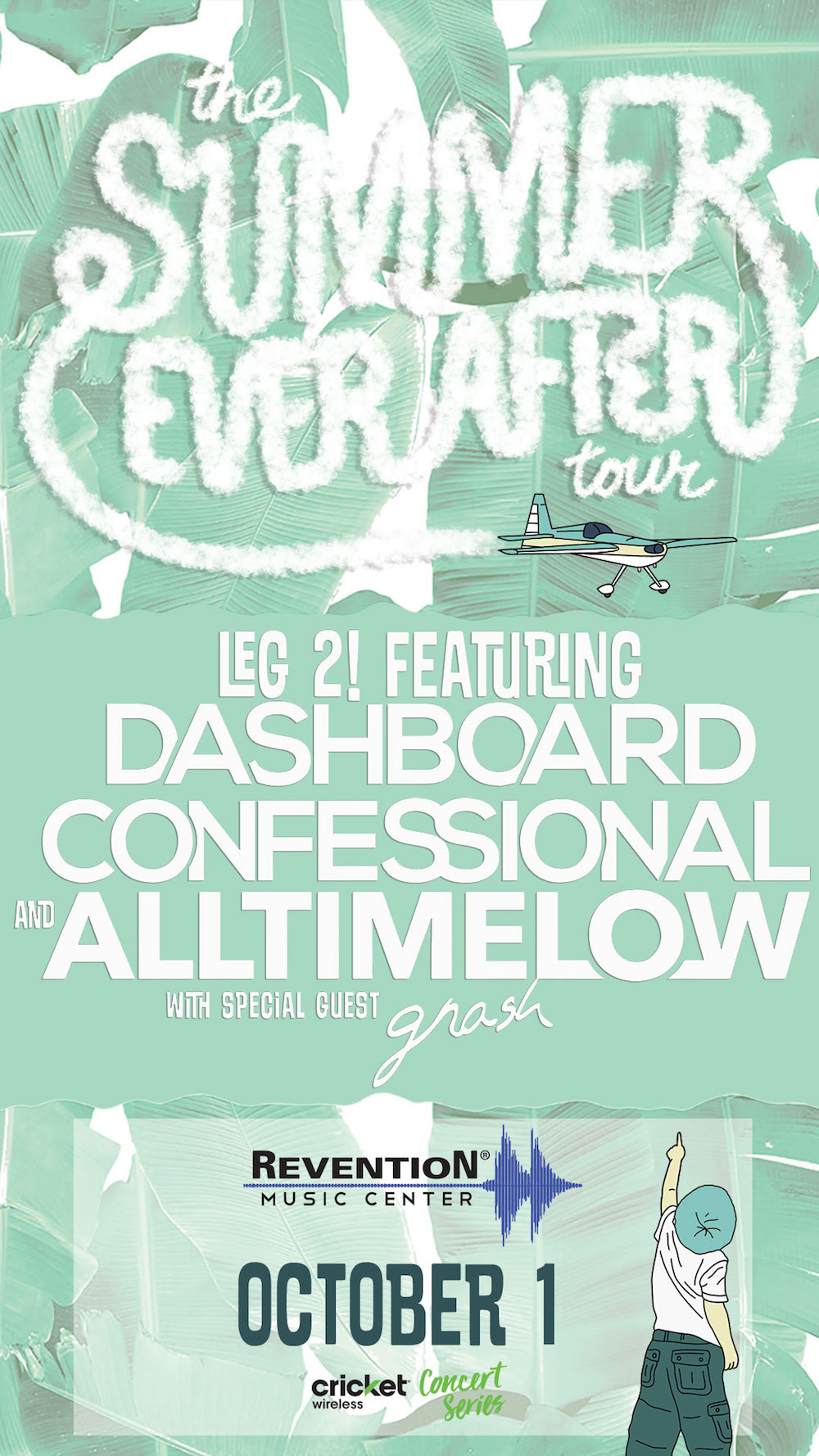 Update 10/1/18: This show has been cancelled due to Dashboard frontman Chris Carrabba's family emergency. Our thoughts and well wishes are with Carrabba and his family at this time. Refunds are available at point of purchase.
The indie, alternative emo band Dashboard Confessional, along with All Time Low, brings the Summer Ever After Tour to Revention Music Center. Special guest Gnash joins the show.
Doors open at 6pm. Show at 7pm.
Dashboard Confessional
Critically acclaimed and embraced by a legion of fans, Dashboard's brand of alternative rock swept through a generation who embraced their albums and sold out arenas (their last full band tour culminated in selling out NYC's Madison Square Garden).
The four-person band is comprised of founder Chris Carrabba, Scott Schoenbeck, Armon Jay, and Chris Kamrada. Their best known for their hits "Hands Down", "Screaming Infidelities", "Vindicated", and "Don't Wait."
All Time Low
American rock band All Time Low has sold more then 1.2 million albums worldwide, raked in more than 100 million YouTube views. Band members Alex Gaskarth, Jack Barakat, Rian Dawson, and Zack Merrick are back with their sixth studio album, Future Hearts.
Admission
Tickets start at $36. Click here to order tickets or for more information.
This Boosted Calendar Listing was sponsored by the event organizer. These are expanded beyond our basic listings, featuring event graphics and images and more detailed information. They're added to our calendar within one business day of purchase. When relevant, they are included automatically with all advertising campaigns, packages, and orders.
Ad revenue supports 365 Things to Do in Houston, our staff, and our contributors, allowing us to continue our coverage of activities and events around the Houston area. Click here to learn about promoting your event or business.
Related Events