Houston comes alive at night, with dives, cocktail bars, and nightclubs dotting the city. In our Houston Nightlife: Best Bars series, we'll cover the best watering holes for night owls in neighborhoods and communities around Greater Houston.
Originally imagined as a planned community and streetcar hub, this largely residential neighborhood has morphed into the heart of Houston.
Today, Montrose's eccentricity shines through a mosaic of century-old bungalows and sky-scraping townhomes, awe-inspiring art galleries and theaters, funky shops and local businesses, stellar restaurants and cafes, and plenty of offbeat bars, music dives, and places to get an evening drink.
Note: For the purposes of this list, Montrose is defined by this map.
The Best Bars in Montrose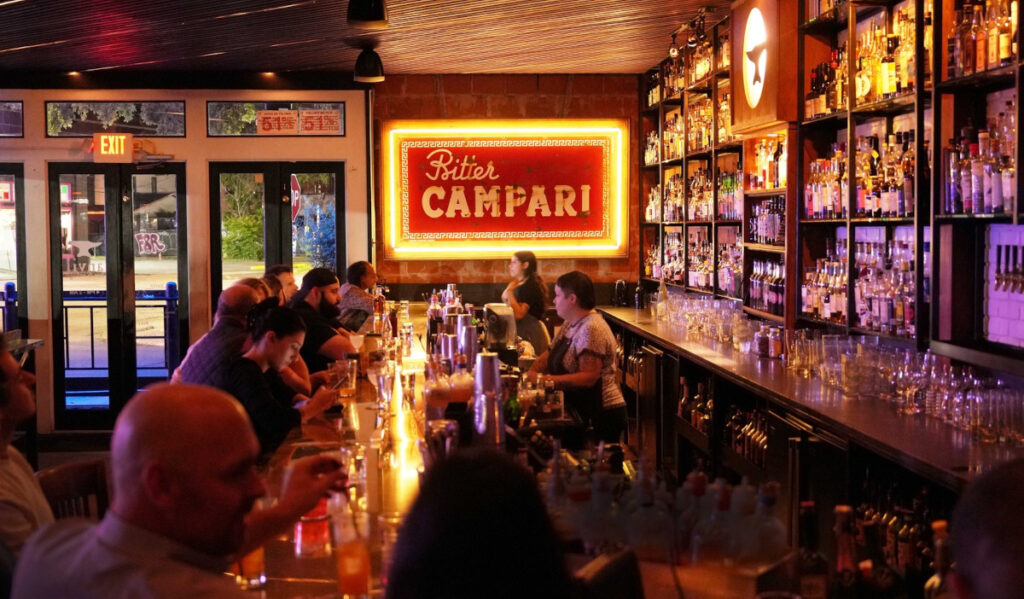 Anvil Bar
One of the first craft cocktail bars on the scene back in 2009, Anvil was the first in a series of winning spots from drink kingpin Bobby Heugel and partner Steve Flippo.
Take refuge with its list of original cocktails and 100 classics complete with bitters, brandy, vermouth, and even flames; or stop by to indulge in the break-even bottle program, which gets you access to exquisite and rare top-shelf spirits at cost.
Open daily 4pm to 2am.
Boheme
Smashing paper thin-crust lavash pizzas and piles of Bangkok fries at indoor-outdoor wine bar Boheme is a Houston rite of passage.
On nicer days, the lush patio space is packed with a fun-loving, laidback crowd.
For extra fun, check out Friday Latin Nights with lively beats from local band Grupo KaChe, or take in the legendary drag brunch on Sunday afternoons.
Open Monday to Thursday 4pm to 2am; Friday noon to 2am; Saturday 11am to 2am; Sunday 11am to midnight.
Clarkwood
Located inside a revamped historic theater on Montrose's north side, Clarkwood is the spot to see and be seen.
Dress to impress and take down fan favorites like the Clarkwood Espresso Martini complete with a torched marshmallow, or grab house curated shots like the Persian Cowboy, hit with mezcal,  blanco tequila, aperol, agave and persian key lime.
Open daily 5pm to 2am.
Refuge
Another concept from Bobby Heugel, Refuge is a sanctuary for those looking for a quieter space with equally excellent drinks.
Reserve a seat at second floor cocktail bar to sip through Cognac French 75s, Limoncello Swizzles, and the two-gin, flawlessly executed Bobby's Martini.
On the first level, you'll find a more relaxed coffee house with beer and wine.
Open Tuesday to Saturday 9am to 1am; Sunday 9am to 5pm; closed Monday.
Rudyard's British Pub
Dubbed "the living room of Montrose," neighborhood hangout Rudyard's gets lively for late-night, when its known to host live music sets, stand-up at the Riot Comedy Club upstairs, karaoke and trivia, open mic nights and more.
Check out its upcoming calendar, or hit the laidback watering hole anytime to enjoy seriously great bar food with craft beers and drinks.
Open daily 11am to 2am.
More Great Bars in Montrose
Sip wine at Camerata, grab cocktails at Bar No. 3 at La Colombe d'Or, score late-night grub and stiff drinks at Sixes and Sevens, or shoot for the cosmos at neon lit Roswell's Saloon; hit the patios at La Grange, Johnny McElroy's and Penny Whistle or sip cocktails under the palapa at The Toasted Coconut; head to lively gay bars like South Beach and JR's Bar and Grill; pair tasty pizza with sassy cocktails like "Mommy, What's a Funkadelic?" at the Montrose outpost of Betelgeuse Betelgeuse; and get the social darts experience at The Flight Club.
Feeling a divey vibe? Check out cult favorite spots like the whiskey-fueled Poison Girl, Boondocks, Lola's Depot, Cecil's Pub, and PJ's Sports Bar, which hosts an epic Friday night karaoke party.
---
Don't Miss Out on Tomorrow's Fun!
Subscribe to our free Weekend Guide newsletter and receive a round-up of great things to do every weekend in Houston, hitting your inbox on Thursday.
Don't want to miss anything? Opt in for our Daily Updates to discover new things happening in Houston and receive special updates and offers, every weekday.
---