Pull up for a plate of chilaquiles, migas, huevos rancheros, breakfast tacos and more at our picks for Mexican breakfast across Greater Houston.
Thank goodness delicious Mexican food isn't just limited to margs and queso for happy hour and dinner. Breakfast and brunch, whether it's your weekend kickstarter or your hangover cure, are two meals we can't get enough of. Luckily in Houston, there's no shortage of tasty offerings.
From small and homey to show-stopping and decadent, we've rounded up a list of the top Mexican restaurants you've got to try for breakfast.
Top 10 Restaurants for Mexican breakfast in Greater Houston
Teotihuacan at Multiple Locations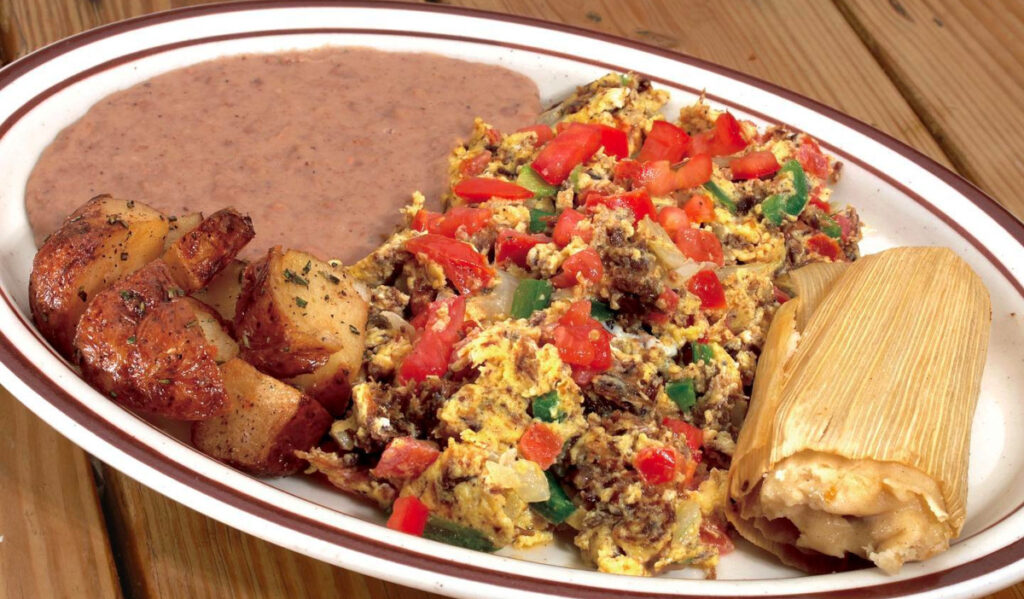 Bringing the glorious tradition of Mexican food to four locations in Houston (on Airline, West Bellfort Avenue, and two on Irvington), Teotihuacan is known for its hearty breakfasts.
All eggs are prepared to order, tortillas are made fresh daily and the menu has a variety of traditional dishes, including Huevos Rancheros, Huevos a la Mexicana, weekend-only Menudo and breakfast burritos.
Have a less adventurous appetite? Not to worry, pancakes, veggie omelets and a kids menu are available at all four restaurants. 
Breakfast available daily 8am to 11am; Saturday and Sunday 8am to 1pm.
Laredo Taqueria on Washington Avenue
There's a reason Laredo Taqueria is on so many "best taco" lists. For nearly 40 years, they have served tasty traditional favorites to eager Houston crowds.
Located in the heart of Washington Heights, Laredo Taqueria wants to connect its customers with the family recipes owners Joe and Ray Soto grew up eating in their grandmother's kitchen.
Open early at 6am, the restaurant has a robust menu of traditional breakfast tacos, including Barbacoa, Papas Mexicanas, and Chicharron. Breakfast plates that include a side of perfectly spiced refried beans and a choice of protein are also available. 
Open daily 6am to 6pm; closed Sunday.
Hugo's in Montrose
Few things can power a weekend like a delicious brunch, and popular Houston mainstay Hugo's delivers with the comfort of authentic Mexican cuisine. Hugo Ortega, named Best Chef Southwest by the James Beard Award Foundation, lives up to the praise his restaurants receive yearly.
On Saturdays for brunch a la carte and Sundays for a brunch buffet, guests can dive into a plate overflowing with chilaquiles or go red and green with Filete con Huevos Divorciados.
All weekend, brunch offerings are delicious, including Barbacoa, Lechón or Ceviche Verde. Enjoy authentic salsas and tortillas made from scratch daily, along with a festive atmosphere and indoor/outdoor seating. 
Brunch available on Saturdays 11am to 3pm; Sunday brunch buffet 10am to 2pm.
La Guadalupana in Montrose
Located on Dunlavy Street in Montrose, this casual eatery specializes in stick-to-your-ribs Mexican fare.
Enjoy a hearty breakfast torta, migas or traditional Machaca Norteña, and don't let the fact that it's breakfast stop you from ordering their award-winning flan.
Plus, you can make friends with carbs at La Guadalupana, where conchas and other Mexican pan dulce are menu highlights, ordered straight from the counter. 
Open daily 7am to 2pm.
Alamo Tamales in Northside
This longtime favorite offers early morning eats at its Northside restaurant.
Starting bright and early at 5am, guests can choose from handmade or machine-made tamales stuffed with jalapeño and cheese, sweet corn, or shredded pork.
Alamo Tamales' famous red or green salsas are the perfect addition to any plate—housemade with just the right amount of spice.
Open daily 5am to 6pm.
Doña Maria in East End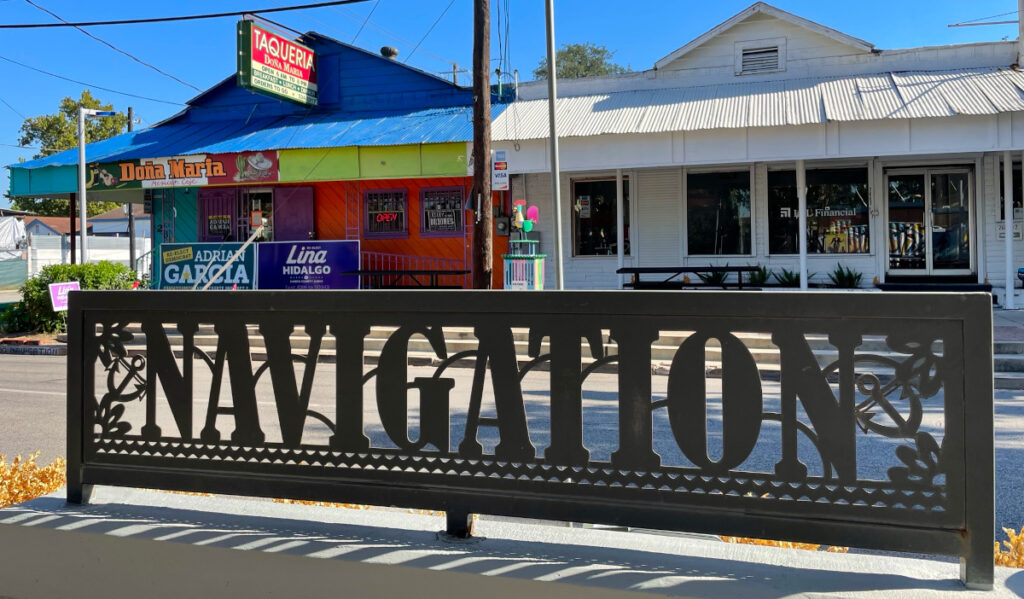 Generous portions and budget-friendly prices are the hallmarks of this Northside restaurant.
Owners Anna and Juan Hernandez's menu is full of favorites from their Tex-Mex childhood, including delicious homemade tortillas (of course), Huevos con Chorizo, Barbacoa, and mouthwatering Migas.
Don't miss out on Doña Maria's overstuffed breakfast tacos with addictive scratch-made salsa. 
Open daily 8am to 2pm; closed Monday.
La Mexicana in Montrose
"Breakfast is served all day, every day." Those are the words we like to hear, and La Mexicana has been doing it right since the '80s.
A massive list of breakfast tacos, including Papas a la Mexicana, Carnitas, and Fajita and Egg bring in the breakfast crowds. Their housemade Aguas Frescas, including horchata and cantaloupe, are favorites as are their breakfast plates, which include a remarkable five different types of Huevos Rancheros.
Stretchy pants and decisiveness are always a good idea at this Montrose restaurant. 
Open daily 7am to 10pm; Friday and Saturday 7am to 11pm; Sunday 7am to 9pm.
Monchy's in East End
This bright East End favorite is serving up an impressive list of breakfast tacos, and for those looking for vegetarian fare, they've got it. Tacos made with mushrooms, nopales and spinach are just a few of their vegetarian offerings.
Monchy's has been spoiling customers with traditional favorites including Huevo con Jamon, Discada, and Barbacoa since 2006. 
Open daily 5am to 4pm; Sunday 7am to 4pm.
Tacos Doña Lena in Spring Branch
Spring Branch darling Tacos Doña Lena, one of Yelp's Top 100 Restaurants in America, started as a roadside vendor in Mexico. Fast forward nearly 40 years, and the recipes live on in an always-packed brick-and-mortar location.
Serving weekend breakfast, the restaurant is known for its tasty breakfast tacos and rainbow of six salsas that range from mild to make-you-sweat spicy.
Always made from scratch, tortillas, Chilaquiles, Breakfast Gorditas and Tortas are a smattering of their breakfast menu favorites. 
Breakfast available Saturday 8am to 10pm; Sunday 8am to 9pm.
The Original Ninfa's on Navigation & in Uptown
Whether you hit the original location on Navigation Boulevard in East End or the swanky Uptown kitchen, Ninfa's may be known for their sizzling fajita plates, but a respectable breakfast menu makes for a great way to start the day, too.
Breakfast tacos are available daily in potato, bacon, chorizo, fajita and bean varieties; and the weekend brunch menu is topped with a belly-filling Huevos Rancheros plate, Chilaquiles Verdes, Red Chile-Pork Posole, an expanded breakfast taco menu featuring carnitas and brisket, and more.
Breakfast tacos available daily 10am to 2pm; Saturday and Sunday brunch available 10am to 2pm.