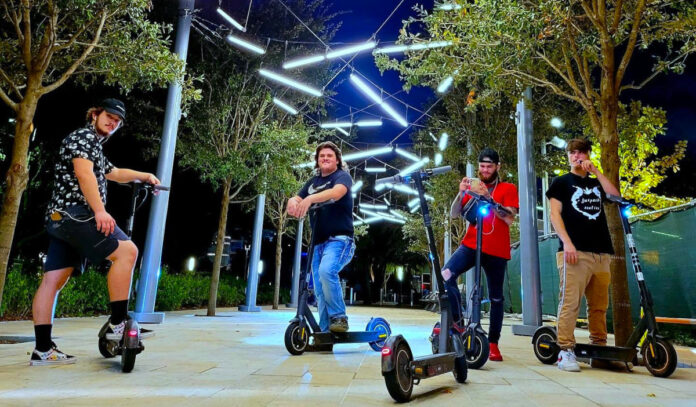 Cruise with ease around some of Houston's most iconic central neighborhoods—Downtown, Midtown, Buffalo Bayou and more—along with your friends for an afternoon or evening on an e-scooter from ERYD Scooter Rental Houston in EaDo.
Since bringing the electric scooter craze to Downtown Houston in Fall 2020, ERYD Scooter Rental has expanded, now offering seven locations throughout Downtown and EaDo where you can make quick and easy rentals to explore Downtown and its surrounding neighborhoods in a fast and fun way.
With a home base one block from the popular St. Emmanuel Street in EaDo, and six other locations in Downtown Houston—including Post Houston—ERYD Scooter Rental offers a variety of mobile options, called RYDS, that enable drivers to quickly get into Downtown streets and parks, plus further flung locales in Midtown, East End and Buffalo Bayou as part of a multi-hour exploration.
While roads often get busy around Downtown, scooter drivers can take advantage of bike lanes, wide lanes and more. But drivers should also observe traffic rules—including not riding on sidewalks—just as if they were riding a bicycle or other motorized single-person vehicle. Drivers should always be mindful of cars, trucks, motorcycles and other large motorized vehicles on Houston's streets.
Drivers should also note that scooters are not permitted inside Discovery Green or on sidewalks.
Find more information on RYDS and e-scooter rentals from ERYD Scooter Rental Houston.
7 Scooter Rental Locations in Houston
In addition to their longtime homebase on the corner of Lamar and Hutchins Streets in EaDo, ERYD Scooter Rental now offers outposts at Post Houston on the northwest edge of Downtown, as well as a cluster of five spots found in the blocks between Discovery Green and Toyota Center.
Look for EYRD Scooter Rental locations on Polk, Austin and Dallas Streets.
Choose the Scooter Rental for You
No matter what excursion you're about to embark on, ERYD Scooter Rental offers multiple RYDS to meet your needs.
Take to the streets of Houston on the familiar 1-person kick scooter, or cruise from a seated position on the sit-down fat tire e-bike.
Have a friend with you? No problem, as you can also rent a 2-person fat tire trike that can move you through Houston on a no-balance-necessary three-wheeler.
Find more information on RYDS and e-scooter rentals from ERYD Scooter Rental Houston.
How ERYD Scooter Rental Works
The rental process is easy and straight forward.
Show up at ERYD Scooter Rental Houston. All scooter rentals are first-come, first-served and reservations aren't accepted for rentals.
Present a valid form of legal identification: a driver's license, state-issued ID, or passport. Rentals are available to ages 10 and up (with parent or guardian on hand to sign waiver).
Sign a legal waiver onsite and pay for the rental, which starts at $25 per scooter for one hour. ERYD Scooter Rentals Houston is a cashless business and only accepts credit and debit cards, and also does not accept payments via Cash App or Venmo.
Hop on your e-scooter and hit the road. Scooters aren't allowed on sidewalks or inside Discovery Green.
Free Scooter Rental on Your Birthday
Birthday revelers can rejoice and cash in on a free 1-hour e-scooter rental on their actual day of birth, with valid I.D., of course. Just show up, mention it's your birthday and show proof with your I.D.
Other crew members whose birthdays fall on other days still pay the normal rate, of course. But if you want to pitch in too, you can bring the price down for everyone in the group, depending on how many folks you have.
If you have questions, call 832-426-3333.
E-scooters from ERYD Scooter Rental Houston in EaDo & Downtown
Hours: Mondays to Thursdays noon to 2am; Fridays to Sundays 10am to 2am
Phone: 832-426-3333
Location: 2121 Lamar St, Houston, TX 77003 — Find ERYD Scooter Rental Houston on the south side of the Kim Hung Market building, across the street from Chapman and Kirby. Look for the wall of NFT Bored Apes.
Admission: Scooter rental rates start at $20 for one hour; $45 for two hours. Different RYDS and rates are also available. Call 832-426-3333 for details or with questions. ERYD Scooter Rental Houston is a cashless business and only accepts credit and debit cards. App payments like Venmo and Cash App are not accepted. Learn more or call 832-426-3333 for more information.
This article has been sponsored by the event organizer. Per our advertising and sponsorship policy, we only accept sponsored content from organizations that meet our editorial standards and truly present a valuable activity, event, resource or destination for residents and visitors across the greater Houston area. Advertising revenue helps support 365 Things to Do in Houston, and our contributors, allowing us to expand our coverage of activities and events around the Houston area. Learn more about promoting your event or business.