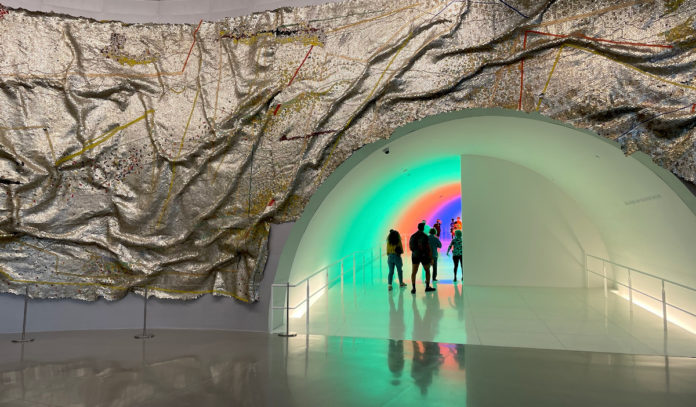 Ride out cold weather and stay warm in Houston with some of our favorite things to do when it gets chilly in H-Town.
When it's not nearing 80 degrees in the winter, Houston can be down right frigid at times when the city starts flirting with Arctic fronts, wind gusts and bone-chilling cold.
That also makes for the perfect time to cozy up in some of Houston's best indoor activities perfectly suited for the cold weather. From museums and movie theaters to dinner and drinks, we've got you covered with our picks.
NOTE: For the really extreme winter weather, it's always a great idea to call ahead to your chosen destination as businesses in town are prone to closing its doors for the day when temps get icy.
25+ Things to Do in Houston When It's Cold
Attractions & Destinations
In addition to the museums and theaters you'll find below, be sure to explore 365 Houston's Museum Exhibitions & Art Installations guide for notable temporary exhibitions that offer a reprieve from the chilly weather.
Spend the day on the MFAH campus
With more than 300,000 square feet and 63,000 works of art, the Museum of Fine Arts Houston is one of the largest collections in the country.
Plus, across its multiple exhibition spaces (including its latest in the Kinder Building), casual and upscale restaurants, and illuminating underground tunnels from James Turrell, Carlos Cruz-Diez, and Olafur Eliasson, you'll never have to bear the elements above ground to explore the lofty holdings of MFAH.
Protip: Take a look at the MFAH Films calendar for upcoming screenings of brand new independent and foreign films, preserved classics on 35mm, and themed series that celebrate a myriad of filmmaking aspects.
General Admission tickets are $19; $16 for 65+; $12 for ages 13 to 18; free for ages 12 and under. Some exhibitions may require an additional fee.
Dig into the ancient past at HMNS
A longtime staple in Houston's museum scene, the Houston Museum of Natural Science offers a sprawling indoor experience filled with towering fossils in the Paleontology Hall, a colorful spectacle of fluttering insects in the glass pyramid of the Butterfly Center, unearthed artifacts of ancient civilizations, the ornate tombs of Egyptian royalty, and much more.
Time your visit and avoid crowds by hitting up HMNS on weekdays or during the free admission hours on Thursdays from 3pm to 6pm.
General Admission tickets are $25 for ages 12 and up; $16 for ages 3 to 11, students with ID, and 62+; free for ages 2 and under. Some activities require an additional fee.
Burrow into the Menil Collection in Montrose
For a scaled down collection to escape the crowds and cold, check out this nestled-in-Montrose museum.
Explore the collection of prominent Houston connoisseurs, Dominique and John de Menil, which features a renown Surrealist gallery, African and Byzantine antiquities, and monumental artworks by pivotal figures in Modern and Contemporary art.
If you can brave the brief walks, delve deeper into the Menil campus to see the nearby Menil Drawing Institute, Dan Flavin installation at Richmond Hall, Cy Twombly Gallery and Rothko Chapel.
Go for liftoff at Space Center Houston in Clear Lake
Peer into the vastness of space at the headquarters for NASA's Mission Control and educational zone at a sprawling campus in Clear Lake.
There, you can take in the history of space exploration, get a look at real artifacts and gear from various missions, touch a real moon rock, marvel at the staggering scale of powerful rockets, and—if you're bundled up properly—hop aboard a tram tour of the facilities and see Mission Control personnel keeping the astronauts safe aboard the ISS.
General Admission tickets are $29.95 for ages 12 and older; $24.95 for ages 4 to 11; free for ages 3 and under. Some activities require an additional fee.
Head inside the multi-level Post Houston in Downtown
Opened in 2021, this massive complex on the northeast corner of Downtown brings multiple levels of eating, drinking, shopping, and even a concert hall.
Explore the chic interior, bunker down for some remote work, or hop atop the Skylawn for some of the best views of Downtown and the night sky. Be sure to hit up the central, neon-lit food court for more than two dozen globally-spanning food and drink options from Houston small businesses.
Keep an eye on the upcoming events calendar for market events, concert series, classes and workshops, and more.
Restaurants & Cafés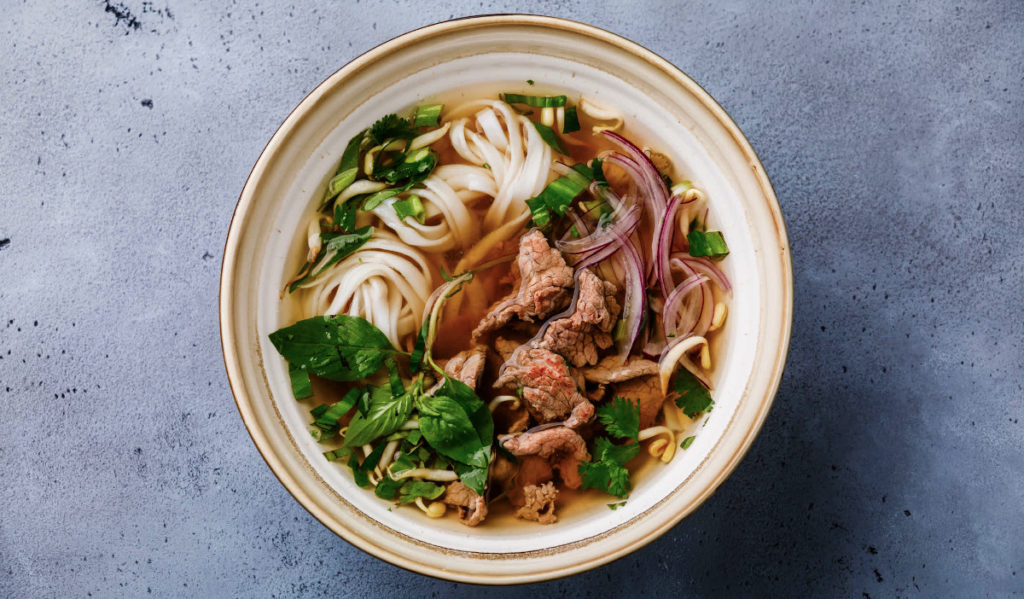 Slurp a bowl of pho at Simply Pho in Midtown
Along Milam Street, this casual Vietnamese café is beloved for its extensive menu of pho options (with huge portions), banh mi, and affordable dishes with fresh ingredients that can be enjoyed in their spacious dining area.
If you're looking for vegan options, you can make your noodle soup 100% vegan with veggie broth, tofu and a plethora of vegetables.
Grub on pre-Columbian fare at Papalo Mercado in Finn Hall
You may have spotted pastry chef Stephanie Velasquez and Marlen Mendoza of Amancer Co. Coffee at the popular Urban Harvest Farmers Market on Saturdays (under the EMA HTX tent), but you may not know that you can snag more of the delicious pan dulce on offer along with hot dishes from Chef Nicolas Vera at Papalo Mercado in Downtown's Finn Hall.
Open on weekdays, the spot is known for slinging tacos, chilaquiles and other dishes utilizing pre-Columbian ingredients that highlights the ancient cooking practice of Nixtamal. Full of flavor and centered on Mexican maiz, Papalo's chef-driven menu is one not to be missed.
Keep an eye on their social media for special pop-up menus and limited weekend hours to taste one-off dishes.
Warm up with breakfast & lunch at La Guadalupana
The family-owned Mexican mainstay on Dunlavy delivers all your cold weather dishes, including pozole and caldos, alongside a spicy breakfast menu and traditional Tex-Mex faves.
When you visit this all-day breakfast and lunch spot, hit their quaint patio and try early morning favorites like their breakfast torta, breakfast croissant, a variety of breakfast tacos, chilaquiles, huevos rancheros, migas and more.
Looking for something more suitable for the afternoon? Try one of many delectable lunch plates and other notables including fajitas, flautas, mole poblano, enchiladas verdes, tacos al carbon, pollo guisado, quesadillas, and not to mention, their tasty baked treats.
But do make sure you stake your spot early, as its known to fill up on weekends and they only stay open from 7am to 2pm.
Layer up with stick-to-your-ribs barbecue at the Pit Room
This popular BBQ spot on Richmond Avenue serves Central Texas–style smoked meats, tacos and desserts to the masses, promising a full plate of belly-warming barbecue and sides.
Often hosting a line out the door, the Pit Room's highlights include meats by the half or whole pound, a la carte sandwiches, a trio of smoked meat tacos, Texas chili, and more.
And, if you want to stick around awhile, head next door to the Patio at the Pit Room and enjoy easygoing vibes with a cold one, karaoke, and outdoor patio seating.
Dine on melt-in-your-mouth fusion at Loro in the Heights
On 11th Street, this spacious smokehouse is serving up a blend of flavors from award-winning chefs Aaron Franklin of Franklin Barbecue and Tyson Cole of Uchi.
The result is a menu of mouth-watering hits, smoked meats, roasted vegetables and curry-infused dishes that blends the cooking of Southeast Asia and Japan with the traditional barbecue techniques of Texas.
Grab several plates of family-style eats to share and top it off with their boozy menu of craft cocktails, draft beer, wine and sake.
Dive into a bowl of noodz at Ramen Tatsu-Ya in Montrose
Cold weather means ramen weather and this Austin-based slurp slinger is a local fave at its lone Houston location in Montrose.
Any bowl of noodles is a good choice, but Ramen Tatsu-Ya is known for their rich and creamy tonkotsu broths and lighter-bodied Tokyo-style ramen, with a plethora of toppings and flavor bombs that you can customize to your tastes.
And if that weren't enough, then the desserts on offer are hard to resist even on the coldest of days. Cap off your belly-warming meal with an ice cream sandwich in matcha, burnt orange, and yuzu mascarpone flavors between two chocolate mochiko cookies.
Bars & Nightlife
Split the day with lanes & arcades at Palace Social
The former Palace Bowling Lanes in Bellaire has gotten a makeover, turning it into a nightlife destination with full food service, craft cocktails, and good times while bowling, playing arcade games, diving into VR and video games, and more.
Swing by Monday to Friday from 3pm to 6pm and capitalize on great happy hour specials.
Sip cocktails, beer and spirits at Grand Prize Bar
The beloved watering hole off Montrose Boulevard churns up cold weather drinks for your hot toddy fix, but also features a rooftop patio, billiards table, photo booth, deep pours and a wide selection of bottled and draft beer.
The dimly-lit hip haunt also serves up craft cocktails for you to get cozy with on the upstairs or downstairs lounge areas.
Keep an eye on upcoming announcements for special pop-up kitchens, DJ nights, karaoke and more.
Kick back cocktails at Anvil Bar & Refuge in Montrose
This sleek bar is pretty much the O.G. of Houston's craft cocktail scene since it opened in 2009, serving up the perfect winter cocktails to get you through the cold.
Take your pick from the periodically-updated Original cocktails, or dig into the 100 List, which features classic cocktails and familiar favorites divided by guided sections.
The bar staff here are some of the best in the city and can help pair you with the perfect drink if you ask.
Take in island flavors at Lei Low in the Heights
Don't be fooled by the unassuming exterior because inside, you'll find this colorful Heights haunt is a tropical paradise rocking some serious tiki spirit.
Toast to rum-based tiki drinks like mai tais and zombies, plus hot drinks like the hot-buttered banana—macademia nut liqueuer, lime and tiki butter with banana-infused Jamaican rum.
Keep toasty under the winter lamps in Axelrad's backyard beer garden
Located on the edge of Midtown on Alabama Street, this neighborhood favorite is beloved for its big beer selection and bigger backyard, brimming with a grove of hammocks, live music, food trucks and the glorious neon tree.
Built by David and Gertrude Axelrad, the century-old building was originally a small grocery store before its eventual evolution into the brightly-lit bar we know today, boasting modern seating, colorful textiles, and over thirty hand-carved tap handles that represent figures from different cultures, crafted by Venezuelan-based artist Maria Rangelin.
During the winter months, you can still take advantage of the spacious backyard under heater lamps, where you can catch video art pieces, film screenings, concerts, festivals and more that grace the bar's events calendar.
Coffee Shops & Dessert Bars
Cozy up in the sunlit Segundo Coffee Lab in Second Ward
This low-key spot on Milby Street is housed in the Ironworks building (which is also home to a vintage resale shop and other small businesses) and serves up delicious coffees and teas that can be splashed with a dose of CBD or Delta-8.
Swing by early for breakfast tacos or take advantage of the sweet pastries they have in the front counter, then take to the spread of chairs and couches in the brightly-lit coffeeshop.
Hunker down with fresh coffee & pastries at Tout Suite
Near the intersection of Chartres and Commerce Streets on the cusp of Downtown, this café and bakery offers a much-needed warm, friendly environment with spacious seating that sprawls across two tiers, and a selection of locally-roasted coffee, tasty macarons and pastries, and savory brunch goodies.
Bust out board games at Coral Sword in Eastwood
Level up with a hot coffee drink at this vibrant coffee shop on Telephone Road that's splashed with DUAL murals from the Houston artist.
Fans of tabletop games, video games and Dungeons & Dragons will find a respite from the cold here, as you can shop dozens of new games, or head to the used game pile and get the dice rolling at your own table.
And if games aren't your thing, stick to their impressive drink menu which includes cane sugar lattes, cortados, cappuccinos, nitro Thai teas, roasted almond tea lattes, matcha lattes, hot chocolate, Topo Chico and more.
Bonus: if you're in need of a fresh cut, the adjoining East End Barber can meet your needs.
Treat yourself to baked goodies at a Common Bond near you
What began in 2014 on the corner of Dunlavy and Westheimer has grown into several locations across the inner loop area and an expansion into Spring.
The bakery, which also provides bistro menus and on-the-go service at various locations, is known for its intricate cakes and pastries, fresh-baked breads, muffins, tarts and macarons.
Common Bond currently features more than 10 locations made up of its bistro & bakery establishments, as well as several on-the-go locations.
Grab a book & find a nook at Siphon Coffee in Montrose
Filled with beautiful ambient light, this clean-cut coffee shop on West Alabama houses a cozy charm perfect for long hauling through the day.
In addition to the in-house siphoned drip coffee (for which it gets its namesake), the shop also offers hot sandwiches, tacos, toast and pastries.
Entertainment
Rack up the score with a day of games at Cidercade
Rule the sticks at this bar and arcade a few blocks from Downtown that offers more than 275 new and classic arcade games; a drink menu featuring 48 taps of hard ciders, kombuchas, seltzers and smoothies; and a family-friendly atmosphere until 8pm.
No kitchen service is available, but guests are welcome to bring their own food.
Step into a fantasy world at Department of Wonder
Department of Wonder is a 10,000–square foot, site-specific locale which offers an experience that meshes theater with technology to create an interactive fantasy land brimming with wondrous environments, memorable characters, and plenty of 'Grammable moments.
In the story experience, "Light Hunters" of all ages are invited to "heed the Lamp Maker's call," and help restore the magic and brightness of the enchanted forest and its creatures who are fading away.
Through deciphering puzzles and unfolding mysterious stories, your entire crew or family can work together and experience truly interactive whimsy that encourages and rewards curiosity.
See the latest blockbuster at iPic Theater in River Oaks
Recline, relax and transport yourself into a luxury movie-going experience in River Oaks.
Catch the latest blockbusters and kill a few hours in the modern and stylish environment of iPic Theater, as you burrow into the plush leather seats with gourmet food and craft cocktails available through seat-side service.
Get lost in stacks of reads at Kaboom Books in the Heights
Cozying up with a book is a time-honored tradition in cold weather, and what better way to find your next read than to dive into the curated collection at Kaboom Books in Woodland Heights?
With more than 75 subsections of books that reach from floor to ceiling, Kaboom offers hours of book browsing and author hunting within its humble storefront along Houston Avenue.
Battle it out with zombie hordes at Zero Latency Houston
Take a step into the surreal when you put on a virtual reality headset and, together with up to eight players, experience an engrossing video gaming session at Houston's first free-roam, warehouse-scale, fully immersive virtual reality venue.
Battle a zombie outbreak, killer robots in space, or explore a mind-bending mystical world with up to eight players per session.
Gaming is open to ages 13 and older, and requires a reservation to play.