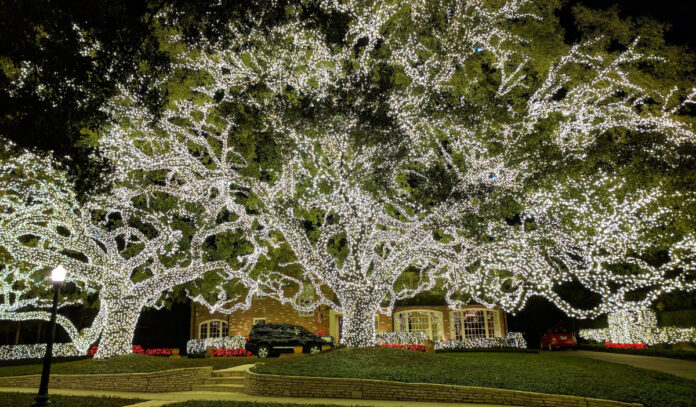 Pile in the car for a leisurely holiday drive or take a hot cocoa-fueled stroll while you ooh and ah at Houston's most popular Christmas light displays—in residential neighborhoods and at city landmarks alike.
Every year, Houston neighborhoods light up like a Christmas tree (literally), with homes, streets, and yards decked in the season's finest adornments.
In most cases, checking out some of Houston's best neighborhood Christmas light displays won't cost you anything more than the gas it takes to get there. Just be sure you respect the neighborhoods and the residents who so kindly showcase their homes.
Appropriate hours to do Christmas light drive-bys are typically from 7pm to 10pm; and the light displays usually start going dark and coming down the weekend following New Year's Day.
Looking for more holiday things to do? Dive deeper into even more in our holiday season guides.
More Holiday Attractions & Things to Do
2022 Christmas Lights in Houston Neighborhoods
River Oaks – For one of the most extravagant displays of holiday lights in the city, you'll want to check the grand, decked-out homes and towering oak trees around one of Houston's most prominent neighborhoods, River Oaks. Enter from Kirby—either from Shepherd or Westheimer—and begin winding your way through the hood as you uncover enclave after enclave of bright holiday lights and tradition. You can also park your car near the River Oaks Country Club to traverse the hood's most popular streets by foot.
The Heights & Woodland Heights – With its annual Lights in the Heights block party, this friendly neighborhood brings all the charm and holiday spirit. You'll find shimmering displays throughout the month of December, from the fun and funky to the quaint and beautiful. And all of it is easy to see by foot or with a quick drive through the hood. Check out the area bordered by I-10, Heights Boulevard and 19th Street, and I-45.
Downtown Houston | City Hall, Market Square Park, Main Street Square, Discovery Green & Avenida Houston – Check out the annual, towering Holiday Tree at City Hall and wander through light tunnels and displays at Winter Wanderland on Bagby Street; spend some holiday cheer in the beautifully adorned Market Square Park (and steal a kiss from your sweetheart under Texas' biggest mistletoe ball), marvel at the Deck the Trees display in the windows of George R. Brown Convention Center (facing Avenida de las Americas, a.k.a. Avenida Houston), and don't miss making a pit stop to skate or take in the vibes at The Ice at Discovery Green (make sure you book a spot in advance if you're planning to skate, though).
Prestonwood Forest near Willowbrook – Nestled in Northwest Houston, this neighborhood subdivision has been a holiday destination since the '70s. During its annual Nite of Lites (which begins this year on Saturday, December 10), hundreds of homes light up, all competing in a holiday-spirited competition with categories like Best House, Best Door, Best Mailbox, Best Block, and the People's Choice Award. The map includes the area around Prestonwood Forest from Cypresswood to 249, and from Ravenhurst and Schroeder to Charlynne Oaks to Hargrave.
2022 Ticketed Christmas Light Displays Around Houston
Dasher's Drive-Thru & Winterland at Humble Civic Center | Ongoing through Saturday, December 31 – Get in the spirit with a daily light-filled spectacle that you can drive through in Humble, past giant Christmas trees, snowmen, and through acres of land. Or, hop out of the car and watch the lights, including some not visible in the drive-thru, and enjoy inflatable obstacle courses, a maze, Santa photos and more. Tickets start at $29.95 per vehicle; $9.95 per person for Winterland passes. Times vary.
Sugar Land Holiday Lights at Constellation Field | Ongoing through New Year's Day, Sunday, January 1 – More than three million lights create a sparkling winter wonderland at the home of the Sugar Land Space Cowboys. There's also a holiday market, themed displays, a carnival and visits with Santa Claus. $15; $12 ages 4 to 12. Times vary.
Lightscape at Houston Botanic Garden | Ongoing through New Year's Day, Sunday, January 1 – This dazzling display returns, taking guests on a winding path through the garden, showcasing stunning lighting installations, many set against favorite holiday tunes. $16 and up. 5:30pm to 8:30pm.
The Light Park in Katy & Spring | Ongoing through New Year's Day, Sunday, January 1 – Roll into the holiday season at the Light Park in Katy and Spring, which features an interactive holiday experience that sends cars through millions of twinkling lights, accompanied by holiday music and festive cheer. The Light Park is featured at Typhoon Texas in Katy, and at Hurricane Harbor in Spring. Tickets start at $39 per vehicle. Times vary.
Galaxy Lights at Space Center Houston | Ongoing through New Year's Day, Sunday, January 1 – Space Center Houston returns this year with Galaxy Lights, a stellar spectacle that twinkles throughout the campus, allowing visitors to step through space-themed light installations, take in high-tech experiences, and walk among flown spacecraft in a one-of-a-kind holiday event that can only be found in Space City. Tickets range from $19.95 to $27.95; free for ages 3 and under. Combo tickets, which also grant general admission to the Space Center at 3pm, range from $49.90 to $57.90; $44.90 and up for ages 4 to 11. 6pm to 10pm.
City Lights in Downtown Houston | Ongoing through Monday, January 2 | Some FREE – Take in lighted sights across Downtown this holiday season, where 8 holiday attractions from Discovery Green to the Theater District offer the chance to get into the spirit of the season, including Alley Theatre's Deck the Trees at George R. Brown Convention Center, sights and sounds at Discovery Green, and Winter Wonderland along Bagby Street which provides an illuminated tunnel, giant angel wings and constellation arches. 5pm to 10pm.
Festival of Lights at Moody Gardens | Ongoing through Saturday, January 7 – Brighten up your holiday season at the Festival of Lights in Moody Gardens, which features a mile-long trail of more than one million lights and illuminated scenes with views of Galveston Bay. The family-friendly mainstay also offers an outdoor skating rink, vendors serving hot chocolate and eats, and live entertainment, plus the Ice Land attraction, where a team of skilled ice carvers have transformed two million pounds of ice into a festive journey around the world. Tickets start at $25 for individual attractions; holiday passes, which include admission to multiple attractions, start at $65; $45 for ages 4 to 12 and 65+. Times vary.
Magical Winter Lights at Houston Raceway Park | Ongoing through Saturday, January 7 – Get into the holiday spirit with these seven illuminated displays featuring more than six million lights in Baytown. Walk through a winter circus, grub on festival foods and more. $25; $17 for ages 3 to 12 and 65+. Times vary.
Texas Winter Lights at Marriott Marquis Houston | Ongoing through Monday, January 8 – Have some Texas-sized fun in the 6th floor Altitude Rooftop & Pool at the Marriott Marquis in Downtown during Texas Winter Lights, an interactive light experience available nightly. Enjoy festive signature cocktails, huge light displays, walk-through experiences and plenty of 'Gram-worthy elements. Stick around for a nightly "snowfall" and a winter-themed dining menu. And yes, the lazy river is open for floating and heated to 80° all winter long. Tickets are $25 and up. 5pm to 10pm.
Zoo Lights at Houston Zoo | Ongoing through Sunday, January 8

– Stroll through the Houston Zoo with hot chocolate in hand while you admire glimmering displays made up of more than two million Christmas lights at this annual must-see attraction.

Take advantage of holiday photo ops, make your way through an illuminated tunnel, see life-sized animal lanterns, and more. Tickets start at $21.95 and up; free for ages 2 and under. 5:30pm to 10:30pm.
More Holiday Attractions & Things to Do