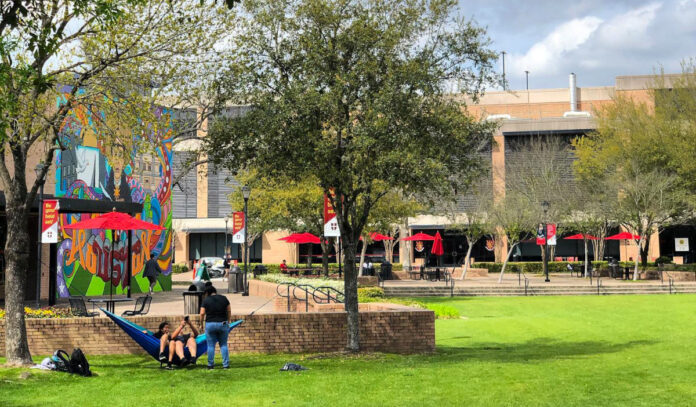 In our Must Do Things Around Greater Houston series, we take a look at Houston's vast array of communities, neighborhoods and destinations to bring you five fun, tasty, surprising and enticing reasons you should give each one a visit.
Named after St. Thomas Aquinas and founded in 1947 by the Basilian Fathers, the University of St. Thomas is the city's only Catholic university.
The charming campus is located in the Neartown District, and with vibrant hoods like Montrose, the Museum District, and Midtown all within reach, there is no shortage of fun to be had close by.
Note: For the purposes of this list, the area near the University of St. Thomas is bound by Westheimer/Elgin to the north, Bissonnet to the south, Dunlavy to the west, and Main to the east.
5 Must Do Things Near the University of St. Thomas
Explore the University of St. Thomas campus 
Influential architect Philip Johnson is responsible for some of the most beautiful aspects of the University of St. Thomas campus. In 1957, Johnson designed the University of St. Thomas Academic Mall, a modern, minimalist space flanked by symmetrical buildings of classrooms that face one another.
The lawn is anchored by the Doherty Library at one end and the Chapel of St. Basil at the other, representing the dual methods of human knowledge—reason and faith. The chapel itself, also designed by Johnson and completed in 1997, is quite beautiful. With no artificial light inside the main section during the daytime and candlelight at night, it provides a serene, meditative space for reflection.
Don't forget to check out the historic, neoclassical Link-Lee House, the labyrinth outside the chapel, and the current Theology department, located in the childhood home of Howard Hughes.
Eat morning, noon & night
Start with the addicting "wings and waffle" or "katfish and grits" at the nearby a.m. institution, The Breakfast Klub (even if there's a line, it's worth the wait) just off Alabama and Travis. Newer to the scene is nearby pancake paradise Snooze, an A.M. Eatery on Montrose Boulevard.
For a laidback meal good any time of day, go taco loco at Tacos A Go Go, or grab a stellar happy hour of oysters, po'boys, and Micheladas at super cool hangout Winnie's. Then there is the seriously good ramen at Jinya Ramen Bar; stuffed chicken wings at Stuff'd Wings; Vietnamese eats at Lua Viet Kitchen; Houston-style bbq at The Pit Room and smoky Tex-Mex at sibling establishment Candente; burgers, fried chicken, and waffles at the Waffle Bus; and eclectic fare at neighborhood hangouts 93′ Til, Southern Yankee Crafthouse, and The Toasted Coconut.
The area also plays home to a number of fantastic, more elegant dining options, with BCN Taste + Tradition, Brennan's of Houston, Hugo's, March, Rosie Cannonball, Traveler's Table, and Uchi being among the best in the entire city.
Spend a day on the Menil Campus
This picturesque, 30-acre slice of the neighborhood houses the prized Menil Collection. Built in 1987, the landmark art museum exhibits the collection of John and Dominique de Menil, one of the largest private art collections in the country, with approximately 17,000 pieces depicting everything from surrealism and pop art to Byzantine and African works. With the goal of making art accessible, admission is free, though donations are welcome.
Two satellite galleries, the Dan Flavin Installation at Richmond Hall and Cy Twombly Gallery, further enrich the experience. As does the Byzantine Fresco Chapel and famed Rothko Chapel; the latter of which provides a tranquil, contemplative environment for people of all faith. On the plaza outside the chapel, the Broken Obelisk monument stands in memory of Rev. Dr. Martin Luther King Jr.
Pack a picnic and park yourself on the tree-shaded lawn, or visit Bistro Menil, where you can unwind with a glass of vino, mussels, and truffle fries.
Get caffeinated at Montrose coffee shops
Late nights and early mornings call for some caffeine. On Westheimer, Blacksmith brews mean Greenway Coffee roasts alongside what is probably the best sausage, egg, and cheddar biscuit in town (it's good with marmalade and crème fraîche, too). Expand your coffee horizons and channel the science lab at Siphon Coffee, where the unique siphon method adds remarkable flavor to your regular cup of joe. 
At the hip Black Hole Coffee House, it's all about the easy-going vibe and cajeta caramel lattes made with goat's milk. La La Land has 'grammable butterfly lattes and avocado toasts, Agora is your go-to spot for a leisurely hang or study sesh; and at Double Trouble Caffeine & Cocktails, you can get your beans with a side of booze via some excellent "troublemaking" cocktails mixed in with Greenway brews.
Take a study break
When its time to close the books at one of Houston's top study spots, you can let off some steam at one of the many watering holes in the area.
You'll find all walks of life at Grand Prize Bar, an industry hangout complete with a rooftop, jukebox, billiards table, and constantly rotating frozen drink machine. Stiff drinks and great happy hour prices make it an absolute destination. And over on Westheimer, AvantGarden has a similar, anything goes vibe.
Also on the strip along Westheimer, there's cocktail haven Anvil and its fancy next-door sibling, Refuge Bar; plus popular Westheimer Curve hangouts including Boondocks, Catbirds, La Grange, Pistolero's, Poison Girl, and Present Company. Over at El Pueblito Patio, you'll find tropical drinks and an epic patio, and Griff's offers the true neighborhood dive bar experience.
---