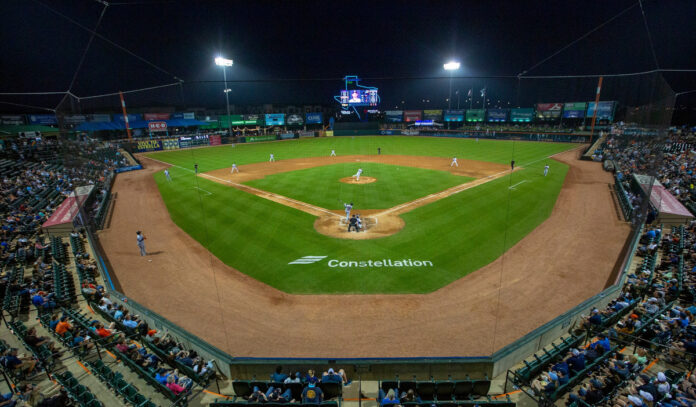 Swing for the fences on a good time with a ticket giveaway, specials, discounts, and more for Sugar Land Space Cowboys games at Constellation Field through Thursday, September 25, 2022.
When the Space Cowboys take the diamond for Triple-A baseball at Constellation Field, fans know they're in for a lively night at the ballpark featuring family fun, must-grab giveaways, and occasional appearances by Houston Astros players.
With only a handful of six-game series remaining on the schedule, don't miss your chance to take in this fan-favorite way to spend a late summer evening or afternoon on nearly any day of the week.
Order tickets or learn more about the Space Cowboys schedule.
Four-Pack Ticket Giveaway
If you haven't yet made the trip to Constellation Field—or even if you already have your favorite players—then don't miss your chance to enter to win a four-pack of tickets for when the Space Cowboys face-off with the Oklahoma City Dodgers on Friday, August 19, 2022, complete with a post-game fireworks show. Plus, you'll also find chances to win tickets to other big Sugar Land Events, including concerts and another Space Cowboys game in September.
You can enter to win the August Space Cowboys giveaway at any time through 11:59pm on Tuesday, August 16, and winners will be announced the following day.
The September giveaway to see the Space Cowboys face off against Albuquerque Isotopes on Friday, September 2, 2022 will be added soon and entries will be accepted through 11:59pm on Tuesday, August 30, 2022.
Enter to win tickets or learn more.
Save on All Upcoming Season Games
Throughout each six-game series that the Space Cowboys take on, those in attendance can enjoy special themed games and giveaways at Constellation Field.
Fans can take in a post-game fireworks show every Friday night, and snag Saturday giveaways that feature bobbleheads, jerseys and more on behalf of the Houston Astros.
Check out the Space Cowboys schedule for upcoming promotions and themed nights at the ballpark.
Space Cowboys Food & Drink Specials
A great way to spend a weeknight is by taking advantage of deep discounts available on promotional nights at Space Cowboys games.
Snag $5 frozens on Tuesdays, dollar dogs on Wednesdays and grab draft beers and sodas for $2 on Thirsty Thursdays.
Even more, businesses around Sugar Land have special Space Cowboys offers available through the rest of the season like free cake pops, themed cocktails, sushi rolls and more.
Check out ongoing Space Cowboys offers from Sugar Land businesses.
Places to Stay in Sugar Land
Flip your trip to the ballpark into a multi-day staycation at Sugar Land hotels.
Take advantage of excellent hotel deals in the "Sweetest City in Texas" and give yourself time to explore what the city has to offer, like outdoor adventures, indoor attractions, concerts and more.
Find a sweet deal on your next hotel stay in Sugar Land.
This article has been sponsored by the event organizer. Per our advertising and sponsorship policy, we only accept sponsored content from organizations that meet our editorial standards and truly present a valuable activity, event, resource or destination for residents and visitors across the greater Houston area. Advertising revenue helps support 365 Things to Do in Houston, and our contributors, allowing us to expand our coverage of activities and events around the Houston area. Learn more about promoting your event or business.