Take advantage of special offers, events, and more when the brand new Main Event Tomball opens its doors for the first time ever on Friday, April 29 and then continues its celebration through Friday, May 6, 2022.
Spanning almost 50,000 square feet, Main Event Entertainment's long-awaited dining and entertainment center in Tomball is opening with a bang, as it debuts a new destination for family and friends to have fun together in northwest Houston.
Main Event Tomball is packed with fun and distractions—22 state-of-the-art bowling lanes with unique game technology and luxury seating, two-story laser tag, games, virtual reality experiences, and billiards.
It's also the home of Multiball, a new multiplayer attraction combining digital gaming with interactive sports, that can't be found at any of the other five Main Event locations in Greater Houston—or in almost any of the Main Event locations across the U.S. for that matter.
Win Free Laser Tag for a Year
Be one of the first 200 people in line on Opening Day, Friday, April 29 and you'll get free laser tag for one year. The doors will open at noon, but the ribbon cutting happens at 10am and people are expected to line up before that. Learn more.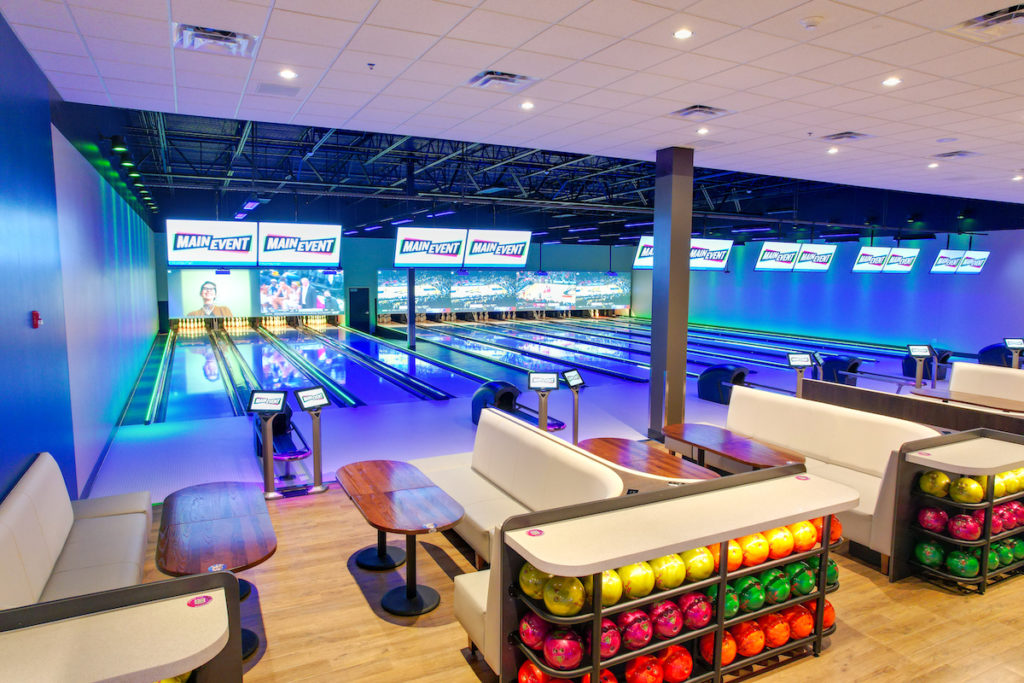 Special Main Tomball Event Grand Opening Events & Offers
Starting with the Opening Day lazer tag giveaway, Main Event Tomball will present a variety of daily offers and specials to carry on the celebration.
Grand Opening Event | Friday, April 29 | Win FREE Laser Tag for 1 Year – Be one of the first 200 people in line to ender and receive free laser tag at Main Event for a full year. Ribbon cutting begins at 10am, doors open at noon.
Pins for a Purpose | Saturday, April 30 to Friday, May 6 – Know a great bowler? This is their chance to do some good for the community. For one week, Main Event will donate $10 for every strike bowled in Lane 12 to Tomball Emergency Assistance Ministries (TEAM) in an effort to reach a $10,000 fundraising goal. 
Big Fun Sundae | Sunday, May 1 – Any family that finishes the Big Super Fun Sundae in 5 minutes or less will get it on the house. 11am to 3pm.
Monday Night Madness | Monday, May 2 – Enjoy All-You-Can-Play games or activities at a special price of $11.99 per person. Starts at 4pm to 1am.
Kids Eat Free | Tuesday, May 3 – Order an entrée of $8.99 or more and get a kid's meal free all day. 11am to midnight.
Main Event Tomball Grand Opening Weekend & Beyond
Dates: Friday, April 29 to Friday, May 6, 2022
Times:

Friday noon to 2am
Saturday 9am to 2am
Sunday 11am to midnight
Monday 11am to 1am
Tuesday to Thursday 11am to midnight
Friday 11am to 2am

Phone: 281-698-5559
Admission: No cover to visit. Individual games and activities are individually priced. All-You-Can-Play passes are available for $19.99 for all ages on the day of your visit. Advance reservations can be made online for bowling lanes and for group events. Make reservations or learn more. 
This article has been sponsored by the event organizer. Per our advertising and sponsorship policy, we only accept sponsored content from organizations that meet our editorial standards and truly present a valuable activity, event, resource or destination for residents and visitors across the greater Houston area. Advertising revenue helps support 365 Things to Do in Houston, and our contributors, allowing us to expand our coverage of activities and events around the Houston area. Learn more about promoting your event or business.