Explore the rich Victorian design and storied history when you tour the 1892 Bishop's Palace in Galveston this summer.
Built of stone and steel for the railroad magnate Walter Gresham and his family, the famous house was designed by Nicholas Clayton, Galveston's premier Victorian-era architect.
Recognized as one of America's finest examples of Victorian exuberance and Gilded-Age extravagance, the former home is officially a listed National Historic Landmark by the U. S. Department of the Interior.
The mansion is now fully open, offering both self-guided tour access as well as guided tours that access rooms that are typically not seen by the general public.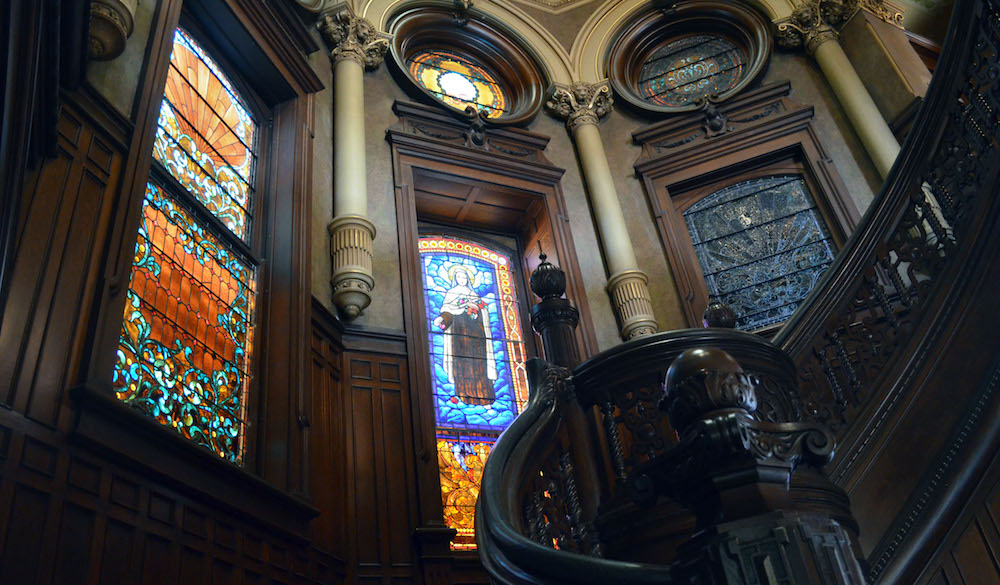 Self-Guided Tours
Visitors can explore Bishop's Palace at their own pace every day of the week, expect select holidays, on a comprehensive self-guided audio tour.
Climbing a narrow set of stairs that ascends into the main foyer, guest will be immediately greeted by a grand red-carpeted staircase bracketed in rich, dark wood that scales up into vibrant stained glass windows and a vaulted rotunda. 
It's a place that you'll need to take a few minutes to study, taking in its innumerous decoratively carved details — and that's only the first room.
Tickets are $14; $9 for ages 6 to 18; free for ages 5 and under. Order tickets or learn more. Or call 409-762-2475.
Basement to Attic Tours
In 2020, Galveston Historical Foundation (GHF) introduced guided Basement to Attic Tours, which include access to Mrs. Gresham's studio and an exclusive third-floor, one-of-a-kind panoramic view of the Gulf of Mexico.
Lasting 90 minutes, Basement to Attic Tours start each Saturday morning at 11am, wrapping up at 12:30pm. Advance tickets are strongly encouraged the number of participants are limited. Tickets are $30. Order now or learn more.
About Galveston Historical Foundation
Galveston Historical Foundation (GHF) was originally formed as the Galveston Historical Society in 1871 and merged with a new organization formed in 1954 as a non-profit entity devoted to historic preservation and history in Galveston County.
Over the last 60 years, GHF has expanded its mission to encompass community redevelopment, historic preservation advocacy, maritime preservation, coastal resiliency, and stewardship of historic properties.
GHF embraces a broader vision of history and architecture that encompasses advancements in environmental and natural sciences and their intersection with historic buildings and coastal life and conceives of history as an engaging story of individual lives and experiences on Galveston Island from the 19th century to the present day.
Learn more about Galveston Historical Foundation. Join or support GHF.
1892 Bishop's Palace in Galveston: Summer 2021
Location: 1402 Broadway, Galveston, TX 77550
Summer Hours: Daily 10am to 5pm (last self-guided tour sold at 4pm). Weekly guided Basement to Attic Tours start at 11am each Saturday.
Admission: Self-guide tours are $14; $9 for ages 6 to 18; free for ages 5 and under. Guided Basement to Attic tours are $30. Order tickets or learn more. Or call 409-762-2475.
This article has been sponsored by the event organizer. Per our advertising and sponsorship policy, we only accept sponsored content from organizations that meet our editorial standards and truly present a valuable activity, event, resource or destination for residents and visitors across the greater Houston area. Advertising revenue helps support 365 Things to Do in Houston, and our contributors, allowing us to expand our coverage of activities and events around the Houston area. Learn more about promoting your event or business.