Explore more than 75 of our picks—including parks, fishing spots, museums, family attractions, breweries and shopping—for the best things to do in and around Galveston.
An hour south of Houston lies the coastal capital of the region, Galveston, with its many beachfront attractions, palm tree-lined parks, and far-reaching fishing piers.
But Galveston is more than a summer destination, where you'll also find a deep history preserved in its historic structures and neighborhoods, as well as local businesses that are serving up award-winning brews, fresh Gulf seafood, and vintage finds for your next antiquing trip.
We've gathered many of the wonderful year-round things to do in and around Galveston for families, couples, solo travelers and anyone looking for great ways to spend a daytrip (or longer) from Houston.
Things to Do in Galveston
Things to Do Outdoors in Galveston
Beaches in Galveston
Beach Pocket Park 1 – On the west end of Galveston Island, this pocket park near 7 1/2 Mile Road offers on-beach access so you can pull your vehicle onto the sand for your beachside day of relaxation. Entry fees are charged from Mid-March through Labor Day and vary per day. Click here for more information.
Beach Pocket Park 2 – Just slightly further down the road from Beach Pocket Park 1, this spot provides paved parking, indoor restrooms and showers, umbrella and chair rentals, and sun deck eats at the Tipsy Turtle Bar & Grill. Admission is free, though vehicle access is not allowed on the beach. Click here for more information.
East Beach – Follow the seawall to the far east end of Galveston Island to find this popular party spot with plentiful amenities. The beach park is home to a pavilion, boardwalk and entertainment stage, restrooms, showers, chair and umbrella rentals, a playground, concessions and more. What attracts many is that, unlike most of Galveston's public beaches, alcohol is permitted. Hours and admission rates vary throughout the year. Click here for more information.
Galveston Seawall Urban Park – For more than ten miles, this seawall barrier stretches the coast of Galveston, offering easy walk, bike and run access to many of the beachfront shops and restaurants along the way. Throughout the length of the seawall, visitors will also find access points to the coastline and beaches. Parking rates along Seawall Boulevard varies, including some free parking zones. Click here for more information.
Stewart Beach – This family beach park is located just off Seawall Boulevard, providing plenty of amenities like covered pavilions, concessions, restrooms, showers, a playground, beach volleyball and more. Alcohol is not permitted at Stewart Beach. Hours and access fees vary throughout the year. Click here for more information.
On-the-Water Activities in Galveston
Artist Boat Kayak Adventures – Out of Galveston Bay, this guided tour service takes participants on paddling adventures through some of the area's most beautiful coastal areas, including East End Lagoon Nature Preserve, Christmas Bay, Armand Bayou Nature Center, Cypress Swamp and Coastal Heritage Preserve. Click here for more information.
Baywatch Dolphin Tours – Out of Pier 21 in Galveston, this family-owned guide service takes visitors out on the water for a 45-minute tour of the harbor and an opportunity to spot dolphins in their natural habitat. Click here for more information.
Bucket Brigade – These free, public tours take visitors on a 45-minute stroll down Stewart Beach in Galveston, with hands-on activities that explore the beach's water, debris, Sargassum landings and other ecological findings. Click here for more information.
Captain Hal Newsom's Airboat Tours – Take a seat on the Gator Getter, a 450 horsepower airboat that takes visitors on a tour of the nearby waters while they take in the sights of coastal wildlife like marsh birds, stingrays, fish, sharks and alligator gars. Click here for more information.
Colonel Paddlewheel Boat – Head out on an 1800s paddlewheel replica, touring through the Galveston Bay area while enjoying dining service, dancing, or the relaxation that comes with a midday cruise. Click here for more information.
Galveston Duck Tours – For a unique tour through Galveston, hop aboard a Duck Tour which will drive you through blocks of Seawall Boulevard before entering the water at Offats Bayou, and then back out again to check out some of the historic properties in the area. Click here for more information.
Galveston Harbor Tours – Hop aboard the Seagull II for an on-the-water tour of Galveston Harbor. Take in the natural wildlife of the area, seek out playful dolphins in the harbor, or take in a beautiful sunset cruise. Click here for more information.
Galveston Water Adventures – Take to the waves for a range of cruise events from this popular local service. Check out beautiful sunsets or go looking for dolphins, or, take a seat for an adrenaline-filled jet boat thrill ride near Galveston Harbor. Click here for more information.
Ohana Surf & Skate – This one-stop shop for all things surf and skate in Galveston also holds clinics with certified teachers, helping kids ages 6 to 17 learn the fundamentals of surfing and injury prevention. Click here for more information.
Sandy Feet Sand Castle Services – Led by professional sand castle sculptors, this service will meet you at the Galveston beach of your choice and show you how to make stunning sand sculptures. In the summer months, you can catch them teaching free lessons at Stewart Beach. Click here for more information.
Fishing Spots in Galveston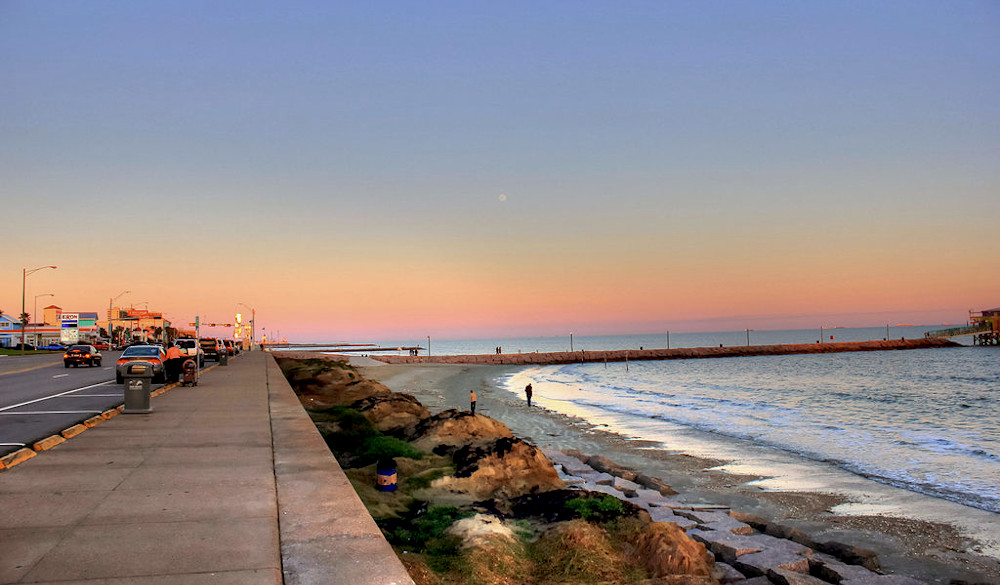 Playgrounds & Parks in Galveston
Family Attractions & Amusements in Galveston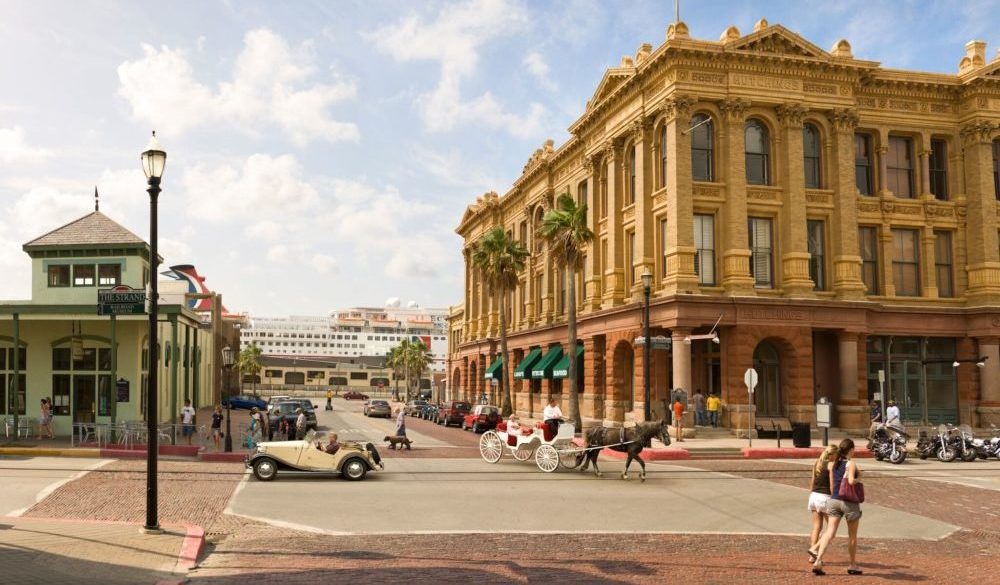 Historic Buildings & Museums in Galveston
The Bryan Museum – Housing scores of artifacts, artwork and more, this museum invites visitors to explore the history of Texas and the American West on the beautiful grounds of the former Galveston Orphans Home. Click here for more information.
Galveston Naval Museum – Head over to Seawolf Park on the east side of the Island and check out the colossal vessels parked at the Galveston Naval Museum; the USS Cavalla, a World War II submarine, and the USS Stewart, the only Edsall-class destroyer escort preserved in the United States. Click here for more information.
Galveston Railroad Museum – Hop aboard for a journey through the history of this vital mode of transportation, complete with locomotives, passenger cars to explore, model trains, and the People's Gallery, which features more than thirty plaster statues that help convey the role of railroading in Galveston. Swing by on Saturdays and kiddos can hop aboard the Harborside Express for a fifteen minute train ride west and back. Click here for more information.
Grand 1894 Opera House – A former Vaudeville stage, movie theater and now beloved opera house, The Grand keeps a packed schedule of live entertainment, including dance, drama, Broadway and renown musicians. The red stone, brick and terra cotta building has stood the test of time—even through the historic 1900 storm—and is available for free tours. Click here for more information.
Historic Homes in Galveston – The Island is host to many historic properties that dot Galveston and are available for touring, including the 1892 Bishop's Palace, a beautifully ornate mix of stone and steel in Victorian fashion that rises above Broadway and Galveston's East End Historic District; the Moody Mansion, which dates back to 1895, and showcases how one of the most powerful families in Texas live in opulent fashion at the turn of the century; and the 1838 Michel B. Menard House, which is the oldest home on Galveston Island and sends visitors on a tour of the first half of the 19th century with period furniture and furnishings.
Historic Strand District – The historic heart of the Island, this district is bustling with shops, restaurants and more, housed within buildings that have stood here for more than a century in their exquisite architecture. From here, the central location makes for a quick stroll over to the museums, boat tours and more along the harbor side. Click here for more information.
Rosenberg Library | FREE – Established in 1904, the ornate brick building on Sealy Avenue is the oldest public library in continuous operation in Texas, offering a slate of weekly programs, free wi-fi and a collection of historic manuscripts, maps, artifacts and other documents that can be found in the Galveston and Texas History Center. Click here for more information.
Texas Seaport Museum & 1877 Tall Ship Elissa – Near Pier 21 on the harbor side of Galveston, the Texas Seaport Museum brings visitors into the rich history of the Island and its important role in immigration, as well as merchant routes. The 1877 Tall Ship Elissa, docked outside, is one of only three ships of her kind in the world to still actively sail and visitors can take to the decks for a self-guided tour throughout the ship. Click here for more information.
Golf & Mini-Golf in Galveston
Breweries & Distilleries in Galveston
Devil and the Deep Brewery – Located along the historic Post Office Street in Downtown Galveston, this recent addition to the Island's brewery scene features indoor and outdoor seating at their taproom, community events and live music, and a selection of brews on tap and available to take home. Click here for more information.
Galveston Island Brewing – On the west side of the Island, you'll find this brewery serving up their flagship Tiki Wheat, award-winning Blue Bridge Hoppy Amber, and a variety of limited and special one-offs at their taproom. Outside, guests can grab a seat in their sprawling outdoor seating area, or, grab a six-pack to go and hit any of the nearby beaches for a little R&R by the waves. Click here for more information.
Texas Tail Distillery – Right across from the seawall, this Island distillery offers three signature drinks; Texas Tail Vodka, Coastline Whiskey and Southern Marsh Moonshine. Pull up to the bar and enjoy a cocktail featuring their on-site distilled spirits, or swing by for a tour on Fridays (by reservation) or Saturdays (12:30pm and 1:30pm). Click here for more information.
Dining & Restaurants in Galveston
Click here for more dining and restaurant options in Galveston.
Shopping in Galveston
Downtown Shopping & The Historic Strand District – Across 36 blocks of downtown, many of which are packed with Victorian-style buildings from more than a century ago, visitors to Galveston Island can find plenty to fill an afternoon with more than 100 unique shops, restaurants, art galleries and more. Dive into the world of antiques at Hendley Market on Strand or Nautical Antiques & Tropical Decor on Mechanic Street; get into gifts and home decor along the Strand at Gracie's, Conversation Pieces, and Mercantile on The Strand; check out specialty boutiques The Old Galveston Trading Co. and ha.ba's on Postoffice Street; satisfy your sweet tooth at the legendary La King's Confectionary; or try something new at the esoteric world of The Witchery on Postoffice Street, which offers goods and resources to help people in their search for self-discovery, self-empowerment and spiritual enlightenment.
Shopping along Seawall – Before you head to the waves, you'll find many shops stretched along the Seawall, offering last-minute goods to make the most of your time on the beach. Grab a rental at Island Bicycle Company or Galveston Paddleboard Center; gear up and take a quick lesson from Ohana Surf & Skate or Southern Spears Surf Shop; swing by The San Luis Resort for luxury apparel and designer goods at Style & Trend and Aqua; or unwind at one of the oldest businesses on the Island, Murdoch's, which offers a wide array of gifts, souvenirs and beach supplies.