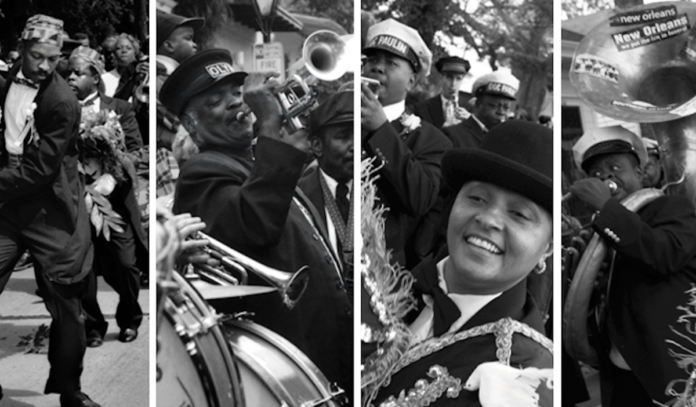 Explore the storied, musical traditions of one of New Orleans' most unique cultural practices at the new Jazz Funerals of New Orleans Exhibit, now on view at the National Museum of Funeral History (NMFH).
The NMFH's 16th permanent exhibit, Jazz Funerals of New Orleans, focuses on the historic Crescent City tradition, from its origins in the late 1800s and its progression through today. Originating with a common way to bid farewell to a loved one with music, the festive and boisterous jazz funerals have become a tradition unique to New Orleans, especially among the city's Black community.
The exhibit also explores other 20th century influences, including the Mardi Gas Indians—Black carnival performers who dress in suits influenced by Native Americans-African—along with American Protestant churches, the emergence of New Orleans jazz, and the evolution of the participatory second line in jazz funerals.
About the National Museum of Funeral History
Since 1992, the National Museum of Funeral History has housed the country's largest collection of funeral service artifacts in 30,500 square feet of exhibit space and features 16 permanent exhibits on one of man's oldest cultural customs.
Visitors can discover the mourning rituals of ancient civilizations, see up-close the authentic items used in the funerals of U.S. presidents and popes and explore the rich heritage of the industry that cares for the dead.
Jazz Funerals of New Orleans Exhibit at National Museum of Funeral History
This article has been sponsored by the event organizer. Per our advertising and sponsorship policy, we only accept sponsored content from organizations that meet our editorial standards and truly present a valuable activity, event, resource or destination for residents and visitors across the greater Houston area. Advertising revenue helps support 365 Things to Do in Houston, and our contributors, allowing us to expand our coverage of activities and events around the Houston area. Learn more about promoting your event or business.