Take a stroll through a decked out holiday event featuring Christmas light displays and festive family fun, along with dining and hotel packages, at Holiday in the Gardens at Moody Gardens in Galveston through Saturday, January 2, 2021.
This winter season, Moody Gardens is rolling out a winter wonderland brimming with holiday cheer, dazzling light displays, festive family fun and more at a socially distanced event that's perfect for your next getaway with family or your special someone.
On top of all the merry joy, Holiday in the Gardens also features special holiday dining (with a certain jolly someone) and hotel packages offering the best things to do for an unforgettable holiday stay.
Click here for more information and to check out hotel packages.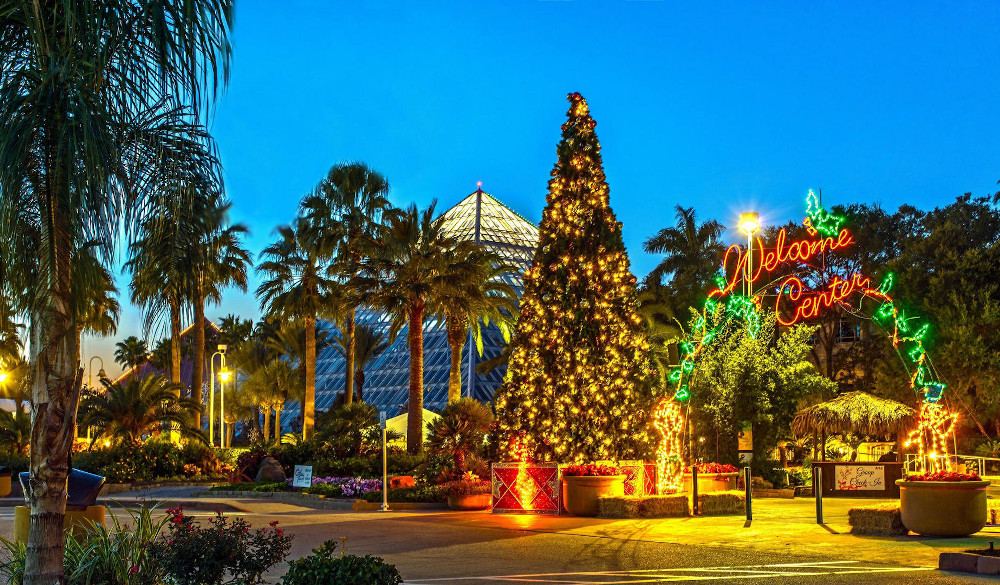 Festival of Lights & More Holiday Fun
At Holiday in the Gardens, visitors marvel at more than two million twinkling lights strewn across a mile-long trail, alongside lighted holiday scenes and classic tunes, that brings guests around the Moody Gardens property and offers spectacular views of Galveston Bay.
Throughout your stroll, you'll find plenty to enjoy from holiday train rides to Star: The Dancing Tree of Light, a four-story-tall Christmas tree covered in LEDs that shine, shuffle and flash captivating patterns and displays set to festive music.
No holiday event would be complete without classic wintertime fare that can be found throughout Holiday in the Gardens, including gooey s'mores, a cup of hot cocoa, delectable turkey legs, funnel cakes and more from concession areas along the Festival of Lights trail.
Visitors also can take a glide down the Arctic Slide and check out spectacular holiday films in 3D or immerse themselves in Rudolph the Red Nosed Reindeer 4D.
Click here for more information.
Special Dining & Hotel Packages
During Holiday in the Gardens, guests can get their pancake fix with Ol' Saint Nick himself at special breakfasts on Saturday and Sunday mornings from Saturday, December 5 through Sunday, December 20, or skip the cooking and let Moody Gardens provide the holiday feast with a Christmas Day brunch and dinner.
Of course, if you want to make the most of your experience at Holiday in the Gardens, then Moody Gardens has you covered with special hotel packages that provide one-night stays for families or couples and include a wide range of activities, including multiple two-day passes to the Festival of Lights, an evening cruise aboard the Colonel Paddlewheel Boat, admission to the Moody Gardens pyramids, breakfast credits and much more. Click here for more information and to book your hotel package.
Social Distancing & COVID-19
Holiday in the Gardens is taking place with a focus on safety precautions and preventing the spread of COVID-19. On the Moody Gardens website, you'll find The Pyramid Promise which lays out the efforts taken by Moody Gardens, as well as a crowd forecast which can help you determine which nights are least crowded and easiest to social distance. Masks are also required for all employees and visitors.
Moody Gardens is following guidelines administered by local health officials, the State of Texas and CDC. At this time, guidance from experts urges people to continue wearing face masks when in public spaces, practice social distancing of at least six feet, limit your touching of surfaces and frequently use hand sanitizer or soap and water to keep your hands clean.
Before heading out, take time to familiarize with Moody Garden's requirements or restrictions at this moment, and be sure to contact them ahead of time with any questions or concerns.
2020 Holiday in the Gardens at Moody Gardens
Dates: Daily through Saturday, January 2, 2021
Times:

Moody Gardens attractions are open 10am to 10pm daily
Festival of Lights & Holiday Attractions are open 6pm to 10pm daily
Value Days are open 6pm to 9pm (Sunday to Thursday through Thursday, December 17)

Admission: Tickets are all ages and range from $14 to $19 for Festival of Lights; $20 to $30 for Festival of Lights and other holiday attractions. Click here for more information and to purchase tickets.
This post was sponsored by Galveston CVB. Per our advertising and sponsorship policy, we only accept sponsored content from organizations that meet our editorial standards and truly present a valuable activity, event, resource or destination for residents and visitors across the greater Houston area. Advertising revenue helps support 365 Things to Do in Houston, and our contributors, allowing us to expand our coverage of activities and events around the Houston area. Click here to learn about promoting your event or business.