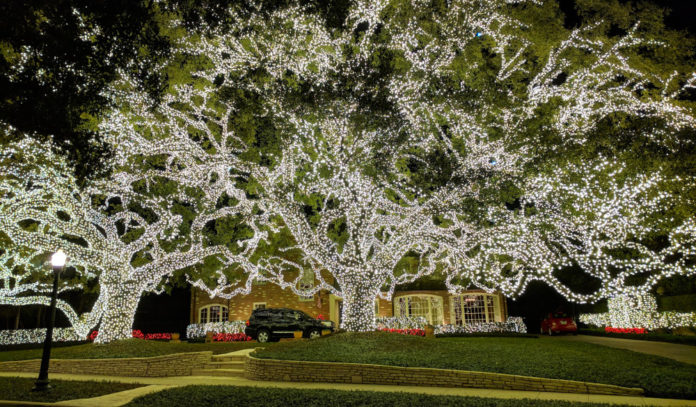 Pile in the car for a leisurely holiday drive or take a hot cocoa-fueled stroll while you ooh and ah at Houston's most popular Christmas light displays—in residential neighborhoods and at city landmarks alike.
Every year, Houston neighborhoods light up like a Christmas tree (literally), with homes, streets, and yards decked in the season's finest adornments. In 2020, people are more eager than ever to get in the holiday spirit, which makes many of these neighborhoods already bustling with festive lighting displays.
In most cases, checking out some of Houston's best neighborhood Christmas light displays won't cost you anything more than the gas it takes to get there. Just be sure you respect the neighborhoods and the residents who so kindly showcase their homes.
Appropriate hours to do Christmas light drive-bys are typically from 7pm to 10pm; and the light displays usually start going dark and coming down the weekend following New Year's Day.
Christmas Light Displays in Houston in 2020
River Oaks – For one of the most extravagant displays of holiday lights in the city, you'll want to check the grand, decked out homes and towering oak trees around one of Houston's most prominent neighborhood, River Oaks. Enter from Kirby – either from Shepherd or Westheimer – and begin winding your way through the hood as you uncover enclave after enclave of bright holiday lights and tradition. You can also park your car near the River Oaks Country Club to traverse the hood's most popular streets by foot.
The Heights & Woodland Heights – While Light in the Heights is cancelled this year, you can still tap into the friendly neighborhood charm and holiday spirit through shimmering displays all December long, from the fun and funky to the quaint and beautiful. And all of it is easy to see by foot or with a quick drive through the hood. Check out the area bordered by I-10, Heights Boulevard and 19th Street, and I-45.
Downtown Houston | City Hall, Market Square Park, Main Street Square, Discovery Green & Avenida Houston – Check out the annual, towering Holiday Tree at City Hall; spend some holiday cheer in the beautifully adorned Market Square Park (and steal a kiss from your sweetheart under Texas' biggest mistletoe ball), marvel at the Deck the Trees display in the windows of George R. Brown Convention Center (facing Avenida de las Americas, a.k.a. Avenida Houston), and don't miss making a pit stop to skate or take in the vibes at The Ice at Discovery Green (make sure you book a spot in advance if you're planning to skate, though).
Prestonwood Forest near Willowbrook – Nestled in Northwest Houston, this neighborhood subdivision has been a holiday destination since the '70s. During its annual Nite of Lites, which runs for most of December, hundreds of homes light up, all competing in a holiday-spirited competition with categories like Best House, Best Door, Best Mailbox, Best Block, and the People's Choice Award. The map includes the area around Prestonwood Forest from Cypresswood to 249, and from Ravenhurst and Schroeder to Charlynne Oaks to Hargrave.
The Woodlands – You'll find that most neighborhoods in The Woodlands feature homes, if not whole streets, that offer extravagant Christmas lights. In the past, the Panther Creek and Alden Bridge neighborhoods have been known for setting the bar high, several of the homes featuring over-the-top displays, some of which are choreographed to music. In addition, a stroll along the tree-lit Woodlands Waterway is a holiday tradition worth starting, as is checking out Market Street, with its soaring Christmas tree and twinkling lights.
Houston's Shopping Districts | Uptown, River Oaks District & Highland Village – Running along Post Oak and Westheimer, these merry and bright shopping districts are well worth a drive-by, or a stop-in if you want to hit all of those holiday sales. Drive down Post Oak and south towards the Galleria, taking in the white lights on the Christmas trees lining Uptown's main holiday thoroughfare. When you arrive to Westheimer, take a left and cross under the Loop to head towards the dazzling River Oaks District and Highland Village.
Garden Oaks/Oak Forest – The Shepherd Park Plaza neighborhood has rocked over-the-top lights and decked-out holiday displays since the late 1960s. The nearby Candlelight Park gets in on the action, too; both residential areas bringing entire streets together to create a magical experience complete with Santas, inflatables, fun themes, and shimming lights.
Pecan Grove – This festive Richmond neighborhood draws locals in with its showstopping Christmas lights. Plantation Drive is the main strip, with some streets being more decorated than others. Take a drive to take in the neighborhood's holiday spirit.
Ticketed Christmas Light Displays Around Houston in 2020
Holiday in the Gardens at Moody Gardens in Galveston | Through Saturday, January 2, 2021 – The sprawling family attraction goes all out this year with their Holiday in the Gardens event, featuring a brightly shining Festival of Lights where guests can take a stroll on a mile-long trail flanked by two million lights and holiday scenes. Stops along the way include Star the Dancing Tree of Light, concession areas, hot chocolate, fireside S'mores and other foods, mistletoe and plenty of 'Grammable opportunities. Fees start at $14 on value days; $19 on regular admission days. Festival of Lights is open from 6pm to 10pm daily; other attractions from 10am to 10pm daily.
Sugar Land Holiday Lights at Constellation Field | Through Sunday, January 3, 2021 – Head to the Sugar Land Skeeters' home field for a stunning display of 2.5 million lights, with red and green lights lining the seating section, light tunnels, giant light displays, and more. Tickets are $16; $14 ages 12 and under, and for ages 65 and up. Most November and January nights are discounted slightly. Times vary.
Galaxy Lights at Space Center Houston | Through Sunday, January 3, 2021 – The most interactive and technologically advanced light display in Texas returns to the Space Center Houston campus, with outdoor wonders, space-themed light installations, and a look at some real interstellar history that should captivate all ages. 6pm to 10pm. 
City Lights at Avenida Houston | Through Sunday, January 3, 2021 | Some FREE – Take in the lighted sights along the plaza, scope out 28 elaborately decorated Christmas tree in Alley Theater's Deck the Trees (appearing at the GRB this year only), and explore Discovery Green's the sights and sounds for free (and The Ice at Discovery Green for a fee, see below). There's also the option to spring $15 to experience Texas Winter Lights stretched across the rooftop Texas-shaped lazy river at Marriott Marquis Houston and take in its holiday treats and entertainment for an evening. 5pm to 10pm.
Zoo Lights in the Museum District | Through Sunday, January 10, 2021 – Young and old alike will be in awe of the twinkling holiday lights that illuminate the Houston Zoo at Hermann Park. The annual Zoo Lights runs all season long and into of January, with over two million LED lights brightening up its ancient oaks and winding paths to transform the zoo into a bonafide winter wonderland. Tickets range from $12.95 to $25.65. 5:30pm to 10:30pm daily.