Drop a line or head out with an expert guide service for bass, catfish and more at 30+ fishing piers and lakes Around Houston.
From the depths of lake waters to slow-moving creek streams, the areas around Houston are plentiful with fishing opportunities—including in Baytown, Brazosport, Clear Lake and the Bay Area, Conroe, Galveston, Pearland, Port Arthur, Sugar Land, The Woodlands and Tomball.
Most importantly, for the realities of 2020, hitting the waters and dropping a line is a great way to escape the house and get out into the world, while enjoying some peaceful nature.
Of course, it's also important for you to consider any health precautions before heading out. Our picks below may have certain requirements or restrictions at this moment and these things can change quickly, so be sure to contact your destination ahead of time with any questions or concerns.
Fishing License Requirements & Exceptions
Before you head out, make sure you know if a fishing license is required to drop a line in these waters. Broadly, fishing licenses are required for most fishers in public waters (which includes natural waterways and any land or water bodies that are not privately owned). Licenses are not required for anglers that are under the age of 17 or born before 1931.
Guide services are also a great way to fish without a license, as the guide's license will cover their clients while on the waters. You can double check requirements or purchase a fishing license online by clicking here.
Fishing Piers, Lakes & Guide Services Around Houston
Baytown
Brazosport
Clear Lake, Kemah, League City, Nassau Bay & Seabrook
Clear Lake Park – This 59-acre public park is centrally located in the Bay Area, offering extensive park amenities that include fishing piers and boat launch for prime fishing opportunities. Click here for more information.
David Braun Park at Lake Nassau – On the shores of Lake Nassau, this public park features an extensive boardwalk that makes for a great, relaxing fishing spot as you can also take in sailboats and motor boats off in the distance. The area also features playgrounds, sports fields and more. Click here for more information.
Pine Gully Park – Among the playgrounds and tree forts in the 52 acres of Pine Gully Park, a 1,000-foot fishing pier lets you drop a line for the day, or take a break and enjoy the 6-mile hiking trail loop. Click here for more information.
Conroe
Lake Conroe Park – Located on the southern shores of Lake Conroe, this 13-acre public park provides fishing pier access for $2 per person (free for ages 5 and under, 65 and over) as well as other amenities and scenic lake views. Fishers will most commonly find largemouth bass, catfish, crappie and bluegill, particularly deeper into Lake Conroe. Click here for more information.
Sam Houston National Forest – The expansive public forest edges the coastlines of Lake Conroe to the west and Lake Livingston to the east, providing multiple access points for year-round fishing and boat ramps larger excursions in lake fishing. License is required. Click here for more information.
Fishing Guide Services – The Conroe area offers great fishing opportunities in the vast waters of Lake Conroe, as well as nearby Lake Livingston. Guide services are a great way to find transport to these waters with area experts that know where different types of fish can be found. Plus, if you do not have a fishing license, then you'll be covered by the guide's license while on the waters. Fishing guide services in Brazosport include Bradley's Guide Service, Catch A Trophy Fishing Guide Service, Catfish Killer Guide Service, Phillip's Guide Service, Texas Guide Service, The Fish Dude's Guide Service, Wet Hook Guide Service
Galveston
Pearland
Port Arthur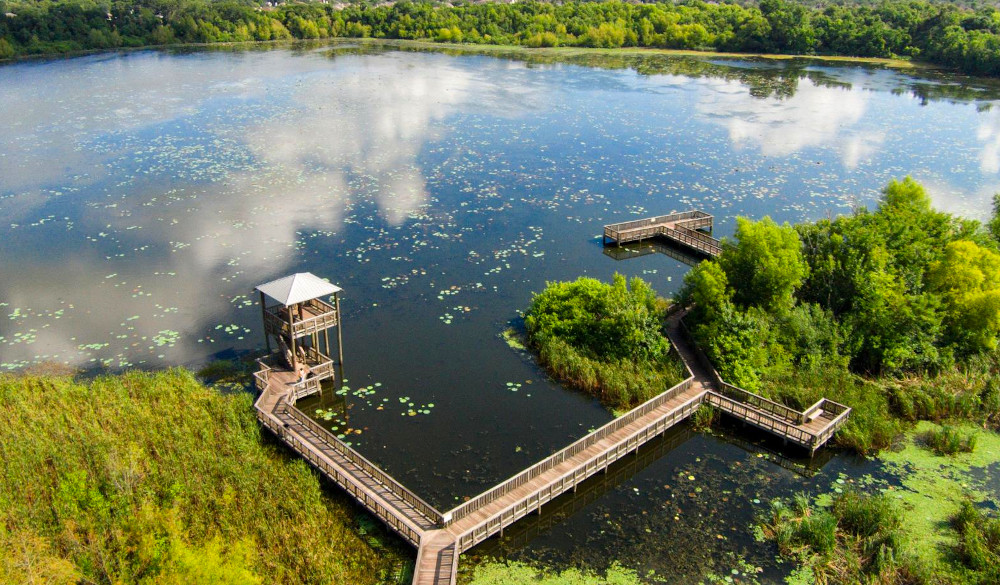 Sugar Land
Cullinan Park – A top destination in the Greater Houston area for all-things-nature, Cullinan Park spans more than 750 acres, offering birding, hiking and fishing opportunities. Bookended by White Lake and Pumpkin Lake, both of which have fishing piers, the park is also bisected by Red Gully and Oyster Creek. Click here for more information.
Eldridge Park – This 43-acre community park features a fishing pier over a 5-acre pond, stocked by Texas Parks & Wildlife Department on a semi-regular basis. Click here for more information.
Sugar Land Memorial Park – Among its network of hiking and biking trails, this expansive park features a lake that offers fishing opportunities for Florida largemouth bass, bluegill and channel catfish for those with licenses. Click here for more information.
The Woodlands
Tomball
This post was sponsored by Visit Houston. Per our advertising and sponsorship policy, we only accept sponsored content from organizations that meet our editorial standards and truly present a valuable activity, event, resource or destination for residents and visitors across the greater Houston area. Advertising revenue helps support 365 Things to Do in Houston, and our contributors, allowing us to expand our coverage of activities and events around the Houston area. Click here to learn about promoting your event or business.