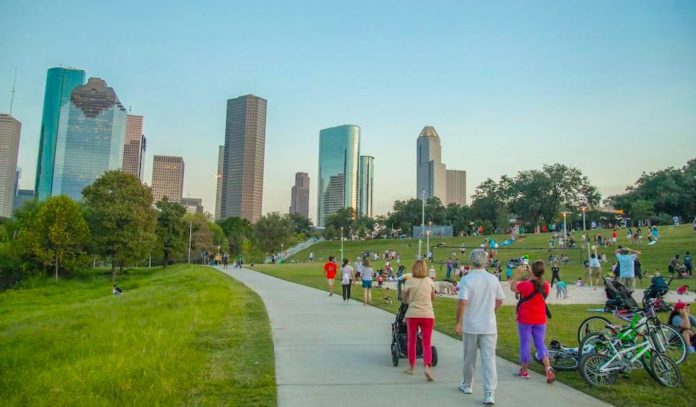 It's 2020, y'all. As we all embark on this new decade, take a look at some of Houston's "bests" today. Enter Houston 2020, a new series highlighting 20 local things and places that are at the top of their "A" game, helping to define the city at this very moment. The listings aren't ranked, and in some cases, will be broken down by category.
Contrary to popular belief, Houston is quite beautiful. And with more investment in preserving and expanding our green spaces, Houston is looking even finer in the year 2020.
Today's best parks, nature trails, and outdoor destinations offer an escape from the hustle and bustle of city life, rocking opportunities for hiking and biking, kayaking and birdwatching, skating, swinging and sliding, and outdoor sports like tennis, basketball, and softball, plus community events from movie nights and concerts to kids sing-a-longs and group fitness classes.
Look out for future listings, from Today's Best Breweries and Brunches to the Best Performing Arts Companies.
Best All-Around Parks
Buffalo Bayou Park near Downtown – Stretching from Shepherd to Sabine, Buffalo Bayou Park is one of Houston's crown jewels, offering 160 acres of picturesque scenery and skyline views. Visit and you'll discover hike and bike trails winding along the bayou; thought-provoking art installations hidden throughout; performance and outdoor activity spaces including Eleanor Tinsley Park, the Johnny Steele Dog Park, and the Lee and Joe Jamail Skatepark; kids areas like the Barbara Fish Daniel Nature Play Area; totally cool features like the Waugh Bat Bridge and historic Cistern; and a gorgeous, chandelier-lit kitchen and bar, The Dunlavy. Look out for a lineup of fun events taking place at the park, from the annual Freedom Over Texas fireworks on Independence Day to music, food, and beer festivals.
Discovery Green in Downtown – Nestled among Live Oaks and spanning twelve acres in the heart of Downtown, this urban green space offers a beautiful escape from the city. With open lawn space, a lake for seasonal kayaking and ice skating, 600+ free annual events from fitness classes and pop-up markets to concerts and movies, permanent and rotating art installations, in-park restaurants, and a rocking kids playground, the park is fun for all ages.
Hermann Park in the Museum District – Serving over six million annual visitors, this gorgeous 445-acre park is one of Houston's most iconic treasures. That's thanks to features like the family-friendly Houston Zoo, free performance venue Miller Outdoor Theatre, picturesque McGovern Centennial Gardens and Japanese Garden, nature-filled Bayou Parkland, and kid-friendly Hermann Park Railroad; plus picnic areas, hiking trails, a lake, playgrounds and more.
Best Parks for Hiking, Biking & Fitness
George Bush Park in Energy Corridor – Stretched over 7,800 acres, you can spend the entire day exploring George Bush Park. The public park boasts jogging and biking trails lined by swamps, ponds, and forests, plus soccer and baseball fields, playgrounds and pavilions, and a shooting range.
Memorial Park in Washington Corridor/Memorial Park –One of Houston's most beloved green spaces offers a year-round park for outdoor activities in its walkable 1,466 acres. You'll find locals making their rounds on the three-mile crushed granite loop (even in the hottest months); thirty miles of shaded, twisting trails for hiking and biking; a golf course and driving range; and fields and courts for everything from soccer and softball to tennis and volleyball.
Sam Houston National Forest in New Waverly – One of four national forests in Texas, this massive 160,000-acre forest is spread over three counties (Montgomery, San Jacinto, and Walker) and contains Hunstville State Park. It's the perfect spot for fishing, bird and wildlife watching, biking and canoeing, and camping, but one of the highlights is the award-winning 128-mile Lone Star Hiking trail, which has been dubbed the hiker's "Jewel of Texas" and a portion of which has gained National Recreation Trail status.
Best Parks for Kids & Families
Donovan Park in the Heights – Kids can run through a fortress, climb aboard a wooden train, and hit the monkey bars, swings, and slides at this imaginative wooden playground, which sits off Heights Boulevard. After all that play, popular Heights eateries like Cloud 10 Creamery, Local Foods, Melange Creperie, and even Golden Bagel (over on White Oak) are just a short skip away.
Levy Park in Upper Kirby – This playful, 5.6-acre green space is an area favorite for families thanks to its awesome Children's Park area, complete with a climbing wall and seven-foot-wide slide, Cosmo climbing sphere, lighted tunnels, dance chimes, a three-tiered water feature, play berms, and Children's Pavilion. It also rocks a picturesque landscape, fun programming, a community garden, and a dog park. Bring the family to experience, do, and play, with activities from art and games for the kiddos to yoga classes and concerts for all.
T.C. Jester Park in Garden Oaks/Oak Forest – You'll find a community pool and splash pads at this neighborhood park, which runs along the White Oak Bayou between 34th and 43rd in the GOOF-area. There are also plenty of shaded spots, a small dog park and playground for the kiddos, 21-hole disc golf course, sports fields, and biking and jogging trails.
Best Nature Trails & Wildlife Centers
Best Parks for Community Programs & Events
Best Outdoor Destinations Near Houston
Galveston Island – About an hour from Houston, Galveston Island harbors 32 miles of beaches. Dip your toes in the sand at popular spots like Stewart Beach and East Beach (and be sure to check out these fun things to do). The western end of the island also plays home to the beautiful Galveston Island State Park, a 2,000-acre tranquil state park offering natural surroundings from sand dunes and wetlands to picturesque coastal prairies. There are plenty of opportunities to become one with nature, with an ample mosaic of wildlife and outdoor activities. Go hiking, mountain biking, fishing, bird watching, geocaching, and kayaking; or pitch a tent for a night of romantic beach camping and stargazing.
Lake Conroe – From boating and boarding to romantic sunsets, a visit to Lake Conroe makes for a perfect day (or weekend) trip. Rent a paddleboard, get out on the water on a boat or jet ski, enjoy some quiet time with a day of fishing, bring a group of friends and spend a day of fun in the sun on a super cool cycle boat (a human-powered party pontoon with pedal stations), or enjoy views of the lake and sunset on a romantic dinner cruise.