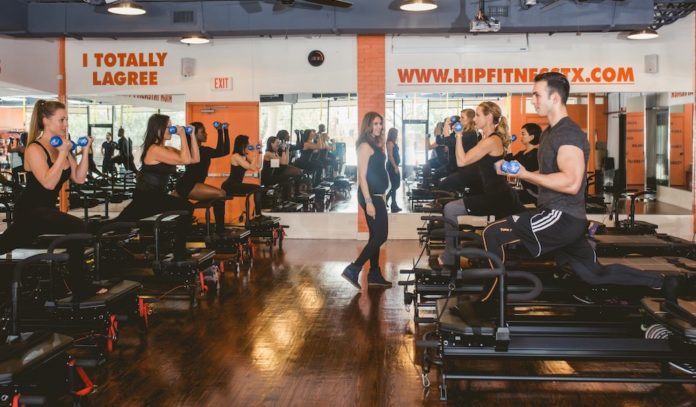 In our Where to Work Out series, we search Greater Houston's vast array of neighborhoods and communities for the best fitness studios for cardio, strength training, yoga and more.
While the beautiful, tree-lined running trails of the walkable Rice Village neighborhood are appealing, sometimes that's just not in the cards. Nearby is a wide array of reputable spots to practice yoga, work up a sweat, tone your muscles and more. And we've rounded up the best of all.
For the purposes of this list, Rice Village and West University are defined as the area bound by 610 to the west, Greenbriar Drive to the east, Southwest Freeway to the north, and Holcombe Boulevard to the south.
Where to Work Out in Rice Village & West University
Not sure where to start? We did the research so you don't have to. Read on for a list of our favorite places to exercise in Rice Village and West University.
Yoga, Barre & Pilates
HIP Fitness –

Have your legs ever felt like jelly after a really tough workout? If not, experience the sensation first-hand with a 45-minute megaformer pilates class at H.I.P. (high-intensity pilates) Fitness. Using the Lagree method, instructors lead you through a challenging, full-body workout that tones and lengthens every muscle with resistance-based exercises on the versatile machine.

Click here for directions.
Black Swan Yoga – Find your zen at the donation-based Black Swan Yoga. Hailing from Austin, this popular studio is known for its warm, welcoming atmosphere; varied music and teaching styles per instructor; and overall communal environment. Click here for directions.
Define Body & Mind – Barre, spin, hammock yoga, stretching, trampoline and more are all available at this Houston-based fitness franchise that aims to help clients live their best, healthiest life. Known for quality instruction and well-rounded offerings, Define also has a line of healthy foods and juices with hands-on workshops throughout the year. Click here for directions. 
Pure Barre – Tighten, lift, and tone your whole body with small movements that drive big results at Pure Barre. With four different class types, Pure Barre offers a beginners class, classic barre classes, barre fused with HIIT, and a strength training class that employs extra props for resistance work. Click here for directions.
HIIT & Cardio
Avenu Fitness & Lifestyle – The folks at Avenu Fitness & Lifestyle take coaching seriously. Before your first workout, they'll meet with you to discuss your fitness goals, then give you a personalized recommendation for how to reach them. Their plans include quarterly assessments with a quick and effective training method called In30, paired with a realistic meal plan for a well-rounded fitness approach. Click here for directions.
Orangetheory Fitness – Competitive fitness junkies take note: Orangetheory is addictive. Why? For starters, they have you wear a fitness tracker that tells your heart rate, calories burned, and number of "splat points" (a.k.a. the amount of time you've shown a high heart rate) throughout the class—the perfect distraction and/or motivation, depending on your personality type. Second, the studios keep you guessing with an always-new combination of HIIT on the treadmill, rowing, and strength training. Click here for directions.
F45 Training – Mix strength with cardio in this functional, 45-minute HIIT workout that hits every muscle group with all of the classic movements you know and love. First, you'll join your team for a demo of each exercise and a quick warm-up, then dive into a unique combination of squats, jumps, twists, pulls, pushes, punches and more, with help and support from trainers along the way. Click here for directions.
Row Studios – Don't be fooled by that fact that you're sitting down—rowing is an incredibly challenging workout that increases your endurance, strength, and mobility through technical, full-body movements. And at Row Studios, you can learn the proper way to row through 50-minute group classes featuring varied combinations of rowing, bodyweight work, and strength training exercises. Click here for directions.
While you're in the neighborhood, check out our favorite Brunch and Happy Hour spots in Rice Village and West University.
Find More Things to Do in Houston All Year Long
You can find more fun in our interactive event calendar and 365 Weekend Guides.
Be sure to subscribe to our free Weekend Guide email to receive a round-up of great things to do this weekend in Houston in your inbox every Thursday. If you don't want to miss a thing, you can also opt in to our Daily Update emails (emailed six days a week).
Click here to sign up for free.