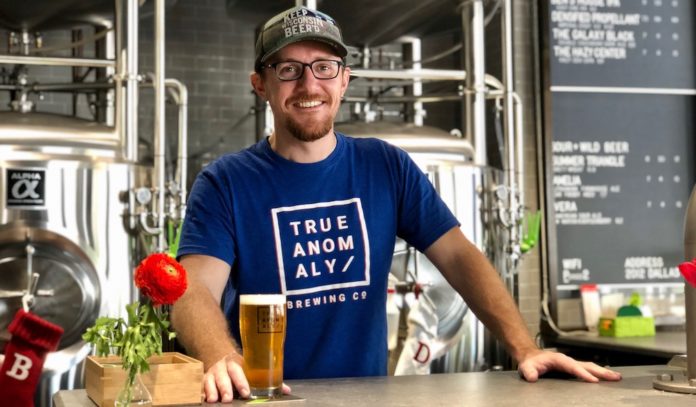 Our My Top 5 series showcases Houstonians who are creating the city's culture and community and asks them to share their own local favorites. This week we're delighted to feature Thomas Ahlstrom, head brewer and founder of True Anomaly Brewing Company. In addition to his partnership, Ahlstrom grew his brewing hobby into the True Anomaly we know today after relocating to Houston in 2005 to work for Johnson Space Center.
My Top 5 Things to Do in Houston
by Thomas Ahlstrom
Ropa Vieja tacos from El Rey

– I still remember my first ropa vieja taco from El Rey like it was yesterday. I've lived near the Washington Corridor and Rice Military area for years, and this first taco was indeed late night bar food long ago, but they've stood the test of time and are now one of my go to meals any time of day. You can go for the ropa vieja plate, which comes with rice, beans and plantains for a balanced meal… but most times the special ropa vieja is where it's at with three tacos built by the pros, smothered in their awesome cilantro sauce.  

Brewery hopping with the family – My weekend habits have changed quite a bit since having two kids (not all at once, Lucy is 3 and a half and Peter is 13 months), but the wife and I still like to get around and visit our favorite kid-friendly breweries. There are so many good breweries out there to visit, and I have to get out and do my market research after all. Saint Arnold's is the Houston granddaddy of craft beer and continues to be an independently-owned brewery we should all be proud of. Their new beer garden is super kid-friendly and is always a good time. Sigma and 8th Wonder in EaDo both have open spaces with picnic tables where the kids can roam around. Great Heights and Eureka Heights, located in the Garden Oaks and Heights neighborhoods respectively, have outdoor seating where the kids can get rambunctious while the parents enjoy great beer. The pizza truck at Great Heights, The Purple Flour, is rock solid as well. Clearly don't visit all these establishments in one sitting. Make a month of it and visit a couple each weekend. Then start the cycle over again. The Houston brewery scene is definitely on the upswing and I'm leaving many great breweries off this list. Plus, there are a bunch more opening soon I'll have to check out.
Nobi Public House on NASA Rd 1 – Before True Anomaly, I spent my days working in Clear Lake and would often end up at Nobi in the evenings working on our business plan with my co-founders. They have great Vietnamese food to go along with a huge number of taps that are constantly rotating. The bar scene in Clear Lake has improved drastically over the past 5 or so years, but Nobi was an early influencer in the beer movement and will always be a special place for the True Anomaly team.
D&Q The Beer Station – There are plenty of places in Houston and the surrounding area to get great craft beer to-go, but few pack as many great options and customer service into a small space as the D&Q on Richmond. Brandon, the owner, keeps a constantly fresh and rotating inventory on hand and is knowledgeable about beer and happy to help you find the right selections for whatever occasion you're shopping for. I've caught myself spending an easy half hour just perusing all the selections and getting new ideas for our own brews.  Next time you're looking to re-stock the beer fridge, go check out D&Q.
Banh Mi at Café TH – This cozy Vietnamese spot located on Pease Street from owner and chef Minh Nguyen is on my weekly lunch schedule. Minh is a good dude and always happy to suggest great food depending on what you're looking for. My go-to is the Gluttonous Ellis with pork and I add kimchi for an extra kick. Take note of their hours: closed on weekends, open for lunch Monday through Friday, and open for dinner on Thursday and Friday night. Also, this spot is BYOB and a great place for group dinners served family-style. And for the caffeine fiends, they also recently added a coffee bar for your caffeine cravings.
About Thomas Ahlstrom
A Houstonian since 2005, Thomas relocated from the Midwest to work for Johnson Space Center, where he designed and managed Extravehicular Space Activity (EVA) tool development projects and managed the safety of human in the loop ground tests. It's there, at JSC, that Tom and his fellow True Anomaly co-founders started brewing together in 2005. The brewing hobby slowly grew into something larger, eventually turning into True Anomaly brewing located in EaDo, where Tom is now the head brewer. With a penchant for exploration and experimentation, True Anomaly aims to transport the spirit from their time in the space industry to craft beer.