Blast off to your nearest McDonald's to pick up a 'Discover Space with Snoopy' themed Happy Meal through Monday, September 16, 2019.
McDonald's is bringing America's favorite beagle, Snoopy, to Happy Meals across the country. 'Discover Space with Snoopy' themed Happy Meals feature science, technology, engineering and mathematics (STEM) focused toys created by McDonald's and Peanuts Worldwide.
The collaboration commemorates the 50th anniversary of the lunar landing, as well as the 50th anniversary of Apollo 10, which featured lunar module Snoopy and command module Charlie Brown.
Guests can visit any participating McDonald's location in the Greater Houston area and try to collect all four while supplies last.
Happy Meal Toys
For a limited time, McDonald's restaurants across the U.S. will offer 'Discover Space with Snoopy' themed toys in their Happy Meals. Each toy comes with a STEM card with fun facts about space exploration. Toys include:
Rocket Propeller: Create the force that will launch Snoopy from NASA's new Space Launch System or SLS rocket, which has more than 31 times the total thrust of a 747 jet
Space Buggy: Take a ride with Snoopy on NASA's Mars rover, named Curiosity, as he explores the rocky terrain of the Red Planet
Dance Mover: Moon walk with Snoopy in his spacesuit, which astronauts nicknamed "pumpkin suits" because of their bright orange color
Take-off Launcher: Help Snoopy launch into deep space in the Orion spacecraft with NASA's Space Launch System, the world's most powerful rocket ever built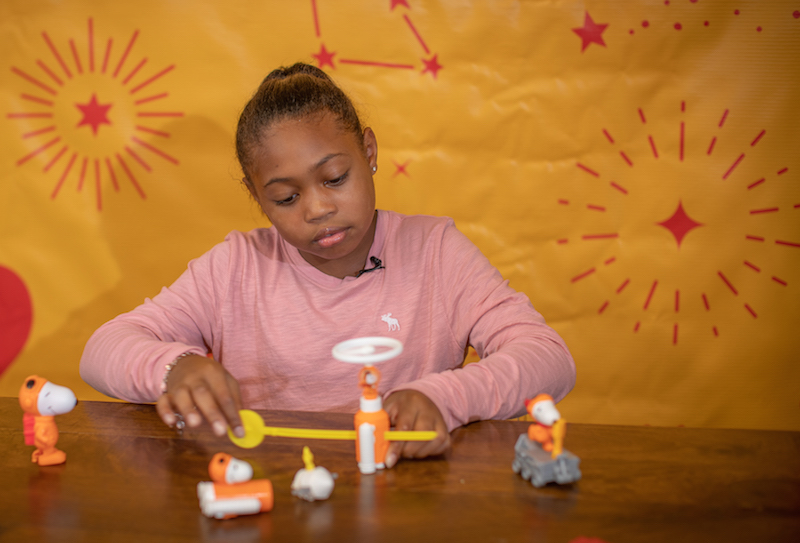 About the McDonald's Owner/Operators of Greater Houston
The McDonald's Owner/Operators of Greater Houston, a co-operative of local business owners, own and operate more than 300 McDonald's restaurants in Greater Houston.
Houston-area McDonald's restaurants employ more than 15,000 people in the Greater Houston community.
This story was sponsored by the McDonald's owner/operators of Greater Houston. Per our sponsorship policy, we only accept sponsored content from businesses that meet our editorial standards and truly present a valuable activity, resource, or destination for residents and visitors across the greater Houston area. Click here to learn about promoting your event or business.