Stand witness to the Holocaust and stand up for human rights at Holocaust Museum Houston in the Museum District.
Situated in the Museum District, Holocaust Museum Houston provides an educational experience that promotes responsible individual behavior, cultivates civility, and pursues social justice by exploring human rights and the horrors of hatred, prejudice, and apathy.
Holocaust Museum Houston guides visitors through a reflective journey across a timeline of events that took place in Europe throughout the 1930s and 40s, resulting in an erosion of human rights and a horrific atrocity for millions of Jews and other victims. The Museum remembers these victims and honors the survivors' legacy by exploring the past and teaching can be done for the future.
Recording History & Renovations
Opened in 1996, Holocaust Museum Houston was made possible due to the efforts of Holocaust survivor and long-time Houston resident Siegi Izakson, who sought a way to preserve the stories, memories, and legacies of those who experienced the Holocaust.
Since then, more survivors have reached out to offer their testimonies, artifacts, and belongings, which are now fully on display thanks to a $34 million dollar renovation which reopened the Museum in 2019.
The massive undertaking has grown the Museum's exhibition spaces, allowing more room for temporary exhibits, classrooms, and outdoor areas for reflection.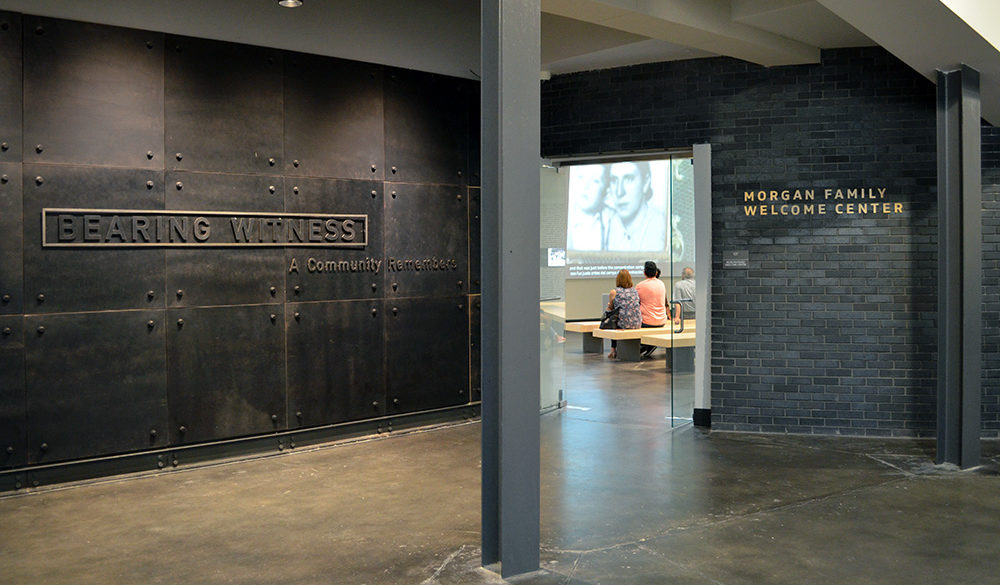 Bearing Witness: A Community Remembers
The recommended starting point at Holocaust Museum Houston is the signature exhibit, Bearing Witness: A Community Remembers, located on the right just beyond the admission counter.
Within the Morgan Family Welcome Center, visitors are presented a video orientation that offers the experiences of Jewish survivors before and throughout the events of the Holocaust.
Photographs and other artifacts donated by Houston-area survivors adorn the surrounding walls, providing a chance to reflect on these personal belongings.
Through the adjoining double doors, visitors begin a chronological journey through the events that would spark the rise of Nazism in Germany, the spread of propaganda throughout society, and the legislation and decrees that would erode the rights of Jews throughout Europe.
As visitors wind their way through Bearing Witness, many of the exhibits feature prompts that encourage a deeper, more thoughtful examination of events, influences, motivations, and consequences that contributed to the resulting atrocity and harm to human rights.
One of the most stirring centerpieces of Bearing Witness, a World War II-era German railcar has been brought indoors during renovations and spurs visitors to step inside during their tour. Here, one receives a very personal experience of confined spaces on a transport that would crowd over 100 Jews and other victims for passage to labor and death camps across Europe.
Continuing the tour through forced ghettos and concentration camps, visitors have the opportunity to reflect on the donations by survivors that offer uniforms, patches, and other personal belongings from their time in camps across the continent.
In one area of Bearing Witness, visitors encounter a large video screen and a microphone placed on a podium. Here, they are encouraged to simply ask a question to a Holocaust survivor and, through artificial intelligence, they are provided a recorded video response by one of many survivors interviewed.
Bearing Witness also features an extended exhibit that highlights the specific diplomats, journalists, soldiers, and others that exerted great personal efforts to liberate Jewish people during World War II.
Juxtaposed with the German railcar, a Danish rescue boat has also been brought indoors during renovations, offering visitors a glimpse into the cramped spaces that housed many escaping refugees that were saved from the encroaching horrors of the Holocaust.
Finally, visitors take in the aftermath of the Holocaust, witnessing the ways that Jews attempted to rebuild their lives after the war and viewing videos that document the Nuremberg Tribunals that convicted some of those responsible for the Holocaust.
Lester & Sue Smith Human Rights Gallery
Opposite Bearing Witness, visitors can more closely examine how international governments came together in the wake of the Holocaust to form the Charter of the United Nations, in order to reaffirm human rights and promote prosperity of all humankind.
Within the Lester and Sue Smith Human Rights Gallery, timelines show how human rights have been asserted, threatened, and defended by the efforts of exemplars like Martin Luther King, Jr. and Malala Yousafzai. A water feature in the center of the gallery displays the faces of these human rights role models, offering a place of contemplation and reflection.
Recognizing that acting in the name of protecting human rights can be a difficult individual process, Holocaust Museum Houston also provides guidance on how each of us can do our part to be better informed, prepared, and engaged with the endeavor of social justice for all.
And Still I Write: Young Diarists on War & Genocide
In the spirit of Anne Frank, this interactive permanent exhibit at Holocaust Museum Houston invites visitors to read the accounts of individuals facing horrific challenges, including World War II, youths held in Japanese internment camps in the United States, and young authors in Iraq and Syria dealing with the terror of an occupying ISIL force.
The experiences of a dozen diarists can be explored through electronic diaries, allowing for a more personal understanding of humans grappling with the existing dangers of hatred, prejudice, and apathy.
Temporary Exhibitions & Museum Store
Thanks to the 2019 renovations, Holocaust Museum Houston is now able to present expanded temporary exhibitions in ample spaces, offering deeper explorations of events, figures, and themes related to the Holocaust and human rights.
Temporary exhibition spaces can be found located next to the Human Rights Gallery and the Museum Store, which offers mugs, shirts, jewelry, and more.
Lack Family Memorial Room
A space for contemplation and reflection on personal loss associated with the Holocaust, the Lack Family Memorial Room is a naturally-lit space that features the "Wall of Tears", a 600-tile artwork that symbolizes the six million Jews that perished during the Holocaust.
The "Wall of Tears" is flanked by mixed media artworks "Remembrance" and "Hope", and is situated across from the Cemetery Wall, which features ceramic glass plaques etched with the names of victims of the Holocaust, relatives, and loved ones of local families.
Jerold B. Katz Family Butterfly Loft
Standing outside the exit of Bearing Witness, visitors can spot a mass of iridescent butterflies suspended overhead that string through the second floor above.
Head upstairs and get a better look at the Jerold B. Katz Family Butterfly Loft, an installation of 1,500 butterflies that softly change color and glitter in the natural light pouring through the second floor windows.
These butterflies, while beautiful and lively, encourage visitors to remember the losses of the Holocaust. Each butterfly symbolizes 1,000 children that perished in the Holocaust, amounting to 1.5 million children in total.
Samuel Bak Gallery
Born in Vilna, Poland in 1933, Samuel Bak began harnessing his artistic talent at a young age, displaying his first exhibition of early artworks in the Vilna Ghetto when he was just nine years old.
While he would later manage to survive the Holocaust with his mother, his father and four grandparents perished at the hands of Nazis. These experiences inform much of his prolific collection of artwork that he has generously donated to Holocaust Museum Houston.
The circular gallery is located on the second floor, where visitors can explore the deep symbolism of Bak's paintings while expanding their understanding of the Holocaust and the scars it inflicts upon humanity.
Boniuk Library & Outdoor Reflection
On the third floor, the Boniuk Library welcomes the public to explore its collection of more than 10,000 volumes and resources available for in-house research and education. In addition, the public are welcome to get involved with the library's monthly book club.
Visitors can also learn more about the interactive destroyed communities project, which traces locations across Europe that were devastated by the Holocaust and World War II.
Wedged between the Lack Family Memorial Room and the Young Diarists on War and Genocide exhibit, doors lead visitors outside where outdoor installations help provide areas that encourage reflection and a moment of relaxation.
Seating is available throughout this area, with Eric Alexander's "Garden of Hope" serving as the centerpiece as visitors head outside.
Tips for Visiting
Holocaust Museum Houston is an ADA-accessible building with elevator access to all floors, occasional exhibits that feature tactile elements for blind and vision-impaired visitors, and more. If you have concerns about accessibility, feel to contact the museum ahead of your visit.
Keep an eye on the Museum's online calendar, which features upcoming events including distinguished speakers, film screenings and more.
Docent-led tours are also available to groups. Contact [email protected] in advance of your visit to schedule.
Holocaust Museum Houston
Hours: Monday through Friday 9am to 5pm; Saturday 10am to 5pm; Sunday Noon to 5pm
Phone: 713-942-8000
Admission: Tickets are $19 for adults; $15 for AARP members, seniors 65 and up, and active duty military; free for ages 18 and under. Free admission to the public on Thursdays from 2pm to 5pm, as well as on select days throughout the year. Click here to view timed admission availability, a schedule of free admission days, and purchase tickets.
Parking: Gated surface lot parking is available at the museum for $8 up to four hours. Other rates available. Metered street parking is also available in the surrounding area.