Visit the #McDHoustonWall on the Houston Graffiti Building in EaDo for a colorful photo opp through Summer 2019.
Located on the southeast facing wall of the Houston Graffiti Building at the corner of St. Emanuel and Bell streets, the #McDHoustonWall merges elements of the global McDonald's brand with Houston-area icons and landmarks to add flavor to the mural scene in EaDo.
McDonald's owner/operators in the Greater Houston area commissioned the Houston-inspired mural from aerosol artist Mario E. Figueroa, better known as Gonzo247.
The mural incorporates pieces of Houston, like the city skyline and astronauts, plus also elements of the McDonald's brand with the French fries. It also shows the direction and changes that McDonald's is making in the digital space, ​including the new ordering kiosks available inside restaurants, delivery available through UberEats, and McDonald's mobile app.
The mural should be up through at least Summer 2019 at 1538 St. Emanuel Street.
About McDonald's Owner/Operators of Greater Houston
The McDonald's Owner/Operators of Greater Houston, a co-operative of local business owners, own and operate more than 300 McDonald's restaurants in Greater Houston. The co-op and individual owners support a number of organizations and people that make Houston a better place to live, including artists like Gonzo247 who help beautify the city.
Houston-area McDonald's restaurants employ more than 15,000 people in the Greater Houston community.
#McDHoustonWall in EaDo
Best Time to Photograph: Arguably, the best time to photograph the mural is in the early morning around sunup, when the sun is hitting the mural with a rosy glow.
Parking: Free street and lot parking is available in the surrounding area.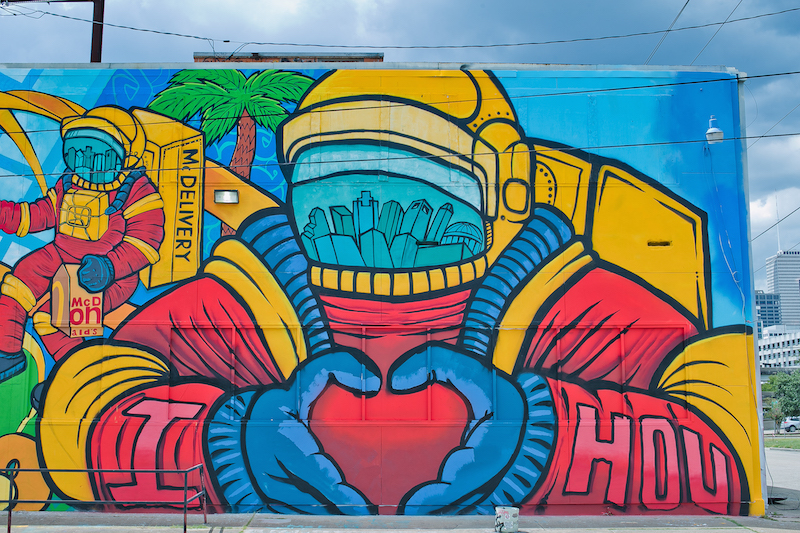 This post was sponsored by McDonald's Owner/Operators Association of Greater Houston. Per our advertising and sponsorship policy, we only accept sponsored content from organizations that meet our editorial standards and truly present a valuable activity, event, resource, or destination for residents and visitors across the greater Houston area.
Advertising revenue helps support 365 Things to Do in Houston, and our contributors, allowing us to expand our coverage of activities and events around the Houston area. Click here to learn about promoting your event or business.