Take in the stunning beauty of a temple that hosts cultural events year-round at the BAPS Shri Swaminarayan Mandir in Stafford.
Located on the edge of Sugar Land and Stafford, the snow-white Hindu temple is open to the public for visitors looking to take in the beautiful temple grounds and interior buildings.
Constructed with the help of volunteers in the spirit of seva (or selfless volunteering), the striking man-made wonder was assembled using a remarkable 33,000 pieces of hand-carved marble and Turkish limestone −fitted together like a giant 3D jigsaw puzzle.
Inside the temple, wide-eyed visitors can get a look at a variety of works including, paintings of sacred images, Italian marble works, and an exhibition on the religion's history.
Visitors looking to do more than check out the temple grounds can check the temple's upcoming calendar for events and celebrations or hit the souvenir shop, which is located in the front of the Mandir, for a wide array of books, postcards, CDs, DVDs, herbal health products, gifts, tastes and budgets.
Click here for info on current and upcoming events.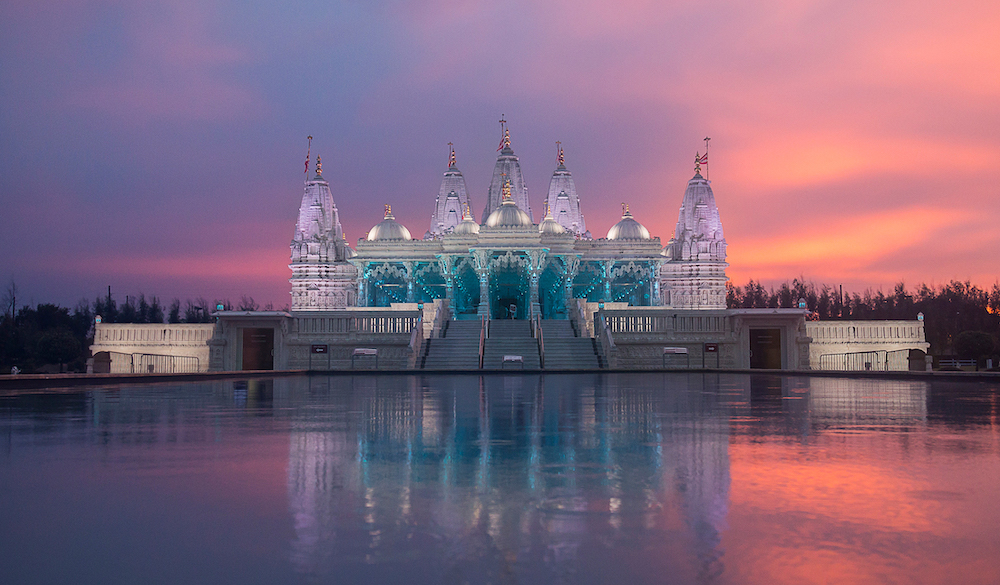 Before You Visit
The Mandir is open to all, but in order to maintain the sanctity of the temple, visitors are requested to abide by a few rules and regulations applicable in almost all areas.
As far as dress code goes, neat casual attire is encouraged. No tank tops, shorts, or skirts shorter than knee length will be allowed and all visitors are required to remove their shoes before entering the Mandir or any part of the Mandir campus.
Visitors should note, food and drinks, smoking, pets, chewing gum, touching the delicate carvings or artwork, and photography/videography in any capacity are all strictly prohibited inside the Mandir or exhibition.
Click here for more visitor information.
BAPS Shri Swaminarayan Mandir in Stafford
Location: 1150 Brand Ln, Stafford, TX 77477
Mandir (Exterior) Visiting Hours: 9am to 8:30pm daily
Murti Darshan (Interior) Visiting Hours: Daily 7:30am to 10:30am, 11:30am to noon, 4pm to 6pm, 7pm to 8pm.
Parking: Free lot and parking is available in the surrounding area
Admission: Free. Click here for more information.