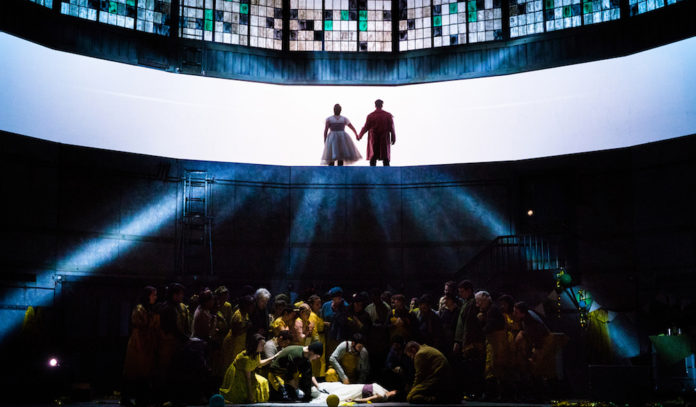 Embark on the legendary tale of a cursed ghost ship captain when Houston Grand Opera (HGO) presents The Flying Dutchman at Wortham Theater Center from Friday, October 19 through Friday, November 2, 2018.
Setting sail for its 64th season, Houston Grand Opera opens the 2018-19 season at the Wortham Theater Center with The Flying Dutchman, Richard Wagner's romance about the redeeming and transformative power of a woman's love.
In a new production, Director Tomer Zvulun brings the famous legend of a cursed ghost ship to new dramatic heights with projection-based sets that put a modern-day twist on the ghostly elements. Polish baritone Andrzej Dobber takes on the title role of the Dutchman, and American soprano Melody Moore portrays the demanding role of Senta.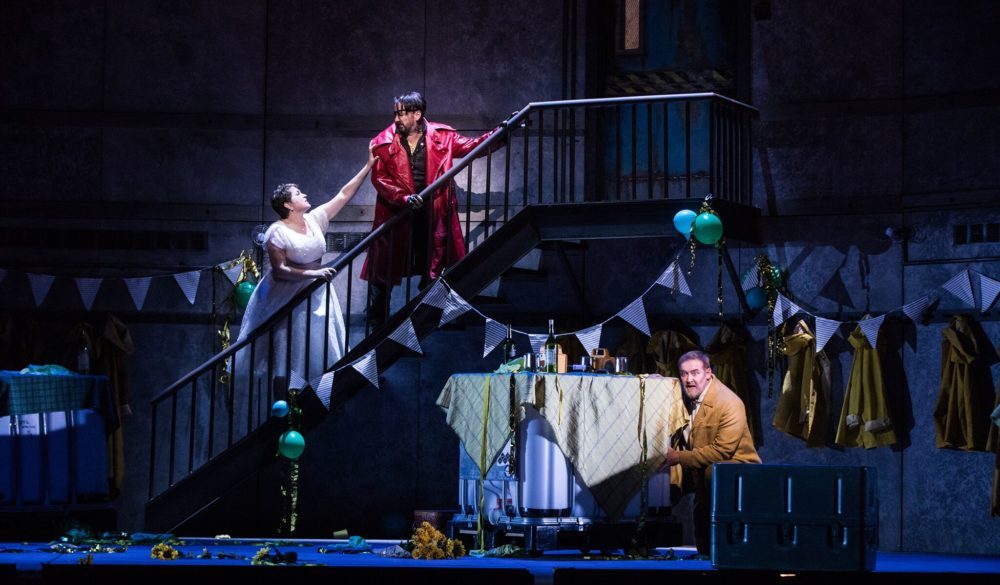 The Tale of The Flying Dutchman
A haunting love story, this German opera tells the tale of a cursed Dutchman who comes ashore every seven years, looking for a chance to break the curse that binds him to the desolate seas.
His quest for true love leads him to Senta, a captain's daughter who has been obsessing over a mystifying portrait of the cursed Dutchman.
When the two meet, the Dutchman is hopeful, but Senta must decide between her arranged marriage and her overpowering love for the Dutchman.
A co-production of the Atlanta Opera and the Cincinnati Opera, The Flying Dutchman will be sung in German with projected English translation and runs two hours and 20 minutes with no intermission.
Click here for more information and to purchase tickets.
Seeking the Human Spirit
The Flying Dutchman is part of Houston Grand Opera's Seeking the Human Spirit, a six-year multidisciplinary initiative designed to highlight the universal spiritual themes raised in opera, while expanding and deepening Houstonians' connections to opera and art.
This year's theme is "Transformation" and also includes the mainstage production of Florencia en el Amazonas and the world premiere of The Phoenix.
Click here for more information and to purchase tickets.
About Houston Grand Opera
Houston Grand Opera is one of the largest, most innovative, and most highly acclaimed opera companies in the United States, and was the only American finalist for Opera Company of the Year at the 2017 International Opera Awards.
In fulfilling its mission to advance the operatic art to serve an ever-evolving audience, HGO has led the field in commissioning new works (63 world premieres to date), as well as in training and nurturing promising young artists and administrators.
HGO contributes to the cultural enrichment of Houston and the nation through a diverse and innovative program of performances, community events, and education projects that reach the widest possible public.
HGO presents The Flying Dutchman at Wortham Theater Center
Dates:

Select dates from Friday, October 19 through Friday, November 2, 2018

Times:

Friday, October 19 at 7pm; Sunday, October 21 at 2pm; All other performances at 7:30pm

Parking:

Underground parking in the Theater District is open and costs $12. Street parking in the surrounding area is also available.

Admission:

Tickets

range from $20 to $270. Save 10% off select tickets with promo code

DUTCHMAN365

.

Click here for more information and to purchase tickets

.
This post was sponsored by Houston Grand Opera. Per our advertising and sponsorship policy, we only accept sponsored content from organizations that meet our editorial standards and truly present a valuable activity, event, resource or destination for residents and visitors across the greater Houston area. Advertising revenue helps support 365 Things to Do in Houston, and our contributors, allowing us to expand our coverage of activities and events around the Houston area. Click here to learn about promoting your event or business.