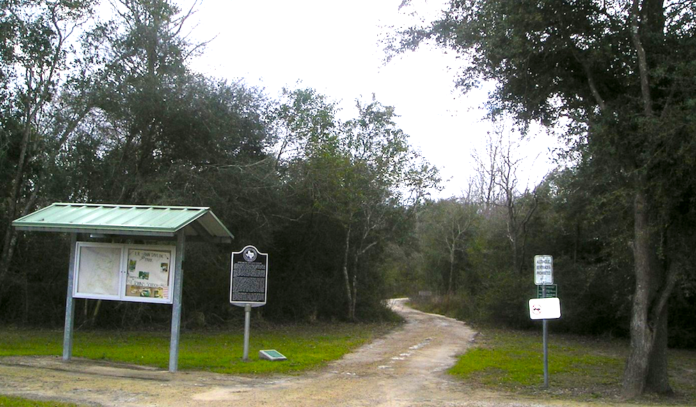 In our Park Spotlight series, we take a closer look at Houston's vast array of public recreational areas to shine a light on hidden and not so hidden gems. This week we'll be spotlighting E.R. and Ann Taylor Park. Join us as we take a trip through Houston, park by park.
Located 10 minutes south of Downtown off Highway 288, E.R. and Ann Taylor Park is a 26-acre forest oasis in South Houston, complete with tranquil birdcalls, grapevines, ancient oak trees, and even a clear view of the city's skyline and Texas Medical Center.
A place of quiet beauty and reflection, the park includes a pond, extensive nature trails with ground level and elevated areas for bird watching or wildlife photography, an observation tower, pavilion, picnic tables, and benches.
Donated to the City of Houston by the Taylor family estate in 1986, today the park serves as a wildlife habitat in the midst of urban development with a natural environment that provides shelter for plants and animals and a place of beauty where city dwellers can experience unspoiled nature.
Emphasis on the Natural
Featuring 1.08-mile nature trail that takes hikers through the woods, the park puts an emphasis on the natural with bird watching blinds scattered within so that viewers can observe wildlife without scaring it off and a 2-story tall viewing stand looking out on the wilderness pond ecosystem and surrounding forest.
Home to dozens of bird species that fly through the Houston area during seasonal migrations, the site was chosen in 2003 as a project site for the Urban Conservation Treaty for Migratory Birds since the animals rely on well-preserved sections of ecosystems like this park for stopovers.
Bird watchers can take a gander at migrating songbirds, birds of prey, ducks, and hummingbirds. Or check out birds that can be seen all year-round like cardinals, red-winged blackbirds, hawks, herons, doves, and egrets. Hikers with an eye for wildlife might also find foxes, armadillos, rabbits, opossums, raccoons, and many varieties of butterflies among the seasonal wildflowers.
E.R. and Ann Taylor Park in South Houston