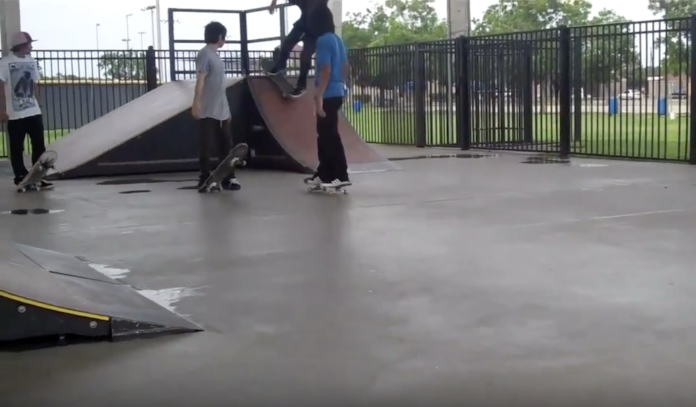 Beat the heat while enjoying breezy, covered skating fun at the quaint City Park Skatepark.
Located in the heart of City Park in Sugar Land, the free skatepark is open daily, lit at night for those looking for a late night skate sesh, and perfect for those new to skating looking to get started.
Though the park is small, the humble spot really packs it in on the covered concrete slab with features including ramps, boxes, rails, quarterpipes, and banks, too.
Visitors will find areas for skaters of all skill levels, perfect for those just starting out and as well as seasoned vets. There are even bleachers and benches for those needing to cool off.
Skaters should note that helmets are required to skate at City Park Skatepark. Since this is a free city park, guests should also note that the skatepark is not maintained as well as a privately owned skatepark would be.
Exercise your best judgement and examine obstacles before skating. Most importantly, have fun, know your limits, and be safe out there.
Nearby
Since the skatepark is located within City Park in Sugar Land, guests will find plenty of other amenities nearby. For instance, if you're making a day of your skate sesh, hit the municipal pool to cool off.
If you're outdoorsy, but skating isn't quite your thing, there are five lighted baseball fields (one t-ball, three little league fields, one pony field for, and one football practice area), four lighted tennis courts, a playground, a sand volleyball area, horseshoe pits, and even batting cages.
Need to fuel up after working up an appetite skating? The area is set up for picnics and grilling with features including, drinking fountains, grills, benches, picnic tables, restrooms, covered picnic shelters, concession stands and more.
City Park Skatepark in Sugar Land
Location: Sugar Land, TX 77498
Hours: Open daily from dawn to dusk
Parking: Free lot parking is available in the surrounding area
Admission: No cover. Helmets are required.