Snag a pass to the three-day Fandemic Comic-Con Tour, happening at NRG Center from Friday, September 14 through Sunday, September 16, 2018
Pop culture collides at NRG Center as the Fandemic Tour brings together celebrities, artists, illustrators, vendors, and cosplayers for three days of comic convention revelry.
Vendors (both local and from beyond) will set up shop to sell their wares, while fans decked out in meticulous costumes can line up for a chance to snap a photo and grab a signature with the actors behind beloved characters.
This marks the true debut of Fandemic Tour Houston, following its 2017 cancellation in the wake of Hurricane Harvey's devastation.
Much of the original lineup returns and fans' excitement is palpable with a series of programs and panels that feature stars from The Walking Dead, Guardians of the Galaxy, Smallville, and more.
Autographs & Photographs
Get up and close and personal with a huge roster of talent that is available for autograph and photograph opportunities (purchase required).
The Walking Dead –

Norman Reedus, Jeffrey Dean Morgan, Steven Yuen, Pollyanna McIntosh

Smallville –

Tom Welling, John Schneider, James Marsters, Michael Rosenbaum

This is Us –

Milo Ventimiglio, Chris Sullivan

Guardians of the Galaxy –

Dave Bautista, Michael Rooker, Sean Gunn
Other big names include a special appearance by Dean Cain, Bruce Campbell, Jason David Frank (the original Green Power Ranger), and more. Click here for a full lineup of scheduled guests and event updates.
Creators
Fandemic Tour Houston also gives fans a chance to meet many artists that have been drawing, inking, and animating the different realms of the comic and cartoon universe.
Featured creators include Rob Prior (Marvel, DC Comics), Phil Ortiz (The Simpsons, Muppet Babies), Arthur Suydam (Deadpool, The Walking Dead), Tom Cook (Hanna-Barbera, Disney) and many more. Click here for a full lineup of scheduled creators.
Programs & Panels
Along with photo sessions, autographs, and a chance to meet the personalities behind pop culture, Fandemic Tour Houston also provides space to mingle and shop with the many vendors of Artist Alley. From prints and original drawings to collectibles and apparel, Fandemic Tour Houston is a great spot to pick up unique merch found all in one place.
Throughout the weekend, fans can also take part in special panels and spotlights of the many celebrities and artists on hand throughout the convention. Click here for a lineup of special programs and panels.
Fandemic Comic-Con Tour
Dates:

Friday, September 14 through Sunday, September 16, 2018

Times:

Friday 3pm to 8pm, Saturday 10am to 7pm, Sunday 10am to 4pm

Location:

1 NRG Park, Houston, TX 77054

Parking:

Available in the lots surrounding NRG Park, $12 per vehicle, cash only

Admission:

Three day passes are available for $80, admission for individual days ranges from $40 to $50, children 10 and under are free.

Click here to purchase admission tickets, VIP passes, and sign up for photographs and autographs.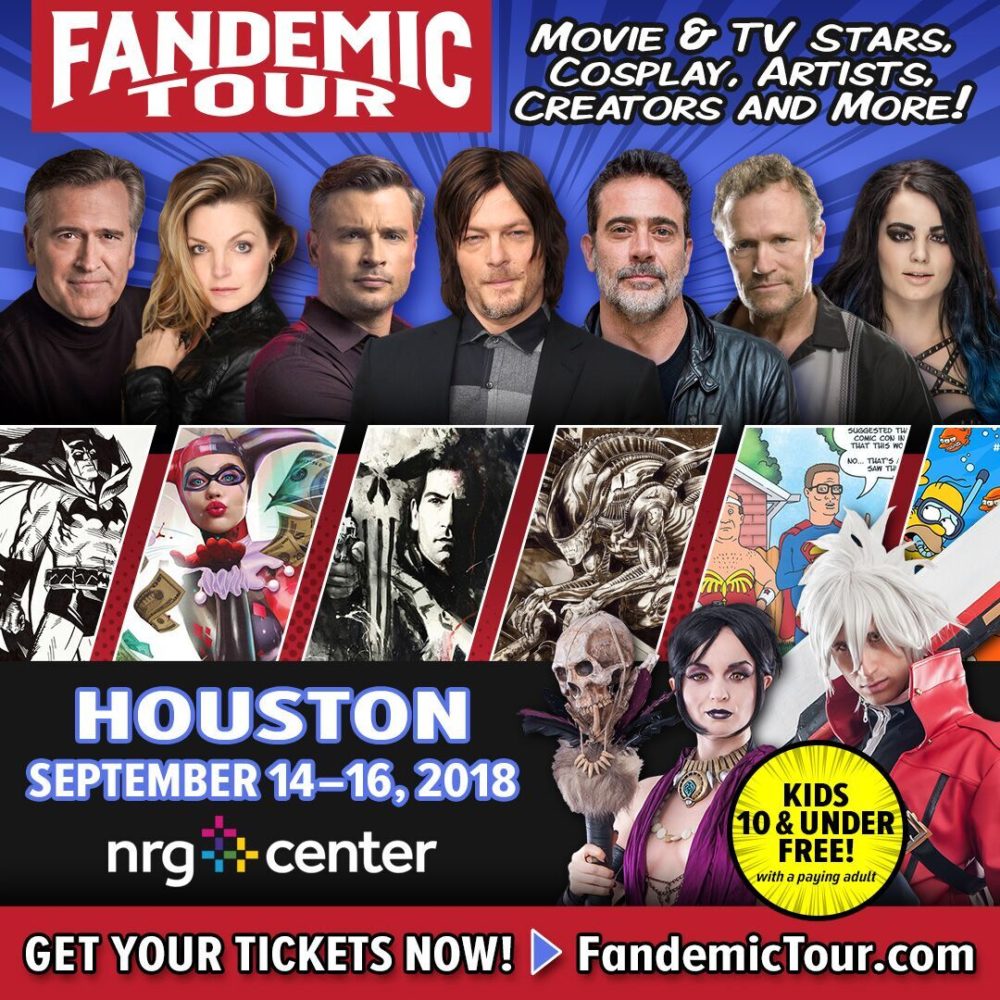 This article was sponsored by Fandemic Tour. Per our advertising and sponsorship policy, we only accept sponsored content from organizations that meet our editorial standards and truly present a valuable activity, event, resource or destination for residents and visitors across the greater Houston area. Click here to learn about promoting your event or business.