Explore downtown Galveston in the dog days of summer and escape into the cool, air-conditioned comfort of the city's compelling attractions and charming shops, boutiques, restaurants, and bars. 
There's more to Galveston Island than the beach and outdoor fun.
Downtown Galveston traces its origins back some 200 years, and now boasts a bevy of attractions both new and historic, locally-owned and unique boutiques, as well as enticing entrees intoxicating cocktails from exceptional eateries.
When the heat gets broiling and you need a place to escape the sun, downtown Galveston has plenty of places sprinkled around where you can feel the cool salvation of air-conditioning.
Attractions
Downtown is chock full of historical attractions, modern diversions, and timeless entertainments. We've picked out a few of our favorites, but you can also click here for a complete list and details.
The Strand Historic District –Serving as the hub of Galveston's downtown, the historic Strand Street is flanked by a variety of shops, restaurants, galleries, and museums — many of which are located in buildings that have survived for over a century, including during the catastrophic 1900 Storm.
Haunted Mayfield Manor – A researcher into mental illness, Dr. Horace Mayfield found himself driven over the brink when the 1900 Storm took the lives of his bride, parents, and the entirety of his extensive research documentation. Take a tour through his former home and get an up-close and very personal look at his life's work.
Postoffice Street Arts & Entertainment District – Not far from Strand Street, another downtown district offers a stroll through the island's prominent art galleries, antique shops, and restaurants, as well as The Grand 1894 Opera House that you can explore with a self-guided tour.
Ocean Star Offshore Drilling Rig & Museum – Parked at Pier 19, just a block from The Strand, the Ocean Star is a retired offshore jack-up rig that serves as a unique museum and learning center that covers the many facets of geological exploration, drilling, and petroleum production.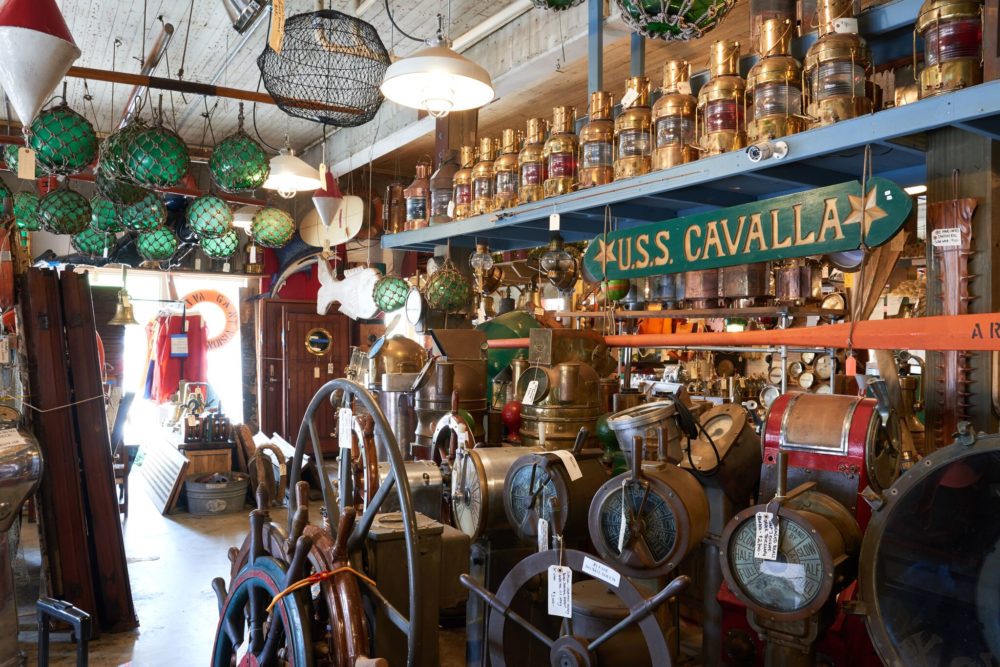 Shopping
In addition to these shops and stops highlighted below, you can find a full 50 shopping destinations clustered in downtown Galveston. Click here to see the full list and details.
Restaurants & Bars
We've highlighted a mix of favorite stops for food and drink, but downtown Galveston boasts nearly 40 eateries and bars offering everything from breakfast to brunch, dinner, desserts, and evening cocktails. Click here to view the full list of dining and drinking options in downtown Galveston.
See More & Save with Galveston Island Pass
While you're on the island, consider taking advantage of Galveston Island Pass to explore Galveston's charm, history, character, and fun, while saving 40% off admission to local attractions.
When you buy a Galveston Island Pass, you get to pick four or more participating attractions and save 40% off retail price. Passes are valid 30 days after purchase.
Participating attractions include the 61st Street Fishing Pier, the American Undersea Warfare Center at SeaWolf Park, Bryan Museum, Moody Gardens Rainforest Pyramid, and more. Click here to see all participating attractions.
Click here to order a Galveston Island Pass or for more information. One pass per person.
This story was sponsored by Galveston Convention & Visitors Bureau. Per our advertising policy, we only accept sponsored content from businesses that meet our editorial standards and truly present a valuable activity, resource, or destination for Houstonians and Houston visitors. Click here to learn about promoting your event, product or business.