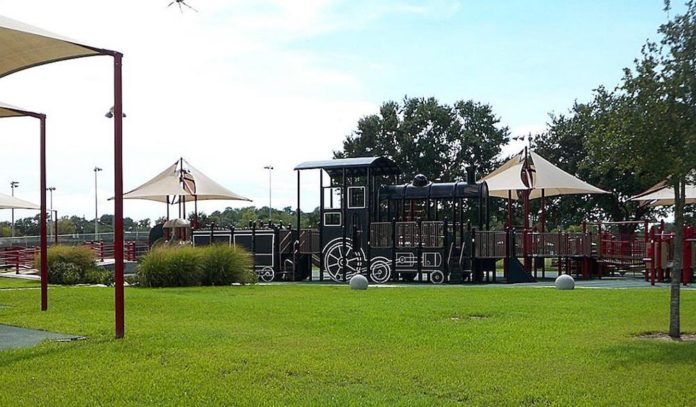 In our Park Spotlight series, we take a closer look at Houston's vast array of public recreational areas to shine a light on hidden and not so hidden gems. This week we'll be spotlighting Katy City Park. Join us as we take a trip through Houston, park by park.
Located west of Downtown in its eponymous neighborhood, Katy City Park has something for everyone with its award-winning playground and state-of-the-art sports facility.
The state's largest innovative playground for multiple-impaired and profoundly deaf children, happens to be located within Katy City Park.
The all-inclusive 13,000 square foot playground, custom designed to feature Katy's namesake MKT Rail line, features special equipment, ramps, and swings for children of all physical abilities.
Tournament-Sized Sports
Visitors to this park on the west side will also  find a recently renovated sports facility that plays home to two tournament-sized baseball fields, two tournament-sized softball fields, a state of the art sports lighting system, soccer field/flag football field, a covered tri court basketball pavilion, six ADA accessible tennis courts and many picnic tables for year-round use.
All athletic fields are available for rental Monday through Sunday 8am to 11pm.
Katy Play Station
This play facility is a one-of-a-kind attraction for both able and disable-bodied children and has quickly become a destination within the community for family fun and recreation.
Katy Play Station was featured in Today's Playground Magazine and has received several awards for its design and contribution to the Katy community.
Katy City Park