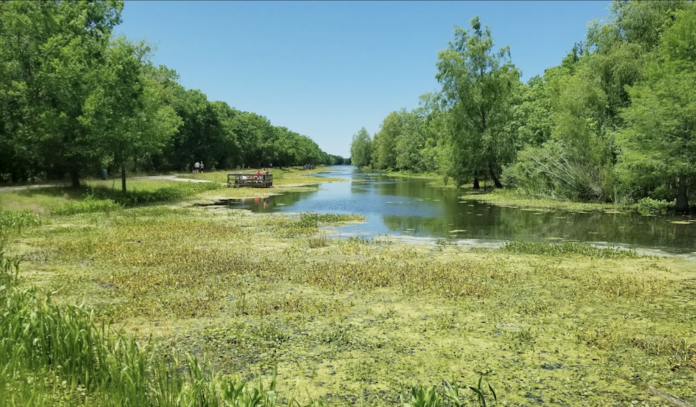 In our Park Spotlight series, we take a closer look at Houston's vast array of public recreational areas to shine a light on hidden and not so hidden gems. This week we'll be spotlighting Brazos Bend State Park. Join us as we take a trip through Houston, park by park.
Located just 45 miles south of Downtown in Needville, Brazos Bend State Park offers park-goers an on-site observatory, lakes, bike trails, camping and more.
Visitors looking for a wild experience are in luck. Nature has top billing at this park which is popular for hiking, fishing, picnicing, horseback riding, over­night camping, and plenty of alligator sightings. So please, be careful.
Guests can explore more than 37 miles of lake-circling trails on foot, bike, or horseback, some of which are wheelchair-friendly. Or check out Creekfield Lake Nature Trail, a fully paved half-mile trail tour of a wetland area where you'll find exhibits with touchable bron­zes of wildlife, an acces­si­ble board­walk, obser­vation deck, and rest areas with shaded benches.
For those looking to travel by horse, there are 13 miles of multi-use trails, and primitive equestrian campsites. Visitors must bring their own horse and show proof of negative Coggins.
If fishing is your thing, guests can look forward to casting from shore at one of the lake's many fishing piers. Visitors do not need a license to fish from shore or pier in a state park.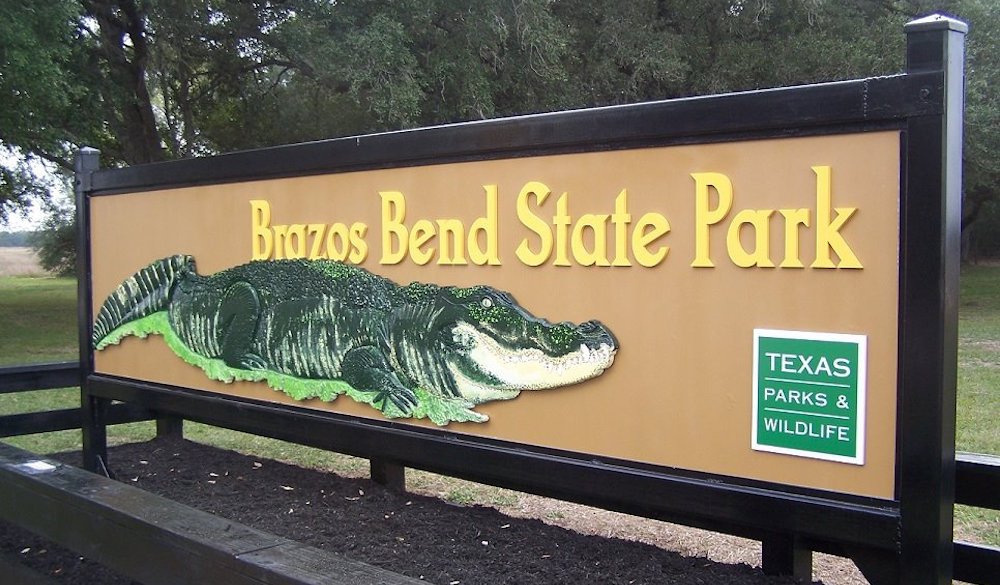 Before You Visit
When you visit the park, it is important to remember that you are a guest in this wild habitat. Treat all wildlife with respect. Feeding, harassing, injuring or removing wildlife, including alligators, is against the law.
You can stay safe around alligators by swimming only in designated areas. Swimming areas close at sunset. Alligators are more likely to be active at dusk and dawn.
Don't forget about pets, though. Pets must be on a leash no longer than six feet, and must not drink from or enter the lakes.
Brazos Bend State Park
Location: 21901 FM 762 Road, Needville, TX 77461
Hours: Daily 8am to 10pm
Parking: Free lot parking is available in the surrounding area.
Admission: $7 entrance fee for guests 13 and older; free for guests 12 and under and Texas State Park pass holders.