Take a quick snap of the Art Everywhere Houston sign, the Bayou City's newest and most public display of affection, at its perch alongside the Katy Freeway.
Originally the home of The We Love Houston sign, which has been relocated to the stretch of green parkway behind 8th Wonder Brewery in EaDo, Adickes' newest creation, Art Everywhere Houston, has taken up residence along the Katy Freeway in the beloved sign's place.
The unfinished piece made up of steel and concrete, which took a little more than three months to build, can still be easy to miss as you drive along I-10. This is especially true if you're watching the road ahead – and most dangerously true if you're watching your cell phone.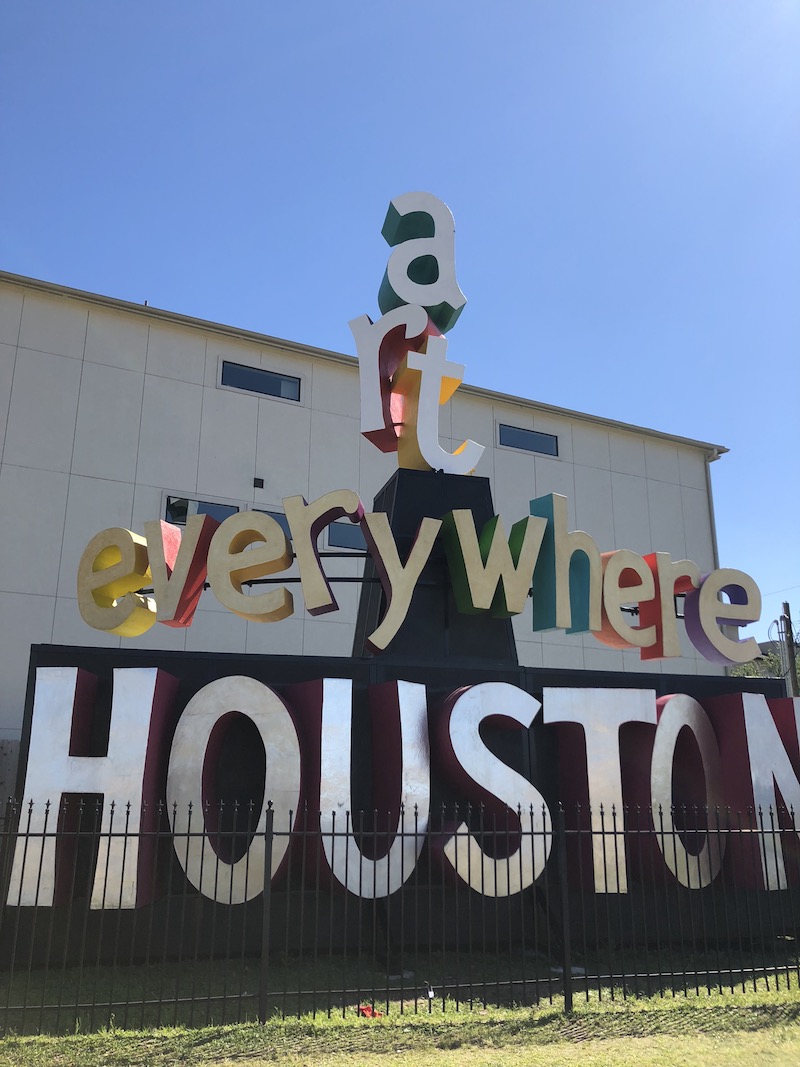 Visiting the Art Everywhere Houston Sign
Although the sign is a public display, both the sign and the land it is installed on are not public property. They both still belong to sculptor and creator Adickes. So if you visit the sign to take a photo, respect both the property itself and the neighborhood behind it.
There is no designated parking by the sign, but visitors are able to parallel park alongside the lot along the Interstate frontage road. Although the road is not as busy as the Katy Freeway it runs along, it still gets a steady beat of traffic. So be careful and cautious when exiting and entering your vehicle.
Also remember that, since the site is not a park, the grounds around the sign may be uneven and overgrown at times. Given that, and the busy road and highway next to it, the sign is not a place where children should ever be left unattended or given free reign to play.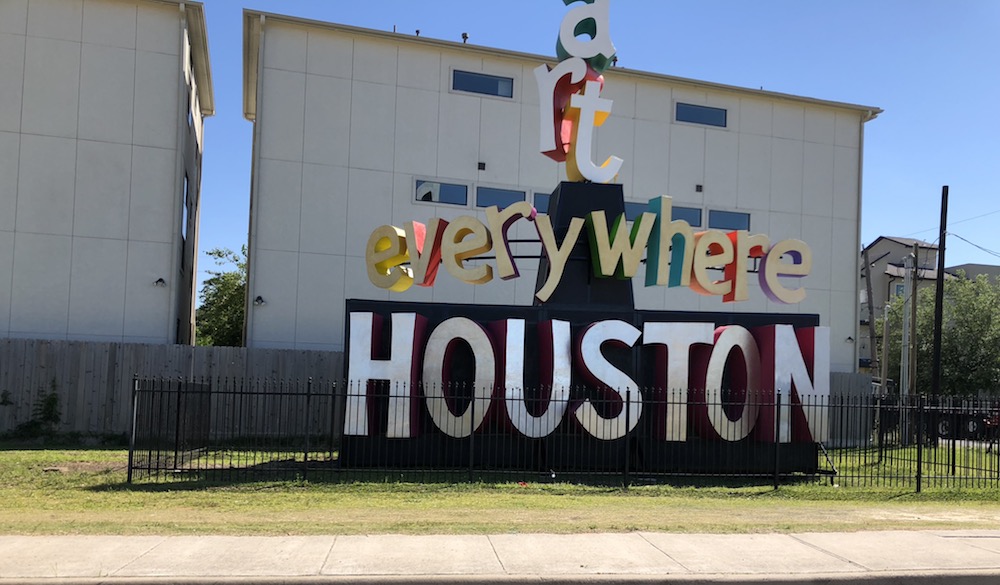 About David Adickes
Though he began his art career as a painter, David Adickes became beloved in Houston for his beloved sculptures after studying in France and traveling extensively throughout the world.
But this giant, three-dimensional ode to artwork isn't the only creation of Adickes' that Houstonians can check out.
The Houston area sculptor is responsible for some of Houston's most larger-than-life public art, including his infamous and prolific President Heads, his giant Beatles statues, his giant Art Sculpture at Sawyer Yards, his first monumental sculpture commisioned in 1983, Virtuoso, at the Lyric Center in Downtown, and even the 76-foot tall Sam Houston statue on display in Huntsville, Texas.
Location: 1816 Thompson Street, Houston, TX 77007
Parking: There is no official parking spot for the sign, which is located on a private lot owned by its creator. However, visitors can usually parallel park right alongside the lot on the Katy Freeway frontage road. Be very mindful of traffic along the road. Given the often busy frontage road, it is not a good idea to take small children to this location without extreme supervision.
Creator and Owner: David Adickes