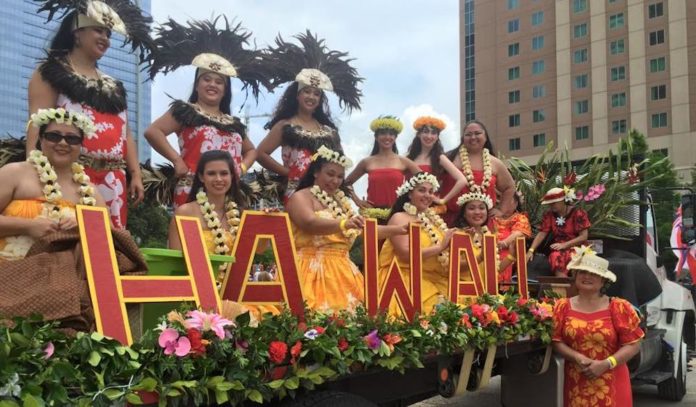 With a labyrinth of cultures represented in every nook and cranny of town, Houston is one of the most ethnically diverse cities in America. To celebrate this world-class melting pot, we'll be exploring a new region of the globe through a Houston lens each week, from annual festivals and museums to restaurants and cultural experiences. Join the journey with our Around the World in Houston series.
From hula dancing and community meetups to restaurants serving loco moco and poke, here's how to get a taste of the Hawaiian spirit in Houston.
Annual Events & Cultural Organizations
Houston Asian American Pacific Islander Film Festival – Started in 2004, this annual film festival celebrates the diversity of Asian American and Pacific Islander culture through the visual storytelling, highlighting artists and filmmakers in the community. The 2018 festival will take place on Thursday, May 31 through Friday, June 8.
OCA-Greater Houston Chapter – This volunteer-driven organization strives to foster the cultural heritage of the Asian American Pacific Islander community. Look out for events like happy hour meetups, film festivals, and the Starry Night Festival, a street food festival showcases the tastes of Asian American and Pacific Islander culture, with treats ranging from Hawaiian spam musubi to Taiwanese popcorn.
Hawaiian Food & Drink
Restaurants & Cafes
Sweet & Ices Shops
Friohana – Cool off with Hawaiian-style shave ice made with housemade syrups and real fruit from this refreshing food truck. Popular flavors include mango, pineapple, and strawberry. Follow its schedule on Facebook.
Hawaiian Paradise – Get tropical sorbets, shave ice, smoothie and more this exotic refresqueria.
Hokulia Shave Ice – With locations in Spring and Magnolia, this chain takes inspiration from the islands to make its refreshing Hawaiian-style shave ice. Get flavors from Blue Hawaii and Haupia to Kiwi and Passion Fruit.
Bars
Howie's Tiki – This Spring-area bar offers authentic tiki drinks and a laidback South Pacific vibe. Sip cocktails kissed with coconut, pineapple, passionfruit, and rum.
Lei Low Rum & Tiki Bar – You can get the full tiki experience at this kitschy Heights dive, from flaming house punches to a lineup of fantastic Mai Tais.
Group,  Meetups & More
Houston Pacific Islanders – This Facebook group offers an online community and networking opportunities for fellow islanders in Houston.
Houkulele – This meetup invites ukulele players to learn, sing and play Hawaiian music and more (those with other instruments are welcome as well).
Halau Ho'ola Ka Mana O Hawai'i – Learn the art of hula dancing at this Hula Halau and Polynesian dance studio, which offers lessons in both hula and drumming and dancing.
Other Notables
Drums of the Pacific – Get in the Polynesian spirit with luau music, Hawaiian dancers and entertainers, and luau catering from this Houston-based entertainment company.