Capture the moment or document your quest to find every mural and art wall in Houston at the larger than life Mural Project, on the north wall of Lawndale Art Center in Midtown through, at least, late October 2018.
Every year, the massive 3,200 square-foot concrete canvas is taken over by a regional artist, who creates their own original design on the north-facing side of the Lawndale building.
It's easy to spot on your right, as you drive southwest on Main, away from Downtown. 
Francesca Fuchs' Untitled 2017/2018 Mural
Currently on display and pictured above is Houston-based, London-born artist Francesca Fuchs' untitled mural which will be on view through late October 2018.
A work Trompe-l'œil (French for "deceive the eye"), her work is an optical illusion that transforms the flat surface into what appears to be six cathedral pillars. 
Fuchs' used stripes and shapes in beige, whites, and grays to create the impression of depth, shadow, and texture. 
The Mural Project's Past & Future
Fuchs is just one of many artists Lawndale has featured over the years in the Mural Project, and Lawndale still encourages artists to submit contemporary art concepts for 2019 and beyond.
Scheduling of the project is kept intentionally flexible to allow for work to be shown within six months of its completion; accordingly, nothing is scheduled more than a year in advance.
When visiting, be sure take a walk through other exhibition spaces, as there are tons of other works to see inside the building and admission is always free.
Click here for more information on the Mural Project.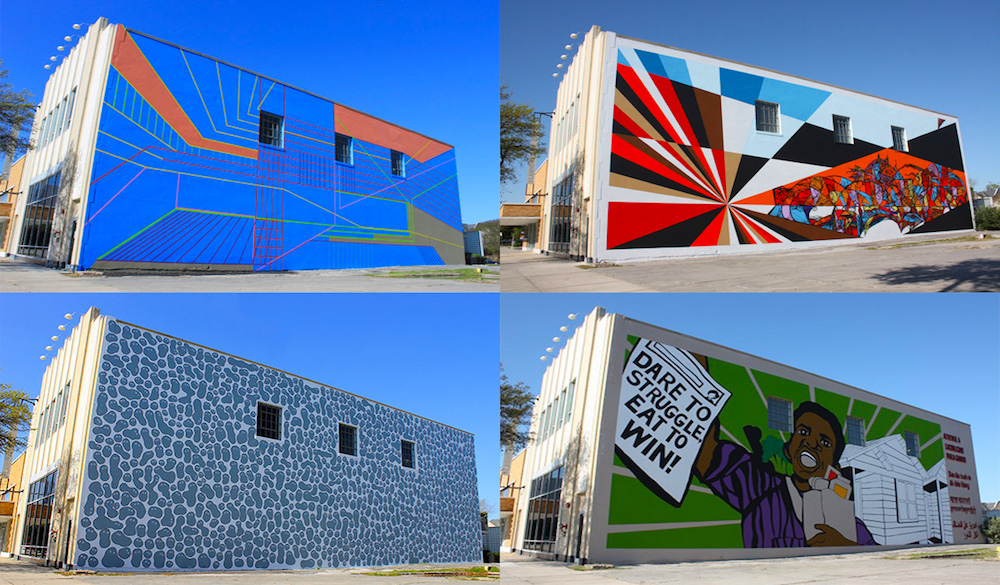 About Lawndale Art Center
Founded in 1979 by famed Houston artist James Surls, the Lawndale Art Center showcases local and regional art. Emphasizing works by Texas artists, Lawndale hosts more than 500 artists in more 20 exhibitions each, stages informal talks, and throws down with a busy calendar special events.
It remains Lawndale's mission to develop local contemporary artists and grow an audience for their work. They'r always accepting exhibition proposals for the center's six spaces Cecily E. Horton Gallery, Grace R. Cavnar Gallery, The Project Space, Mary E. Bawden Sculpture Garden, and of course, the very north exterior wall written about above.
Click here for more information on Lawndale Art Center.
Mural Project at Lawndale Art Center 
Hours:

10am to 5pm daily at Lawndale Art Center; dawn to dusk at the mural wall. Use your best judgment when visiting after nightfall.

Parking: Free street and lot parking is available in the surrounding area at Rosedale and Travis
Admission:

Free to attend the museum and mural wall
Additional reporting and writing provided by Shelbi Nicole. This article is updated from a story written by Nicole and originally published on September 23, 2016, with new content written by Cody Swann about the most recent mural.