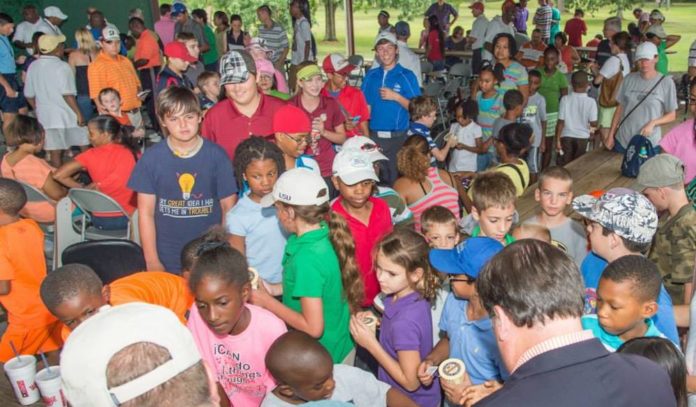 In our Park Spotlight series, we take a closer look at Houston's vast array of public recreational areas to shine a light on hidden and not so hidden gems. This week we'll be spotlighting F.M. Law Park. Join us as we take a trip through Houston, park by park.
Located 10 minutes south of Downtown near Sims Bayou in Southeast Houston, F.M. Law Park not only features the typical serene acreage with trails or basketball and soccer facilities you'd find at a city park, but also a golf course and youth learning center with indoor practice areas, video facilities and more.
Constructed by famed golf course designer and Rice alumni Jay Riviere, the $1.4 million Junior Golf Learning Center houses a training center, an 80-station lighted driving range, putting and chipping greens, and a nine-hole golf course designed specifically for the Houston Parks and Recreation Department's Junior Golf Program.
Through its First Tee of Greater Houston youth development program, the park offers both social and sporting programs free of charge for youth ages 7 to 18 that register. Space is limited so be sure to contact the course for availability.
Click here for a complete list of park rules and facility guidelines.
F.M. Law Park & Golf Course
Location: 8400 Mykawa Rd, Houston, TX 77048
Hours: Tuesday to Friday 10am to 6pm (Driving Range closed Tuesdays); Saturday 8am to 6pm; Sunday 1pm to 6pm; closed Mondays. All players must be off the course by 5:30pm daily.
Parking: Free lot and street parking is available in the surrounding area
Admission: Free for eligible participants ages 7 to 18. Parents and guardians are not eligible for First Tee membership discounts. To enter the golf course, adults must be accompanied by a First Tee Participant. Click here to register.