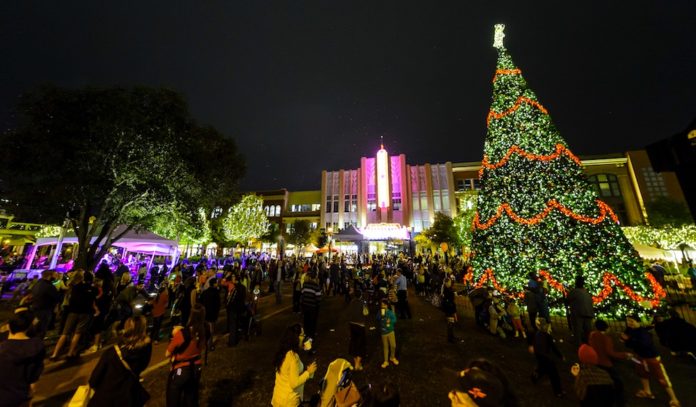 Pile in the car for a leisurely holiday drive or take a hot cocoa-fueled stroll while you ooh and ah at Houston's most popular Christmas light displays – in residential neighborhoods and at city landmarks alike.
Every year, Houston neighborhoods light up like a Christmas tree (literally), with homes, streets, and yards decked in the season's finest adornments. Take a break from the madness of cookie making, gift wrapping, and tree trimming that comes with the holiday season and take a tour of the city's most festive spots.
In most cases, checking out some of Houston's best neighborhood Christmas light displays won't cost you anything more than the gas it takes to get there. Just be sure you respect the neighborhoods and the residents who so kindly showcase their homes.
Appropriate hours to do Christmas light drive-bys are typically from 7pm to 10pm; and the light displays usually start coming down the weekend following New Year's Day.
River Oaks – For one of the most extravagant displays of holiday lights in the city, you'll want to check the grand, decked out homes and towering oak trees around one of Houston's most prominent neighborhood, River Oaks. Enter from Kirby – either from Shepherd or Westheimer – and begin winding your way through the hood as you uncover enclave after enclave of bright holiday lights and tradition. You can also park your car near the River Oaks Country Club to traverse the hood's most popular streets by foot.
The Heights & The Woodland Heights – With its annual Lights in the Heights block party, this friendly neighborhood brings all the charm and holiday spirit. You'll find shimmering displays throughout the month of December, from the fun and funky to the quaint and beautiful. And all of it is easy to see by foot or with a quick drive through the hood. Check out the area bordered by I-10, Heights Boulevard and 19th Street, and I-45.
Downtown Houston | City Hall, Market Square Park & Discovery Green Park – You won't want to miss Downtown, which decks the halls (City Hall, that is) each and every year. The festivities officially kick off with the Mayor's annual lighting of the Christmas tree in front of City Hall, but you'll find the streets and parks lit up well before that. Make a stop at the tree, spread some holiday cheer in the beautifully adorned Market Square Park, and be sure to make a pit stop at the annual winter light art installations at Discovery Green, where you'll also find an outdoor ice skating rink dubbed The ICE at Discovery Green.
Prestonwood Forest – Nestled in Northwest Houston, this neighborhood subdivision has been a holiday destination since the '70s. During its annual Nite of Lites, which runs for most of December, hundreds of homes light up, all competing in a holiday-spirited competition with categories like Best House, Best Door, Beset Mailbox, Best Block, and the People's Choice Award. The map includes the area around Prestonwood Forest from Cypresswood to 249, and from Ravenhurst and Schroeder to Charlynne Oaks to Hargrave.
The Woodlands & Woodlands Town Center – You'll find that most neighborhoods in The Woodlands feature homes, if not whole streets, that offer extravagant Christmas lights. In the past, the Panther Creek and Alden Bridge neighborhoods have been known for setting the bar high, several of the homes featuring over-the-top displays, some of which are choreographed to music. In addition, a stroll along the tree-lit Woodlands Waterway is a holiday tradition worth starting, as is checking out Market Street, with its soaring Christmas tree and twinkling lights. Click here to see Panther Creek, click here to see Alden Bridge, click here to see the Woodlands Waterway and click here to see Market Street on Google Maps.
Museum District | Zoo Lights – Young and old will be in awe of the twinkling holiday lights that illuminate the Houston Zoo at Hermann Park. The annual Zoo Lights runs all season long and through some of January, with over two million LED lights brightening up its ancient oaks and winding paths to transform the zoo into a bonafide winter wonderland. Note: this display has a fee to attend.
Houston's Shopping Districts | Uptown, River Oaks District & Highland Village – Running along Post Oak and Westheimer, these merry and bright shopping districts are well worth a drive-by, or a stop-in if you want to hit all of those holiday sales. In the luxe River Oaks District, you'll find complimentary horse-drawn carriages under the stars, holiday concert series, and customized holiday gifts. Drive down Post Oak and south towards the Galleria, taking in the white lights on the Christmas trees lining Uptown's main holiday thoroughfare. When you arrive to Westheimer, take a left and cross under the Loop to head towards River Oaks District and Highland Village.
Pasadena | Bufkin Christmas Wonderland – It's been spreading holiday cheer for 25 years, but 2017 will be the last year to bring the family to the see the Christmas Wonderland that is the Bufkin family's Pasadena home. Sherry and Roy Bufkin began inviting the community to enjoy their magical holiday displays and miniature train track in 1992, and over the years, more than 330,000 visitors have come out to enjoy the holiday fun.
Shepherd Park Plaza & Candlelight Park – In Garden Oaks, the Shepherd Park Plaza neighborhood has rocked over-the-top lights and decked out holiday displays since the late 1960s. The nearby Candlelight Park get its on the action, too; both residential areas bringing entire streets together to create a magical experience complete with Santas, inflatables, fun themes, and shimmering lights.
Pecan Grove – This festive Richmond neighborhood draws locals in with its showstopping Christmas lights. Families often take holiday hayrides through the community, with Plantation Drive being the main strip and some streets being more decorated than others. Drive (or ride) through to find out.