Experience the outdoors on the Island with camping, hiking, fishing, and birding opportunities about at Galveston Island State Park.
Driving 20 minutes west from the bustling crowds at Pleasure Pier, you'll find the hotels and convenience stores begin to make way for more than 2,000 acres of coastal ecosystem as part of Galveston Island State Park.
Open since 1975, visitors to the park are invited to explore the beaches, dunes, prairies, and salt marsh wetlands through a variety of programs and activities.
Campsites are also available on the bay and along the beach, making this the only area on the island where tent campers can reserve an overnight beachside stay.
Friends of Galveston Island State Park
For over 15 years, a group consisting of volunteer conservationists, naturalists, and educators called the Friends of Galveston Island State Park (FoGISP) have helped provide visitors to the park with experiences to better understand the local interdependent ecosystem and explore it in many interesting ways.
After paying the $5 entry fee into the park, visitors are welcome to take part in any of the various programs that FoGISP organizes, including public kayak tours, beach and surf exploration, bird walks, and support for field trips – free of charge.
In addition to the programs, guests are free to move around the park on their own and take in the excellent birding opportunities, hike through several miles of trails lined by local flora, and lure in a catch with freshwater and saltwater fishing.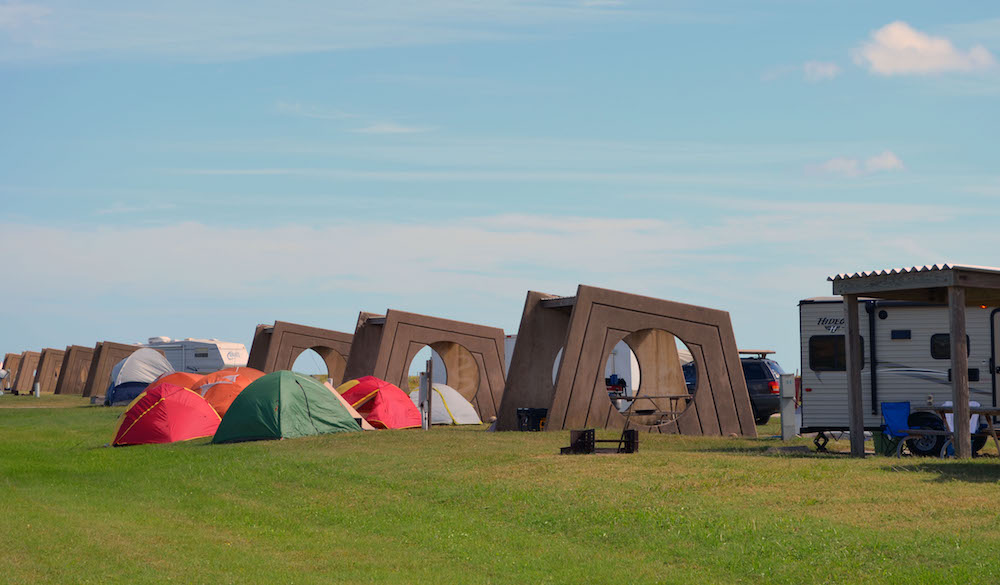 Camping Under the Stars
With beachside camping on the island restricted after midnight, Galveston Island State Park remains the only place that allows camp-goers to pitch a tent near the crashing waves overnight.
Featuring over 30 beachside campsites, a reservation can be had for $25 per night, in addition to the entry fee. During the winter months of November through February, weekly and monthly rates are also available.
Elsewhere in the park, more campsites are offered near the various bays and waterways available to campers with tents or RVs. These provide slightly cheaper options than beachside camping, ranging from $15 to $20 per night, depending on preferred amenities (e.g. water and electricity hook-ups).
Sunset Paddling
Thanks to the efforts of FoGISP, sunset tours along the park's waterways via kayak and canoe are available free of charge and come highly recommended by park staff.
This makes for a great way to explore the park with a new perspective and take in the spectacular colors that accompany the island's sunsets. Guests interested in a kayak tour are urged to reserve a spot ahead of time as they may only be available a few times a month.  
Galveston Island State Park offers preserved lands year-round and a chance to adventure into an ecosystem that's easy to forget exists down the road from the busy souvenir shops and seafood restaurants lining the seawall.
Take a moment to visit during your time on the island and find some peace and quiet.
Tips for Visiting
Campsites are limited to 8 people and it is strongly recommended to reserve before arriving.
In addition to the beachside and bayside campsites, the Stewart and Ranch Houses inside the park are available for rental. These cabin-style lodgings provide many more amenities than campsites and can be rented from $175 to $250 per night, depending on the season.
Before your visit, check out the State Park's website for reservation information regarding campsites and programs, as well as maps and helpful tips for your visit.
Galveston Island State Park