Find your rest and relaxation at the historic Hotel Galvez, overlooking the beaches on the east end of Galveston Island.
Erected in 1911, the Galvez has served countless guests on the eastern end of the island, from Frank Sinatra to President Eisenhower (once even serving as a temporary White House to President Franklin D. Roosevelt).
Once inside the Hotel Galvez, there is a sense that you've stepped into history. Dotting the long hallways on either side of you, Edison bulbs burn in their understated chandeliers while in front, a beautiful wood-paneled ceiling stretches high above your head.
Stately accents adorning the main lobby area and a series of coat-of-arms lining the high walls immediately get you pondering about what this Texas Historic Landmark has seen over the last century.
Now under Wyndham Hotels operation, the Spanish-Mission style building stands along the seawall, offering guests easy access to the most popular destinations in Galveston.
From here, you're minutes away from the sloshing gulf waters and sandy beaches, the historic mansions lining Broadway Avenue J, and the quirky shops and restaurants along The Strand. Click here to check availability or make a reservation.
Resort-Style Relaxation
When not venturing out on the island, you'll find the Galvez a worthy place to spend your time. Pamper yourself at the full-service day spa with a relaxing massage, body treatments, and a professional salon.
Outside the eastern terrace, you'll find a heated saltwater pool with a swim-up bar and a soothing hot tub nearby.
And even though the rooms are comfortable and accommodating, the posh environs of the lobby offer an attractive pull to guests. You'll find groups deep in conversation seated near the plentiful windows facing the beach.
Padded leather chairs invite guests to indulge in fresh catches from the nearby piers or a cocktail at the Galvez Bar & Grill seated in the coral-shaded dining hall.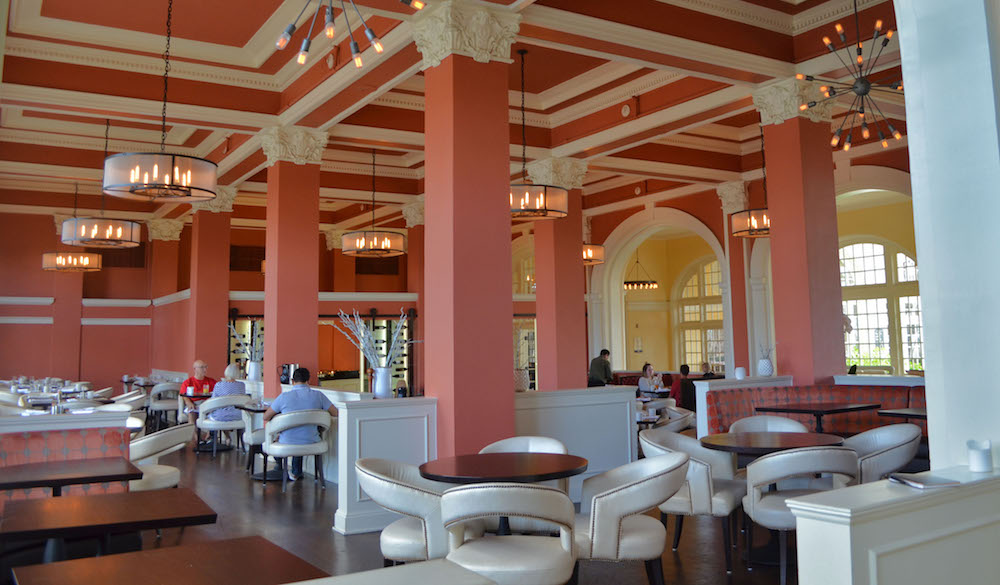 The Beacon of the Island
Built at the turn of the century, the Hotel Galvez (named after Bernardo de Galvez – for whom the city is also named) became a beacon designed to attract people back to the island of Galveston following the tragically catastrophic hurricane of 1900 in which several thousands lost their lives.
That campaign seemed to have worked, as Galveston would go on to see their population rise by nearly 20% since the opening of the Galvez, returning the island to a vibrant beachside destination.
Hotel Galvez Ghost Tours
An added attraction, the historic haunt offers Hotel Galvez Ghost Tours on select nights of the month, stewarding you through the halls of the hotel while delighting with spooky stories and eerie occurrences.
Schedules vary throughout the month, but call 409-765-7721 for tour availability or click here for upcoming dates at Hotel Galvez. Tours run year-round and reservations are required.
Hotel Galvez in Galveston