Experience Korea's culture through the culinary, artistic and theatrical exhibitions at the 9th Annual Korean Festival Houston at Discovery Green on Saturday, October 21, 2017, from 10am to 7pm.
Held in the heart of Downtown on Discovery Green's Jones Lawn, Korean Festival Houston (also billing itself as K-Fest) welcomes guests to sample the flavors and culture of Korea.
Expect to dine at authentic and Korean-inspired food booths, browse vendors for Korean and Korean American wares and take in a full day of live entertainment.
Live Entertainment & Performances
While the stage will feature performances by traditional Korean dancers/musicians and TaeKwonDo demonstrations, the festival's special headliner to check out is the one and only YouTube sensation, DANakaDAN, with fellow YouTube music artist, PRISKA.
Presented by the Korean-American Society of Houston (KASH), the festival has emerged as one of the largest annual events held at the Downtown park, drawing tens of thousands of visitors to its cultural presentations and culinary experiences.
This year's sponsors include AT&T, Hanmi Bank, Chevron, Bank of Hope, Silver Eagle Distribution and American First National Bank.
Click here for more information and updates from KASH.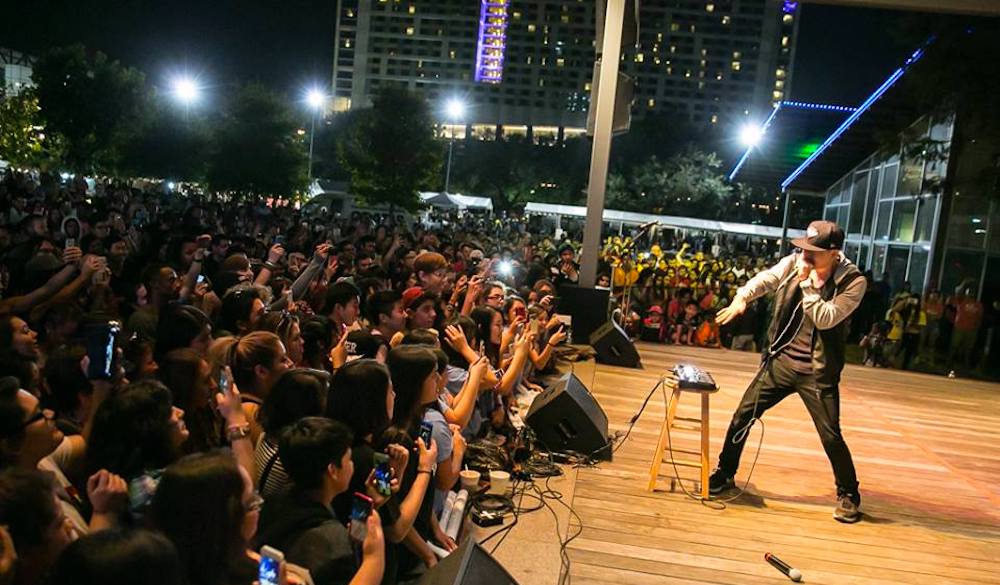 About Korean Festival Houston
In 2008, the folks behind the Korean-American Society of Houston (KASH) organized the very first Korean Festival Houston at the Houston Community College (Spring Branch) parking lot with the support of local community and business organizations.
Bolstered by the enthusiastic support from the community, KASH made the decision to move the Korean Festival to its current home at Discovery Green the following year.
After years of extraordinary growth, the Korean Festival Houston now serves more than 35,000 visitors during its single-day event. It partners with dozens of global and local sponsors to bring an exhilarating and spectacular showcase of Korean culture to the heart of Houston.
9th Annual Korean Festival Houston at Discovery Green
This article was sponsored by The Korean American Society of Houston. Per our advertising and sponsorship policy, we only accept sponsored content from organizations that meet our editorial standards and truly present a valuable activity, event, resource or destination for residents and visitors across the greater Houston area. Advertising revenue helps support 365 Things to Do in Houston, and our contributors, allowing us to expand our coverage of activities and events around the Houston area. Click here to learn about promoting your event or business.