Choose your flavor at either of two locations of the classic Houston restaurant Benjy's; either the original in Rice Village or its newer outpost on Washington Avenue near Westcott.
When it opened, Benjy's was ahead of its time for seasonal, market-driven menus for lunch, dinner and weekend brunch. Rounding out that combo are their fun, intimate lounge spaces that have served as people-watching destinations for years.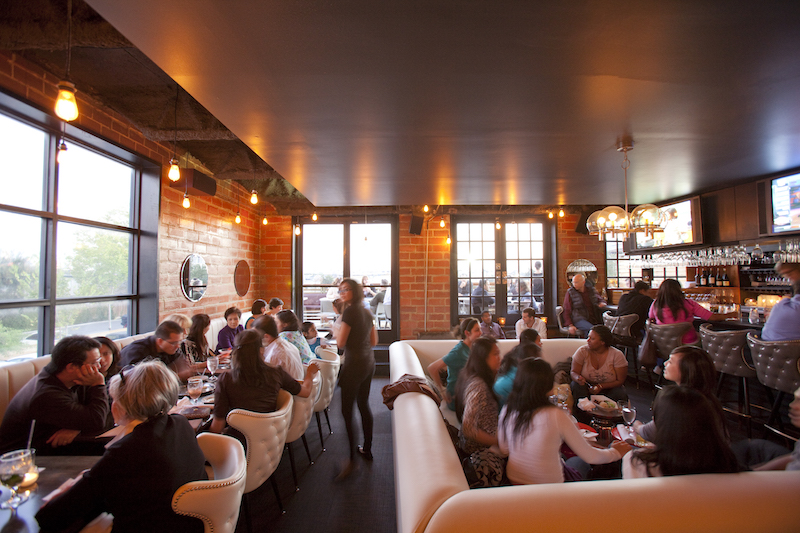 Hip, Modern American Cuisine in Two Locations
Benjy Levit's vision was born from several years managing restaurants in New York's Greenwich Village and Upper East Side in the '90s. That followed his studies at the Natural Gourmet Cooking School and an internship with an upscale, chef-driven vegan restaurant. While he worked, he gathered ideas for his Houston concept.
Known for light, healthy comfort food with big flavors, Benjy's continues to wow diners while the upstairs lounge spaces remain hotspots filled with eclectic wine lists, creative concoctions, and a funky, intimate aesthetic.
Although both locations has its own distinctive design and menu focus, they appeal to the same set.
Expect to see business lunches by day and dates, families, and group celebrations by night at both. Each also offers a lively weekend brunch.
22 Years in Rice Village
In late 2015, the Rice Village location celebrated its 20 years with a facelift including a custom mural along with an overall brighter, bolder color palette, plus mosaic tile on the two-story pizza oven.
The original differentiates itself from its younger sibling on Washington by offering brunch seven days a week and unique menus.
Executive Chef Mike Potowski's menus changes seasonally, but features items like creative "bowls" including the salmon option with coconut, spinach, apple, seeds and honey balsamic alongside a number of mocktail and cocktail options.
For dinner, try appetizers like the fire roasted rainbow carrots with mozzarella, celery, and Dukkah spice with a douse of sherry vinegar or the delicious grilled Portuguese octopus with adobo spice and roasted peppers.
Entrée choices run the gamut from a Texas buffalo burger, blackened local catch of the day, creamy seafood risotto or a variety of quality pizzas from the wood-burning oven.
Real Food on Washington Ave
Just beyond western Washington's club-centric stretch, Benjy's second location opened in 2009, and is currently helmed by Chef Maria Gonzales in the kitchen.
With the same contemporary vibe as Rice Village, the Washington outpost is a larger, more open space. It benefits from a lovely patio and plenty of room in the upstairs lounge (and a second patio upstairs).
Dinner menu standouts include fun starters like the country ham and deviled eggs, served with sweet soy, and numerous tasty, wood-oven pizzas. Delectable entrée choices include the Jalisco lamb burger with goat cheese, jalapeno and avocado, or the 44 Farms skirt steak with sweet potato mash and chimichurri.
Vegetarians will love the Summer quinoa plate with tofu, sunflower seeds, avocado and cauliflower.
Benjy's Happy Hour at Both Locations
Rice Village and Washington both feature great happy hour programs every Monday to Saturday from 4pm until 7pm in the lounge and bar areas.
Select $6 cocktails include the Citrus Blossom with Nue vodka, elderflower liquor and grapefruit or a Blood Orange Margarita, and others.
You'll also find $5 wines by the glass, specially-priced bottles of wine, $3 craft beer, $6 appetizers, and $8 personal pizzas.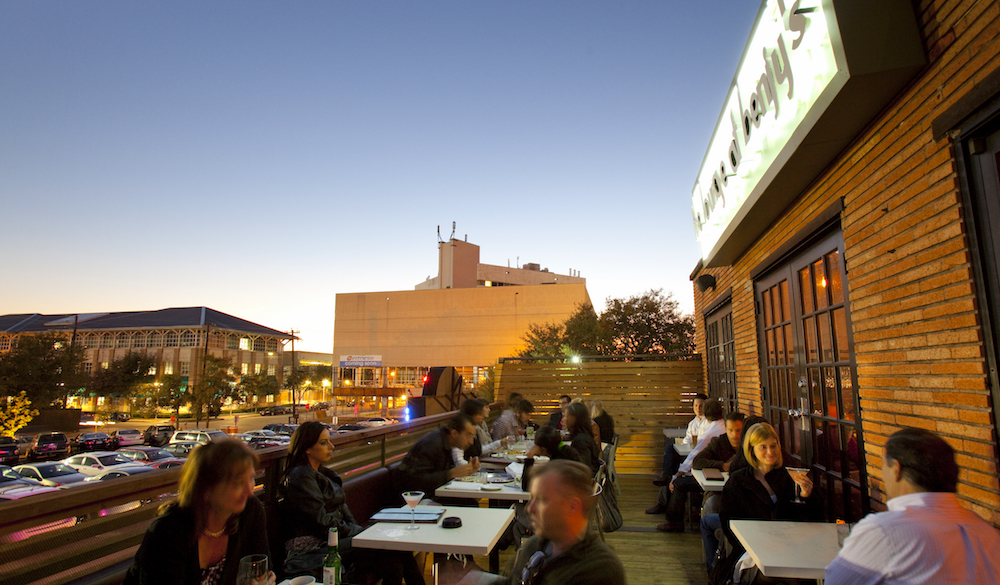 The Original Benjy's in Rice Village
Chef: Mike Potowski
Location: 2424 Dunstan, Houston, TX 77005
Phone: 713-522-7602
Reservations: Click here to make reservations
Restaurant Hours:

Monday brunch 10:45am to 3pm; dinner 5pm to 9pm
Tuesday to Saturday brunch 10:45am to 3pm; dinner 5pm to 10pm
Sunday brunch 10am to 4pm. dinner 5pm to 9pm

Lounge Hours:

Monday 4pm to 10pm
Tuesday to Saturday 4pm to 11pm
Benjy's on Washington
Chef: Maria Gonzales
Location: 922 Washington Avenue, Houston, TX 77007
Phone: 713-868-1131
Reservations: Click here to make reservations
Restaurant Hours:

Monday lunch 11am to 3pm; dinner 5pm to 9pm
Tuesday to Thursday lunch 11am to 3pm; dinner 5pm to 10pm
Friday lunch 11am to 3pm; dinner 5pm to 11pm
Saturday lunch 11am to 3pm; dinner 5pm to 10:30pm
Sunday brunch 11am to 8pm

Lounge Hours:

Monday 4pm to 10pm
Tuesday to Thursday 4pm to midnight
Friday and Saturday 4pm to 2am