In our Park Spotlight series, we take a closer look at Houston's vast array of public recreational areas to shine a light on hidden and not so hidden gems. This week we'll be spotlighting Gus and Lyndall Wortham Park. Join us as we take a trip through Houston, park by park.
In an area known for its 21 renowned hospitals, eight academic and research institutions, four medical schools, seven nursing programs, and a combined total of over 50 medicine-related organizations (all not-for-profit), it would be very easy to miss this photog-gem of a green space when it's surrounded by the largest healthcare complex in the entire world.
Waterfall Fountains in the Texas Medical Center
Located at the busy intersection of Holcombe and Main Street in the heart of the Texas Medical Center, the elusive Gus and Lyndall Wortham Park has come to mystify those in transit who happen to get a look at its towering water pillars and manicured lawns while zooming by.
This humble, public park serves as a meditative community space where medical personnel, patients, photogs on a shoot and more, can all get away from the bustle of the hectic area.
Take refuge from the heat and noise on a shaded bench beneath vine-covered pergolas and ivy-covered columns or take a stroll by the serene waterways, showering fountains, and of course, the soothing water pillars.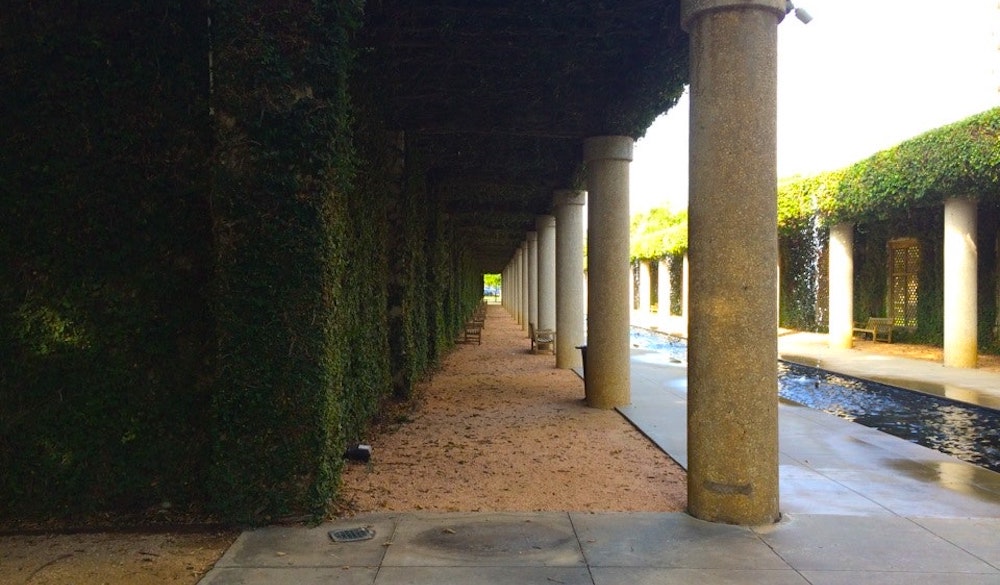 History of the Park
Created in 1991 by architect John Burgee, this photo-destination was built on the former site of infamous oil tycoon Glen McCarthy's equally infamous Shamrock Hotel, the largest hotel in the United States when built during the '40s, after its demolition in 1987.
During a severe local recession in 1985 the 36-year-old hotel, still the second largest in Houston but by then in need of extensive refurbishing and refitting, was in effect donated to the Texas Medical Center.
In addition to the park, the Institute of Biosciences and Technology, a component of the Texas A&M Health Science Center has since been built on the site with only the hotel's multi-story parking garage retained.
Before You Visit
The park is open to the public daily from dawn to dusk, but unfortunately, there is no designated parking area for this greenspace.
Towing is enforced heavily in this area, so be especially careful to mind the signs and grab a paid parking spot in the nearby Medical Center parking garages for peace of mind.
Gus and Lyndall Wortham Park 
Hours: Dawn to dusk daily
Parking: Paid lot and street parking is available in the surrounding Medical Center area.